CE Pro Podcast #86: Our 'Video Guys' Pick Their Best of 2021
CE Pro's expert video panel of Value Electronics' Robert Zohn, ISF's Joel Silver and Murideo's Jason Dustal cover trends, favorite products and compelling demos.
Listen to this podcast using the embedded player below.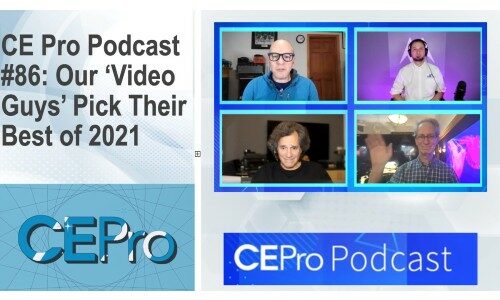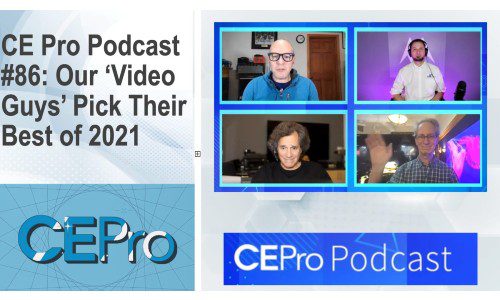 Throughout the year, video experts Joel Silver, CEO and lead developer, Imaging Science Foundation (ISF); Jason Dustal of Murideo; and Robert Zohn, president and founder of Value Electronics, have promoted how much the HDMI 2.1 protocol will benefit the custom installation industry, and how lucky we are to live in today's golden age of home entertainment.
Reiterating those sentiments, the trio – as regulars to the CE Pro Podcast we are dubbing them our "video guys" – were asked to sum up 2021 with the year drawing to a close. In this week's episode, they offer up some favorite products and demo picks along with those trends.
"[2021 has been] good … crazy. I mean crazy in a good way I mean," comments Dustal.
"Especially with what's going on in the last 18 months or so, you know, especially at the beginning. We had no idea how things were going to go and they have gone very well, we've seen some crazy good products [that] I think we'll talk about here in a little bit."
Zohn notes that 2021 has been a good year for his business Value Electronics, based in Scarsdale, N.Y., as the increased demand for home entertainment stemming from the pandemic carried on into this year.
"It's been a banner year for us as well in our industry. Our sales have spiked and have continued to be strong and steady," says Zohn.
"People are staying home, they are not spending money on other items, so they are upgrading entertainment in their homes, and that especially appeals to enthusiasts who always have an edge to upgrade their products. This is also the biggest upgrade year we've seen in technology advancements in both audio and video. We're seeing larger screens, we're seeing brighter OLED TVs, we're seeing more powerful video processing, so this is the biggest upgrade year I've seen."
ISF's Silver points out one of the biggest developments to occur is the rapid adoption of HDR (high dynamic range) content that is readily available to the public.
Video Experts Pick Favorite Products from 2021
Moving onto the topic of noteworthy products that have been introduced over the past year, Silver lauded the HDMI 2.1 technologies in general, and commented that one product he'd love to have someday in his home theater is Sony's flagship VPL-GTZ380 SXRD laser projector.
This 6P red-laser projector is capable of producing up to 10,000 lumens of brightness, along with D65 color balance capabilities, and the DCI-P3 color space. The HDR-friendly, $80,000 projector also incorporates Sony's X1 for Projector processing, and it offers homeowners up to 20,000 hours of maintenance-free operation.
"I've been setting up some new Sony 380 [projectors], which is multi-laser, and what really knocks you out, it's not the light output — I mean it's a lot of light, but there are a lot of projectors out there with a lot of light," says Silver.
"The color saturation jumping off the screen, which in our world of video evaluation … yes, contrast ratio and dynamic range is undeniably the most important thing ever, but the second most important thing is called saturation … I'm seeing saturation off projectors with these [Sony 380] systems I've not seen before, and do we need to progress."
In addition to Silver's choice, Dustal and Zohn also choose their favorite products from 2021 from top manufacturers such as LG, which Zohn says continues to deliver OLEDs and other displays highlighted in the Value Electronics showroom. He adds Kaleidescape as a favorite brand, and the panelists continue the content discussion by selecting some top demo choices.
To hear the full conversation about the video year in review check out this week's edition of the CE Pro Podcast. Find past episodes of the CE Pro Podcast by subscribing to the CE Pro YouTube channel or our Apple and Spotify podcast feeds.