Klein Tools' WiFi Borescope Transmits Images to Smartphones
Inspect the tight quarters of your installation and save the images right to your smartphone thanks to new WiFi borescope from Klein Tools.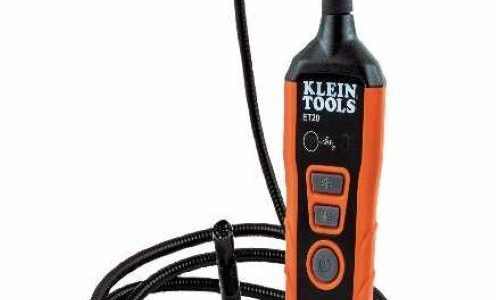 Getting to the back of a rack, seeing what lurks alongside HVAC ducts, inspecting cabling behind a wall: There's a lot that can stand in the way of a successful home systems installation.
A borescope is a tool that can help you see places where the naked eye is unable to clearly observe.
It's handy, yes, but now Klein Tools takes it up a notch by enabling its new WiFi Borescope to save and share jobsite images and videos—in 640 x 480 resolution–through a mobile app compatible with iPhone and Android devices.
In an instant, your smartphone becomes a smart tool that you can use on or away from the jobsite.
"Klein Tools' new WiFi Borescope features a small, rugged camera and a 6-foot waterproof gooseneck to capture vivid images and video even when maneuvering around tough obstacles," says Aaron Holcomb, product manager at Klein Tools.
"Once the Klein Tools Borescope App is installed, professionals can quickly connect their smartphone via the built-in WiFi signal, making it easier to display, record, store and share the camera's output."
WiFi Borescope Transmits Images and Video up to 30 Feet Away
The WiFi borescope features a 6-foot gooseneck to maneuver around obstacles and is able to transmit and display images and video to compatible smartphones up to 30 feet away.
The images can be rotated without altering the position of the borescope. It's all done through the app.
Related: Just a Man and His Tools—Look Inside a Technician's Perfect Toolbag
To make sure the integrated 9 mm camera can capture images even in dark areas the borescope is fitted with adjustable LED lights.
The LED lights can be controlled directly from the borescope or the mobile app. And if your worried about WiFi connectivity, the borescope will let you know if it's working properly or not.