Lighting & Shade Special Report: Exclusive Research
CE Pro asked integrators what specific assistance they would like to receive from manufacturers of lighting controls, fixtures and shades. Come check out our download for all things lighting and shades!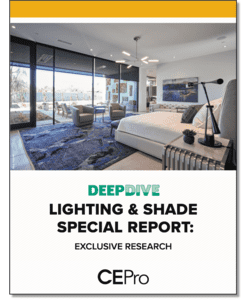 This exclusive 2021 CE Pro Lighting & Shade Deep Dive Study offers an in-depth look at the three-pronged force that is the lighting market today: Lighting Controls, Lighting Fixtures and Motorized Shades.
The lighting control space has long been a staple for integration companies, and the introduction of human-centric lighting (HCL) and the LED revolution in fixtures has only bolstered that standing.
Lighting fixtures have become an ever-growing element in integrators' arsenal to offer clients led by the LED revolution.
Installation of motorized shades is the most lucrative for integrator, and the revenues and profits just keep on rolling.
The lighting/shade business is beginning to rival audio and video in terms of the most commonly installed subsystem. Come check out our Research and see what we have gathered!