'Foal Alert' Integrates with Elan Home Automation, Warns when Birthing is Neigh
A horse-birthing sensor from Foalert integrates with an Elan home automation system to send text messages, flash the lights, and play a "neighing" loop through 18 in-home speakers when a foal is on the way.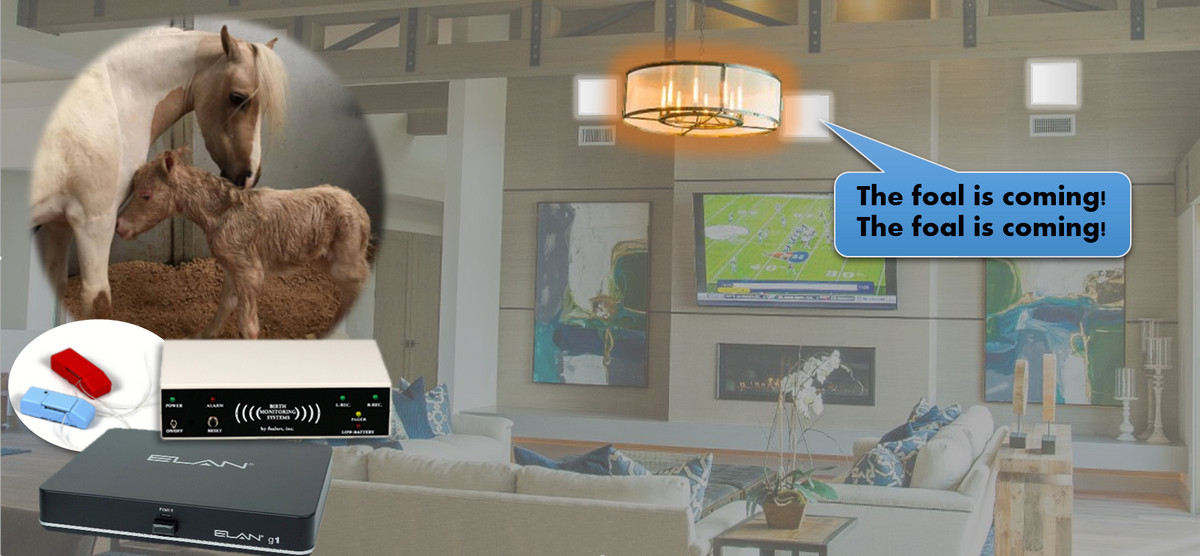 Julie Jacobson
·
February 28, 2018
In the horse world, some 90 percent of births go fine without human intervention. Serious horse lovers and breeders, however, still want to be on the scene just in case. The best way to do that is to attach ("install") a specialty foaling sensor on the mare, and tie it into a home automation system, ensuring someone shows up at birthing time, without having to camp out in the barn for a couple of weeks.
Lucky for Orange County, Calif., the area now has a home-technology integrator who can serve their foaling needs ... because that's what dedicated home technologists do.
Jeff Cooper, principal of Yorba Linda-based Simply Sight & Sound, Inc., became an unwitting authority on horse-birthing recently when an existing home-automation client wanted to extend her Elan home-control system to the barns. Cameras were nice for the application, but impossible to monitor effectively, given the nine stables and plentiful miniature horses on the sprawling Painted H Ranch, in Chino Hills.
Horse breeder Aimee Davis had hired Simply Sight & Sound for a whole-house A/V and smart-home system back in 2013, and eventually got to thinking about an alert system that would tie into Elan, notifying herself and the ranch hands before the big event.
The automation system already enabled text and email alerts, as well as the automation of lights, audio, video and other subsystems in the home. Couldn't an imminent birth tap into these vast technological resources, maybe prompting an announcement over the in-house speakers?
"Trixie is about to pop. Get to barn #7 and bring the forceps STAT."
The foal's impending arrival trips the mare's Foalert sensor, which signals the wireless Foalert receiver, which triggers the Elan home automation system to launch the
birth-alert
scene at the house.
There are multiple sensors and contraptions on the market that alert caretakers of an impending birth, but they mostly operate in their own bubbles, with a dedicated RF receiver that beeps when the foal is coming and maybe a relay to trigger some other device.
The client's preferred early warning system is Foalert, which the manufacturer claims is the "foremost birth monitoring system available to breeders large and small."
A veterinarian sutures the transmitting device to the mare's privates -- like how a qualified third-party electrician might install switches for a home-automation system, only grosser (foalert video: viewer discretion advised).
The device works like a typical normally-closed door/window sensor. That thing that happens down there when mom is ready ... opens up a gap between the two elements of the sensor, causing the transmitter to send an RF signal to the old-fangled Foalert receiver, which plays some beeping noises through the on-board speaker.
The Foalert sensor is "installed" just a week or two before the birth, so Simply Sight & Sound need not worry about changing the batteries on the transmitter.
Old-School Equine Birthing Sensor Meets High-Tech Home Automation
The simplistic Foalert alerting scheme is useless if no one is around to hear the telltale beeps harkening the arrival of equine junior. Fortunately, the receiving unit has a relay output, which Simply Sight & Sound patched into the property's existing Elan controller. Both systems reside in a barn equipment closet, which also houses surveillance gear. Fiber optic cabling runs from the barn to the main house, feeding a slew of home-technology subsystems all integrated through Elan.
Here's how it works: Baby horse's impending arrival trips the mare's Foalert sensor, which signals the wireless Foalert receiver, which triggers Elan to launch the birth-alert scene at the house -- flashing the Lutron-controlled lights, sending a text message to Davis's phone, and playing a "neighing" loop through the home's 18 SpeakerCraft speakers.
"Now Aimee is alerted at the exact moment when a horse begins giving birth," Cooper says. "This allows her to send the necessary parties over to the stables immediately to oversee a successful birth."
Back at home, if Davis is not on the scene, she can view the relevant camera feeds from her smartphone, tablet or Elan touchscreen, enjoying all that glorious birthing footage live, possibly sharing the miracle on facebook, and replaying it over and over for friends and family.
"Once I understood the nuances of Foalert," Cooopers says, "I was able to seamlessly integrate it into the Elan system. This project is certainly a first for me, but it functions flawlessly."
Part of that flawlessness involves a reliable source of power, provided by a Furman F1500 UPS Uninterruptible Power Supply and a Panamax M4315-PRO Power Conditioner with BlueBOLT remote power management service. Cooper and his team can troubleshoot the system remotely, ensuring birth alerts go through without a hitch.
One final feature added to the system just recently is an automated service called Vocal Notify that dials a bunch of phone numbers on a specified list when it receives an email message from a client. Since Elan can generate emails in response to preprogrammed events, it was simple to insert the commercial-oriented service into the birthing process.
"We feel much more confident in our alerting system and haven't missed a birth since," Davis says.
---
2019 State of the Industry Special Report - CE Pro Download
The custom electronics industry saw a healthy 8 percent growth rate in 2018, down slightly from the blazing 11 percent growth in 2017 but still admiringly strong. Our 2019 State of the Industry indicates that readers expect to see even more growth in 2019. Get your copy today.
---
About the Author
---
Julie Jacobson, recipient of the 2014 CEA TechHome Leadership Award, is co-founder of EH Publishing, producer of CE Pro, Electronic House, Commercial Integrator, Security Sales and other leading technology publications. She currently spends most of her time writing for CE Pro in the areas of home automation, security, networked A/V and the business of home systems integration. Julie majored in Economics at the University of Michigan, spent a year abroad at Cambridge University, earned an MBA from the University of Texas at Austin, and has never taken a journalism class in her life. She's a washed-up Ultimate Frisbee player currently residing in Carlsbad, Calif. Email Julie at jjacobson@ehpub.com
Follow Julie on social media:
Twitter · LinkedIn · Google+
Julie also participates in these groups:
LinkedIn · Google+
Control & Automation
Vivint Adds Connected Cars to Security and Smart-Home Ecosystem
Product Briefs: Fibaro, SmartThingsRutherford Audio, Goldnote; ProSource adds Dish
Analysis: ADT Pulse vs. Command and Control; 3G Sunset Doom as 'Opportunity'
Josh.ai Integrates With LG Displays for Voice-Controlled Entertainment
Bosch, Thermador Open Smart-Appliance APIs for Home Automation Integration
View more on Control & Automation
Take Our Latest Quiz
How Well Do You Understand Ethernet Cables and Connectors?
Bose