CE Pro Podcast #75: Conferencing Provider Konftel Discusses Impact of Climate Neutral Commitment
Swedish company Konftel's Stefan Eriksson talks about growing need for AV conferencing, plus manufacturer benefits of Climate Neutral certification process.
Listen to this podcast using the embedded player below.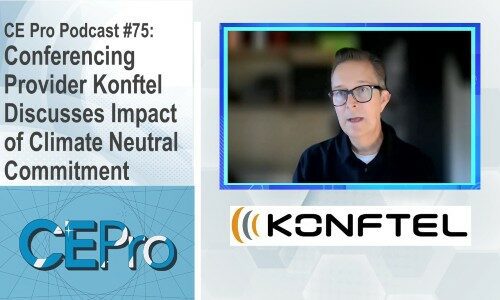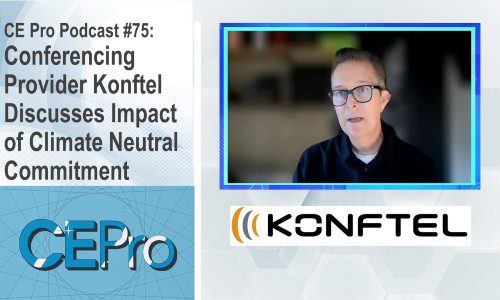 The conferencing and collaboration market has become critical in today's hybrid work environment, and integrators are looking to find reliable solutions. In what's becoming a crowded category, one company that's making itself stand out is Konftel.
The Umea, Sweden-based company's chief marketing officer, Stefan Eriksson, joined the CE Pro Podcast to talk about how Konftel's commitment to sustainability and Climate Neutral certification benefits both the industry and its customers.
Konftel is an AV conferencing specialist, whose heritage going back to the late 1980s is in audio conferencing, Eriksson notes. With the impact of the pandemic, the ability to have audio clarity from office spaces – whether in a commercial building or at home – drove the company forward. Now, as he explains, the idea is to improve the AV part of conferencing and collaboration, but to make the whole experience easy.
For those looking to pitch larger-scale setups for corporate or education clients, Konftel's conference phones, hubs and video kits are ideal for such resimercial markets in addition to residential, and the company recently rolled out its Room Type Guide to assist with system design.
"Partly because the pandemic has made us really see and change our behaviors toward using video conferencing, video meetings on a daily basis … we need video-enabled meeting spaces everywhere and also in our home offices – professional kits," Eriksson says of the growing opportunity. (CE Pro tested out one of the company's solutions earlier this year.)
"It's a really hot topic on many agendas we know, making sure both the office environment, with different room types you can find there, and the employees that work from home part-time … get the right equipment that enable the employees to be efficient."
Scandinavian Influence on Konftel Product Development, Sustainability Initiatives
Meanwhile, as a company based in Scandinavia, a region whose manufacturers are known to be on the forefront of areas such as modern industrial design flair as well as adopting eco-friendly policies, Konftel fits right in with those movements.
Eriksson explains how the company's product development has been driven in recent years by going through the Climate Neutral certification process. It's provided key insights into the company's carbon footprint, among other things, and given Konftel the ability to tell its story of how it is addressing climate change.
It's a message that resonates with consumers, job seekers and especially younger people today – naturally Eriksson cites as one influence Swede Greta Thunberg, who has gained international recognition for her climate change activism. Those interested in learning more about Climate Neutral certification can check out more about Konftel's experience that the Swedish company has documented in addition to the sustainability organization's own site.
On the aesthetics side, Konftel's products might not be IKEA furnishings or Bang & Olufsen AV when it comes to extensive design possibilities, but as products that are meant to sit out in the open like an all-in-one huddle room hub, they do have several sleek touches.
"You can see when you look at our products that through the years we've invested in good, quality fabric to create sort of an organic feel to the product, and hopefully that adds something to the environment where you have the meetings," he says as one example, adding that Konftel has copped three Red Dot awards, which honor product design innovation.
Hear more from Eriksson about Konftel's conferencing solutions, as well as how your company can explore Climate Neutral certification and what that entails by watching or listening to the podcast above. Find past episodes of the CE Pro Podcast by subscribing to the CE Pro YouTube channel or our Apple and Spotify podcast feeds.