Fusion Research Unlocks Amazon Fire TV for IP Control via Home Automation Systems
Control4, RTI and URC home automation systems will be able to control Amazon Fire TV with new two-way IP driver from Fusion to be demonstrated at ISE 2015.
Julie Jacobson
·
January 29, 2015
Amazon Fire TV is considered one of the most robust of the media streamers on the market, but if you want to integrate it with a home automation system, you're pretty much out of luck – the native controls are all Bluetooth and no IR.
But Fusion Research, best known for making movie servers, music streamers and whole-house audio systems, has unlocked the Fire box, enabling two-way control via IP command sets.
Users could, for example, press a single button to turn on the TV and jump immediately to a Fire TV screen, no matter where in the house the system is located.
Fusion has written drivers for Control4, RTI and URC control systems, but more leading smart-home systems will get their drivers later this year, starting with Savant and Crestron.
The new drivers, to be demonstrated at ISE 2015, are available directly from Fusion's newly launched Web site for $49.95 per project (one driver can be used for multiple Fire TVs in a single installation).
Initially, the drivers only provide the power state of the Fire TV (on, on, awake, sleep, hibernate) so the control system can issue the proper commands. Users also can tell whether any given Fire TV is being watched so, for example, parents can monitor their children's usage.
Fusion CEO Joseph Storm tells CE Pro, "We are planning to expand this to other feedback including actual content in the next release of the driver."
He adds, "There is no voice control on this driver since there's no way to capture voice on the various controllers from the automation companies."
The Challenge of Creating a Fire TV Driver
Creating the driver was no small task because it takes "two completely different skill sets to make it happen," Storm says. "Reverse engineering a device without a manufacturer's assistance is difficult and requires prior experience in this area and much patience."
But there's more, Storm explains: "What is perhaps more difficult is being able to write two way drivers for all the various control systems once you have the device's protocol."
He notes that the various automation systems are "radically different in how they work and how the drivers are created."
Fusion, though, is in a "unique position" since the company has spent the last year writing two-way drivers for its audio streaming systems, "which gave us the knowledge to be able to release multiple drivers all at once," Storm says.
And if Amazon Changes it Up?
Developing drivers without the blessing of a third-party manufacturer is not always such a great idea. Firmware can change, thwarting the communications.
Late last year, for example, Amazon issued an update that disabled Fire TVs that were hacked. It seems tweakers were creating access to USB-based streaming, as well as Google Play apps – both of which undermine the business model around Fire TV, i.e., selling digital media.
But Storm doesn't see problems in the case of Fusion's IP drivers.
"Amazon based the control protocols for the Fire TV on Google's communication technology that is also used on literally hundreds of other devices," Storm says. "We feel that the likelihood of Amazon changing this anytime soon—while possible—is not likely."
On the off-chance that Google does mess with its protocol, Storm is confident that Fusion can react quickly to update its drivers.
The Big Deal about Fire TV
Storm says the Fire TV project came about because he's "totally hooked" on his own unit.
"The Fire TV is based on a quad core processor which makes everything you do on it lightning fast," he says. "To give you a comparison, the Apple TV is based on a single core processor and even Roku's latest top-of the-line is a dual core unit."
He thinks the navigation and screen functions of Fire TV are among the most user-friendly, but the real kicker is access to Amazon Prime's original programming, such as "Transparent."
Amazon Fire TV sold out quickly when it went on the market in April 2014 at $99, and at least one analyst predicted Amazon would sell 5.8 million units in the U.S. last year, compared to 8.8 million for Apple TV, 5 million for Roku and 4 million for Chromecast.
Configuring Fire TV for two-way IP control
- - - - - - - - - - - - - - - -
JULIE JACOBSON

---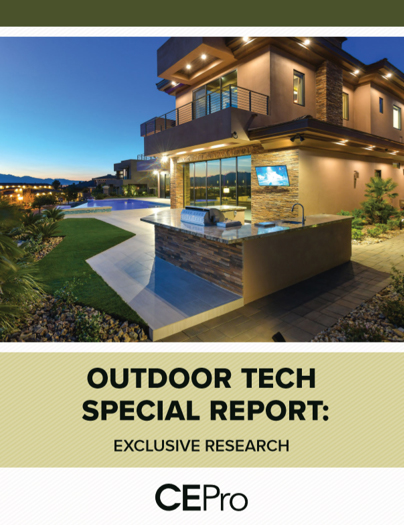 Find Out Why 63% of Integrators Expect Outdoor Business to Grow - CE Pro Download
The outdoor technology market is growing – both the demand from customers and the array of products available. According to our recent CE Pro survey, integrators are taking advantage of this opportunity to grow their businesses. Get your copy of the survey today.
---
About the Author
---
Julie Jacobson is founding editor of CE Pro, the leading media brand for the home-technology channel. She has covered the smart-home industry since 1994, long before there was much of an Internet, let alone an Internet of things. Currently she studies, speaks, writes and rabble-rouses in the areas of home automation, security, networked A/V, wellness-related technology, biophilic design, and the business of home technology. Julie majored in Economics at the University of Michigan, spent a year abroad at Cambridge University, and earned an MBA from the University of Texas at Austin. She is a recipient of the annual CTA TechHome Leadership Award, and a CEDIA Fellows honoree. A washed-up Ultimate Frisbee player, Julie currently resides in San Antonio, Texas and sometimes St. Paul, Minn. Follow on Twitter: @juliejacobson Email Julie at julie.jacobson@emeraldexpo.com
Follow Julie on social media:
Twitter · LinkedIn · Google+
Julie also participates in these groups:
LinkedIn · Google+