The Azione Unlimited "Didactic Dovecote in the Desert" proved to be an oasis of information, education, networking and teambuilding for the nearly 300 dealer and vendor attendees to the group's annual spring conference. With Dictionary.com describing 'didactic' as instructive or morally teaching and 'dovecote' meaning shelter, the Azione meeting lived up to its billing to give members advice on how to approach the upcoming economic uncertainties to not only stay afloat but thrive.
The event, held in early March at the Embassy Suites by Hilton Scottsdale (Ariz.) Resort, featured an array of inspirational and aspirational content, from the keynotes and integrator member Think Tank sessions to the vendor meetings, workshops, local charity event, a scavenger hunt and more.
Since Azione's merging with Nationwide Marketing Group in October 2021, both sides have been busy with announcements about new services, vendors, programs and people. Executive director Richard Glikes had plenty to share with spring conference attendees, which as a group finished 2022 up 2% year-over-year.
"We say, they come for the programs, they stay for the meetings," Glikes says. "They're realizing they're not getting the full benefit of the membership."
Azione Academy, Drive to 1000, Education on the Priority List
Glikes and the Azione executives are pushing the members to utilize more of the group's resources and education in addition to emphasizing vendor support. One resource he touted to the attendees is the launch of Azione Academy, which builds upon the CEDIA Academy online education platform that Nationwide and the association had partnered on as an exclusive for Nationwide's HTSN (newly rebranded as Oasys Residential Technology Group) members and Azione also to utilize.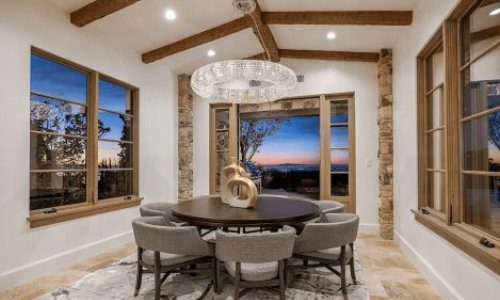 As a custom integrator, lighting is in demand. Effective communication, education and showcasing the value proposition of LED light fixtures in conjunction with integrative control systems are the keys to overcoming challenges and closing sales in this specialized market. Join us as we discuss the future of digital lighting and control with David Warfel from Light Can Help You and Patrick Laidlaw and Mark Moody from AiSPIRE.
Register Now! 
The Azione Academy side of the self-directed online platform is being developed and offered in tiers (free, gold, silver and bronze), featuring up to certain amounts of video modules and tests, created by the vendors with help from Azione and Nationwide, for integrators to learn and train on their solutions – incentivized by points and rewards.
Another major initiative Glikes announced is the Drive to 1,000, the membership push for the near future for Nationwide's Azione and HTSN groups to go from 280 to 300 custom integrators, go from zero to 100 commercial integrators, and increase HTSN's numbers from 252 to 600.
"I've been pushing for this, and we finally got everybody on alignment that this was a real market that could attract interest," notes Glikes, adding that Chris Whitley will head the new commercial silo.
Azione is also planning two leadership symposiums in 2023 – one in June for technicians to get hands-on training at Leon Speakers' facility in Michigan, and another in July for salespeople skills being held in Chicago.
"We're a community, we're a family," Glikes told attendees. "In building relationships lifelong, long-term, everlasting – that's what Azione is focused on in this room."
Following the opening kickoff, the day one keynote was presented by John Riddle, CEO of big appliance and tech retailer Howard's in Southern California and former LG executive. Riddle shared the story of how he came out of retirement when presented with the opportunity to turn around Howard's into what is now a major brand name with 17 locations/experience centers and counting.
He pointed to a few basic things the company – in business since 1946 but struggling with the Southern California market at the time Riddle joined the board in 2018 – focused on to start heading in the right direction. Between Riddle's time at LG heading the appliance division and his family sales history, one thing he stressed at Howard's was capitalizing on close relationships with vendors and their resources, a message befitting a buying group conference.
The other was for every team member to be singularly centered on customer service, which is always something that integrators can continue to improve upon.
"Every day, it's that feeling of taking care of the customer. If you eat, breathe and sleep taking care of your customers, then the competition won't stand a chance," Riddle says. "If you're focused on your customers, you have to show it."
Howard's makes sure customers help sell others on the company, too, which has aided the turnaround – the retailer calls customers up to five times to secure a positive Yelp review, and has improved its average rating from the low 3s to the high 4s since Riddle became CEO. Howard's solicits reviews of the in-store and in-home experiences.
He told Azione attendees to use services to elevate websites, add short videos with employee testimonials, post company history timelines highlighting milestones and innovations – Howard's, for instance, has one the oldest ESOPs in retail and several employees who have decades of experience there, a source of pride that can also attract potential talent.
Your website, Riddle says, should show those who find it exactly what you do, how you do it, what differentiates your team, what's your mission statement, etc. That way, prospective customers and prospective vendors can determine if they want to purchase from you, hire you or collaborate with you.
"You should all be proud of the history of your company," he says. "Communicate with vendors what your company stands for. … Working with vendors can help you get things done."
New Vendors Welcomed, Ready to Assist Dealer Members
Speaking of vendors, Azione Unlimited gave its new vendor members the opportunity to briefly address attendees on the second day of the conference. The group recently added a handful of well-known custom industry companies – DISH, Atlona, Leon, Hunter Douglas, Lenbrook NAD & Bluesound, Lowell Manufacturing, OneVision, Bryston and eero. Additionally, Azione announced during the conference that Angela Larson, Sr. VP Customer Operations at Savant, would be joining the advisory board, in the stead of Alex Camara, who recently stepped away from AudioControl as president.
The new vendors represent a swath of opportunities for Azione dealers, from the ability to customize loudspeakers to distributing high-res music, to outfitting fully featured racks to addressing the hot window treatments category. Plus, as Dish's Frank DeFilippis, general manager, Custom Integration at DISH mentioned, with the NFL Sunday Ticket moving from rival DirecTV to YouTube, now is the time to help customers migrate to new set-top box video services and navigate the streaming world.
Meanwhile, welcoming family owned, St. Louis-based Lowell Manufacturing enabled the group to fill an opening in the racks category and help fuel Azione's Drive to 1,000. Lowell does plenty of residential work, but its bigger business is in the commercial market.
John Lowell stood on stage during introductions with his son Jarret, representing the second and third generation of the company established by John's parents, Ben and Dorothy Lowell.
"It's the first buying group that we've ever been associated, that's in 75 years of business," John Lowell tells CE Pro. "What's really stood out the most at the meeting here is just the high energy of the group. Everyone's been so welcoming and engaging and interested in our products. We're here to serve the needs of the members and look forward to a long relationship."
Lowell says that before joining Azione, the company sent product to three of Azione members to essentially beta test using Lowell Manufacturing equipment in projects, and said it was a positive experience.
"They used them in their projects and actually the feedback was very, very positive from each of the members," Lowell enthuses.
Several Azione dealer members stepped up to the stage for the group's "Dealer Think Tank" session, highlighting business maneuvers and implementations that proved successful in 2022 – such as raising labor and RMR rates, adding employee morale boosters, working with real estate agents, cultivating builder relationships and more.
Among the Azione awards for dealers and vendors, AVI Systems and La Scala earned nods for "Big Kahuna" dealer and Canadian Dealer of the Year (Glikes noted 42 of the 280 members reside in Canada), respectively, while Sonance took the "Dealer Choice" award as top vendor for 2022.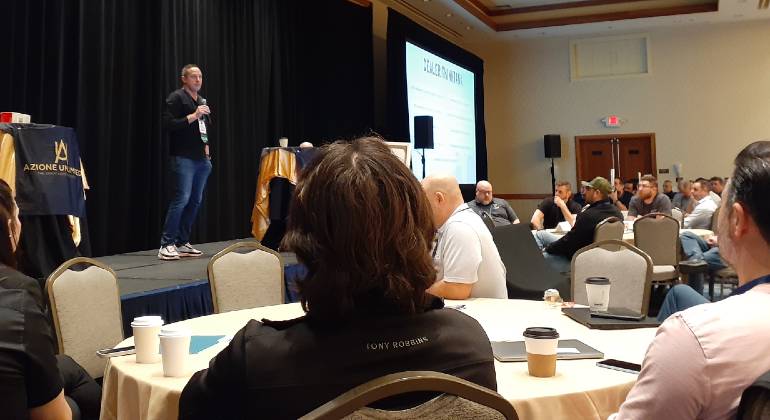 Azione Conference Adds Fun, Games & Challenges into Mix
After some serious business discussions during the day, the first night of the spring conference ended on a light note. Comedian – and seriously impressive vocal A Capella/beatbox artist who recreates popular songs – Ron Feingold took the stage with a hilarious routine.
The last two all-member events really focused on teambuilding, problem solving and critical thinking. Night two featured a fun scavenger hunt put on by The Go Game that had groups bustling through beautiful Old Town Scottsdale, figuring out where the next stop is on the list and sometimes challenging other groups to earn points.
The hunt proved more than simply finding iconic or hidden landmarks (though there was some of that, too), but tasks that involved asking strangers for assistance, taking creative videos and photos or staging a brief scene – like the phases of a person's lifecycle, for example.
Meanwhile, the following morning's roundtable session to close out the conference put Azione members' minds right back to work. Patrick McCarthy, director of New Business Development & Dealer Services, who will be heading up Azione's newly chartered education committee, led a fascinating project management challenge activity from Human Synergistics, a management consulting company. Attendees received a worksheet with 24 boxes noting 24 steps to complete a project from the very start to post-installation.
Individuals were told to put the boxes in alphabetical order, with the only hints being the first step, the last step and four basic categories of project phase – defining, planning, implementing and completing. After a certain amount of time, table members were to share their results and try to come to a general consensus – which was challenging enough in itself with 5-6 people sharing recommendations.
At my table, at least, we all seemed to identify the right steps at the 'defining' and 'completing' stages of the process, with room for some operational improvement in the middle apparently.
Apart from deciphering project management workflow puzzles, another inspiring instance in which different integrator and vendor members teamed up for was an afternoon of bicycle and tricycle construction on the second day of the Azione conference. Azione purchased 40+ bikes to be distributed to the local charity organization Umom New Day Centers and set the boxes up with tools for assembly. Everyone also decorated cards and wrote messages to the recipients of the donations.
Dealers, particularly from the 31 companies that had never attended an Azione event, reflected the enthusiasm and energy, taking time to enjoy the networking and the potential ideas to bring back to their companies.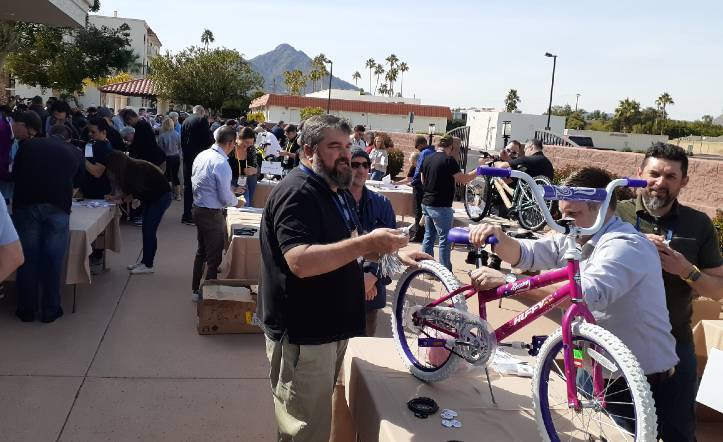 "This is the first time we've gone to an event, I don't know if we've really honestly done much with Azione – we will now," Ric Parker, operations manager at Hi Fi Club in Santa Barbara, Calif., tells CE Pro. Hi Fi Club has been a member since 2016, but like others plans to get more out of the group in 2023.
"For companies to get together, talk about ideas, particularly for what we're doing it's great. Everybody's talking about lighting, to the point I feel stupid for not doing it – so lighting and shades definitely moving into that. We've had a quasi-relationship with an electrician where we make money off of them, but now I think we're going to look at taking it on ourselves," he says.
Robert Podgorski, of Cave Group in Long Island City, N.Y., has been in the industry for 23, joined Azione in 2022 and was happy to make the cross-country trip to Scottsdale.
"One of my friends said you have to join it," Podgorski says of the group. "It's good, I like it – it's like family, all the guys are friendly and treat you well. The most important part for us is we're still looking to integrate everything into one software, there's a lot of ideas here. The biggest takeaway for us is getting more ideas for how to efficiently manage your business – like someone said, I can do AV every day, morning and night, managing my business is not my thing. I think that's what's most important about these meetings."
If you enjoyed this article and want to receive more valuable industry content like this, click here to sign up for our digital newsletters!