CE Pro Podcast #85: Inside the Nationwide/Azione Merger
Tom Hickman of Nationwide Marketing Group and Richard Glikes offer further insight into the recent merger of the two buying groups.
Listen to this podcast using the embedded player below.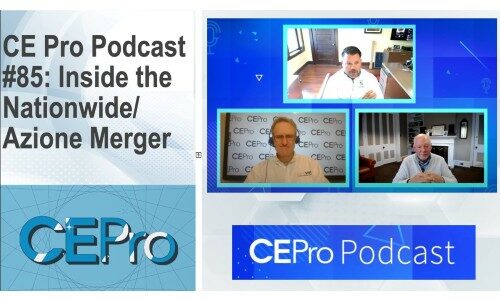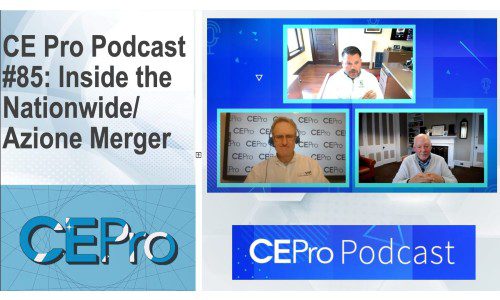 The October 20 announcement that two of the leading buying groups in the industry — Nationwide Marketing Group and Azione Unlimited — would be merging took many by surprise, but it was a unification that was 3 years in the making. That is just one of the details revealed by Nationwide President and Chief Member Advocate Tom Hickman and Azione Unlimited Founder Richard Glikes as they joined the CE Pro Podcast to discuss what lies ahead for the unified groups.
Also, we found out that Glikes shot a round of 69 on the golf course recently, so any speculation that the merger was a way for him to relax and work on his golf game was shot down.
"I am not going anywhere," exclaimed Glikes. "They will carry me out of this seat. I will be in the industry, as long as I have fun and it's still fun to me."
The roots of the Nationwide/Azione merger go back several years.
"We've run into each other quite a bit at functions always kind of find found ourselves talking about what each other's organizations were doing to help their membership grow and be more profitable," says Hickman. "We found ourselves talking a lot about how important it was to service these folks in a way that was different than maybe some of the other groups that were out there."
That conversation carried on for several years until the duo realized the traction behind the smart home industry and eventually sat down — over a few bottles of wine — and had decided to join forces.
Among the obvious benefits to Azione members from the merger is access to Nationwide's marketing services program, which includes a full-blown video studio, along with other services like warranty insurance, improved credit card rates, insurance, business financing, and the ability to create custom content for members' websites. For Nationwide members, access to Azione's training programs specific to the smart home will help guide some of its members to boost their smart home offerings to clients,.
One question floated by some in the industry was related to the vendor crossover between the two entities and if manufacturers would have to choose between serving Nationwide member versus an Azione member in a local market, but there are only six common vendors in both Azione and Nationwide Marketing Group, so the conflict is minimal.
"And those are mostly in TVs," comments Glikes.
Immediately following the Nationwide/Azione merger announcement, it was still undetermined exactly what would happen with the physical meetings that both groups hold. Glikes provided some clarity, noting that Azione plans to hold its spring conference from March 28-30 in New Orleans. In the fall, Azione will hold regional meetings. Starting in 2023, Glikes says the group plans to hold three regional meetings along with its Key Leaders Meetings aimed at middle managers among its members.
Meanwhile, Nationwide Marketing Group will hold its PrimeTime Spring event in Phoenix from February 5-8, and its fall event in August 13-16 in Orlando.
Find past episodes of the CE Pro Podcast by subscribing to the CE Pro YouTube channel or our Apple and Spotify podcast feeds.