One Month into ADT Pulse: Demand is High, Prices Mainstream
ADT Pulse home management service launched this month with "so much demand" that ADT isn't slashing prices to lure customers; challenges on the sales and installation front.
Julie Jacobson
·
October 26, 2010
Nearly two years after Tyco subsidiary ADT said it would bring Web-enabled home automation to the masses, the security giant is ready to roll with a new security/home management service called Pulse.
The world's largest security provider with more than six million accounts, ADT launched Pulse earlier this month through 350 branches in North America.
Pulse is the first credible effort by any provider to deliver home control to the mass market through a national network of installers, in the opinion of this author.
It melds ADT's traditional alarm service with a remote home management system from iControl, allowing users to monitor and control lights, thermostats, door locks, surveillance cameras and other devices—in addition to the ADT security system—via the Internet.
As ADT tells it:
From almost anywhere, you can have the power to arm and disarm your home's security system. But ADT Pulse is more than just remote security — it's home automation, climate and light control, and video. And it's affordable, customizable and easy to use.
The product is hardly new in the home control space. What is novel about ADT Pulse is the muscle behind it, including the installation force, the call centers, the operational efficiency and of course the marketing might.
"By early Q4, we will hit with a big advertising and marketing push," says Don Boerema, chief marketing officer for ADT. "We'll be out there in a big way."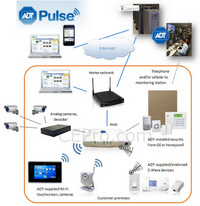 For more product details on the ADT Pulse ecosystem, visit www.cepro.com/adtpulsehome
Meanwhile, the company is already out in force and so far the response has been good, according to Boerema. In fact, he explains, the response has been so positive that ADT is not slashing the price of its offering to gain the lucrative recurring revenue contracts—a common practice among mass-market security firms including ADT.
"Right now, there's so much demand and we're not even marketing it today," says Boerema, adding, "There's no need for subsidies right now."
Referring to Xfinity's (formerly Comcast) roll-out of a similar offering, Boerema explains, "Obviously, we have to look at the competition, but right now, there hasn't been a need for it [subsidies]."
ADT charges $48 to $58 per month for the new service (long-term monitoring contract required), which includes professional security monitoring, system maintenance and remote access for the homeowner. In general, the iControl piece of the Pulse system adds about $10 to $20 to a typical ADT alarm contract.
Product and installation costs are extra.
The ADT Pulse System
Like all ADT offerings, Pulse starts with a standard security system, currently supplied by GE Security (Simon and Concord models) and Honeywell (Vista and Lynx).
The security system communicates via a hardwired serial connection to an Internet gateway – the "iHub" – that features a built-in Z-Wave module for communicating with compatible devices such as lights, thermostats, sensors, motorized drapes, door locks, garage door openers and more.
Z-Wave, a wireless mesh-networking home-control protocol, is utilized by more than 160 manufacturers in hundreds of electronic devices.
Theoretically, all products bearing the Z-Wave imprimatur should be interoperable, but in practice that isn't always the case. For that reason, ADT is offering just a handful of Z-Wave devices including thermostats, lighting modules and door locks, but the company will continue to vet more products for both professional- and self-installation.
"Because the Z-Wave protocol is still not as tight as it should be," says Boerema, "we're certifying all Z-Wave products that will work for a good experience."
Those products will be listed on the ADT Web site.
In addition to Z-Wave, the iControl/Pulse hub has a built-in Wi-Fi radio to communicate with wireless cameras and potentially other high-bandwidth wireless devices in the home.
The iHub – and everything connected to it—can be accessed via the Internet, enabling users to monitor, control and even program their home electronics remotely.
(NOTE: We reported originally that the iHub had a built-in Web server that eliminated the need for third-party Web hosting services. In fact, the iControl software is hosted by ADT, so remote access is via the company's secure servers.)
In the end, what iControl provides is a unified interface for:
Traditional security
Home automation including lighting and thermostat control
Video cameras
Common Web applications such as weather, traffic and sports
Digital photos (from Flickr, not the home network)
Additional items "just for fun" such as the Word of the Day
The features are accessible via ADT's own touchscreen, as well as virtually any Web browser. ADT Pulse also has a native iPhone application. Apps for Android and Blackberry are expected as well.
Once the Pulse system is installed by ADT, consumers themselves can add hardware to the ecosystem, and program alerts and scenes.
Users can program schedules for their lighting and thermostats, for example. They can also program more advanced scenarios, such as: If motion is detected at the front door during daylight hours, record 20 seconds of video and email the clip to mom and dad.
A Challenge for ADT Sales, Service
The Pulse rollout follows an "extensive amount of training" for ADT installers and salespeople, says Boerema.
Every installer will have spent two full days in technical training, and some 2,000 salespeople will have endured "really extensive training to make sure they understand the core platform," Boerema says.
In the home control universe, iControl is a relatively simple proposition. But ADT's success has always hinged on an army of technicians installing a large number of cookie-cutter security systems in a very efficient manner.
"Now we're getting into a lot of non-traditional hardware as well as software," Boerema says.
Alarm guys accustomed to installing only sensors, keypads and security hubs are now installing thermostats, lighting modules, door locks and "a lot of other things that are very very different than they've done before," says Boerema.
Under the "very different" category is wireless networking of the Z-Wave (900 MHz) and Wi-Fi varieties. Both of these technologies can be undermined by a home's size, construction materials, fixtures, and electronic devices. They are much more apt to confound installers and users than a typical security sensor.
On top of that you have home networking and broadband connectivity, which can frustrate even the savviest IT professional.
In many cases, as well, the installation will require an electrician to wire Z-Wave-enabled light switches and other high-voltage devices. In those cases, ADT can coordinate with a local electrical contractor, or the customer can hire their own.
The other paradigm shift with Pulse is the sales protocol.
"Installers now have to become salespeople," says Boerema. "We can sell it over the phone, but I think what will happen over time is that we'll be selling more of the upgrades [in the field]."
During an installation, for example, a customer is likely to suggest, "Hey, I want another camera," he explains.
ADT spent years determining the optimal inventory that security techs carry on their trucks. That was easy and relatively inexpensive compared to the Pulse model, with offerings that are far more expensive (and expansive) than the $5 to $30 sensors that ADT installers typically inventory.
Once the Pulse system is installed and the ADT tech demonstrates the portal to customers, "They go through the experience and think of all the things they can do with the service," Boerema says. "They say, 'I want to add a thermostat or I want to add more lighting.'"
He notes instances of Pulse customers adding Z-Wave devices to turn on and off the curling iron, crock pot and hot tub.
He adds, "It's pretty exciting" for the customers, but it adds complexity to the ADT model.
The Cost of ADT Pulse
ADT offers three tiers of service, all of which come standard with professional monitoring service for burglary, fire and flood detection.
Select, $47.99/month (with long-term monitoring agreement)
The Select service adds basic access to the home's security system via a built-in GSM module. The customer can arm/disarm the panel remotely, and receive email and text alerts upon an alarm event. The Select service does not include the iHub or related home-automation services.
Advantage, $49.99/month (with long-term monitoring agreement, otherwise $68/month)
The Advantage plan is the cheapest ADT Pulse plan that includes the iHub, along with automation and remote management functionality. The plan allows for the monitoring and control of an unlimited number of Z-Wave devices, but excludes video.
Premier, $57.99/month (with long-term monitoring agreement)
For $8 more than the Advantage plan, users can integrate and manage as many cameras as the system supports.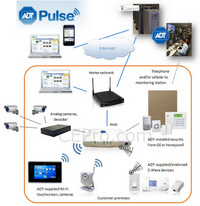 For more product details on the ADT Pulse ecosystem, visit www.cepro.com/adtpulsehome
Pricing includes some system maintenance, beyond which a tiered maintenance plan is offered "based on how much the customer spends on hardware," Boerema says.
There is a charge for both hardware and installation which, as mentioned earlier, are not discounted as they are in typical mass-market security installations.
All plans include the security panel and a paltry two door/window sensors and one motion detector—hardly enough to secure any living space except maybe a one-bedroom apartment. Additional sensors, including installation, can run up to $50 each.
Typical ADT security installations start at about $300, although $99 deals can be had (with monitoring contract).
In the case of ADT Pulse, the "retail" price for installation starts at about $855 (with obligatory monitoring contract) for the Advantage system. That includes the security panel, three sensors, iControl iHub, one Z-Wave thermostat and two plug-in Z-Wave appliance/lamp modules.
Although ADT does not list a la carte pricing for additional Z-Wave devices, they typically start at about $50 for a plug-in module, $80 for a dimmer/switch, $200 for a door lock and $100 to $150 for a thermostat (sans installation, of course).
ADT does not list the standard installation price for the Premier plan, but it comes with one touchscreen and two video cameras, in addition to the devices installed under the Advantage plan.
One ADT Pulse customer interviewed for this story paid approximately $10,000 to $12,000 for the initial installation.
ADT will not sell the Pulse (iControl) solution without a contract for professional security monitoring.
---
Secure Your Free Pass to CEDIA EXPO 2019
Register before Sept. 2 to gain free access to the opening keynote, product training & education series as well as the show floor including Innovation Alley and much more. Don't miss your chance. Sign up today.
---
About the Author
---
Julie Jacobson is founding editor of CE Pro, the leading media brand for the home-technology channel. She has covered the smart-home industry since 1994, long before there was much of an Internet, let alone an Internet of things. Currently she studies, speaks, writes and rabble-rouses in the areas of home automation, security, networked A/V, wellness-related technology, biophilic design, and the business of home technology. Julie majored in Economics at the University of Michigan, spent a year abroad at Cambridge University, and earned an MBA from the University of Texas at Austin. She is a recipient of the annual CTA TechHome Leadership Award, and a CEDIA Fellows honoree. A washed-up Ultimate Frisbee player, Julie currently resides in San Antonio, Texas and sometimes St. Paul, Minn. Follow on Twitter: @juliejacobson Email Julie at julie.jacobson@emeraldexpo.com
Follow Julie on social media:
Twitter · LinkedIn · Google+
Julie also participates in these groups:
LinkedIn · Google+