The new 20-foot-tall LG Electronics OLED display area in Just One Touch/Video & Audio Center's L.A.-area showroom might soon be called the "tower of power" because it is making quite a powerful impression on customers.
As part of a new LG OLED department in its Westfield Century City Mall location, Just One Touch/Video & Audio Center constructed a unique 360-degree vertical display area mounted with 8K and 4K TVs. The tower was designed by co-owner Joseph Akhtarzad to allow clients to see the backs of the TVs, not just the front of the displays. In his design, Akhtarzad realized that when a flat panel TV is mounted flush to the wall, customers cannot see the back of the set. By designing the 360-degree display area, it makes for a 3D-like experience.
"The back of the set is as beautiful as the front; the back is gorgeous," says Tom Campbell, corporate director/chief technologist for CE Pro 100 integrator Just One Touch/Video & Audio Center. "People can now touch and see it… front and back. We want it to be eye-catching, and it is. People walk around the tower with their mouths open. It's very powerful. It is a showstopper. The reaction has been phenomenal."
There are several displays angled downward at 50 degrees. There are also more LG displays mounted on the nearby wall to complete the entire LG OLED department. The tower is illuminated with RGB lighting to enhance its appearance. The lighting colors change based on holidays and seasons.
The new LG OLED department in total has more than one dozen displays including those on the tower and on the nearby wall. VAC carries the entire LG line of OLED and LEDs, including the BXT Series (55- and 65-inch), CXT Series (48-, 55-, 65-, and 77-inch) and GXT Series of flush mount units (55-, 65- and 77-inch). The company also has the new $29,999 Z9 88-inch 8K OLED on display.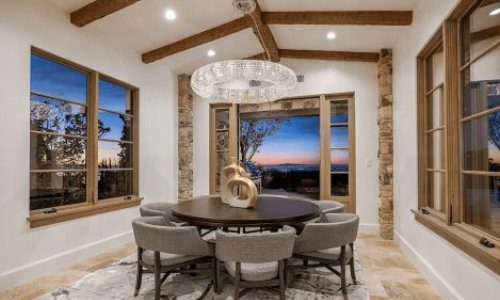 As a custom integrator, lighting is in demand. Effective communication, education and showcasing the value proposition of LED light fixtures in conjunction with integrative control systems are the keys to overcoming challenges and closing sales in this specialized market. Join us as we discuss the future of digital lighting and control with David Warfel from Light Can Help You and Patrick Laidlaw and Mark Moody from AiSPIRE.
Register Now! 
"Video and Audio Center was the very first to introduce OLED and is now featuring a complete LG area inside each store," says Campbell.
According to Campbell, the hottest selling LG unit is the $1,499 48-inch CXT for gamers.
"Gamers love it due to the black levels… we can't keep in stock," he adds.
LG OLED Department Adjacent to Install Area
The new LG OLED department sits directly adjacent to the company's Just One Touch installation department in the Westfield Century City Mall location. Just One Touch/Video & Audio Center also carries LG smart appliances, but those are located in a different area of the store.
Recently, several LG executives — Y. S. Lee, senior vice president/head, Home Entertainment, and Bruno Lee, director/product manager, TV Product Team — flew in from South Korea flew in to spend time in the store and see the tower. They spent hours with Akhtarzad and Campbell.
"Video & Audio Center was thrilled to be selected to introduce the first 4K and 8K OLED TVs to the market, and we are thrilled to now be able to present this product in a way never seen before," says Akhtarzad. "With the official opening of our LG OLED department, we are most excited to have LG's top execs come to our Westfield Century City store to witness this exciting event in person."
Campbell notes, "Today's consumer is very savvy. Both from an internet and research perspective. But they want to see feel and touch to validate their purchase. We used to have a term called 'showrooming' that referred to consumers who visit a showroom so they can later buy it online. Today, I called it 'webroom.' It means consumers are now starting their product services first with the internet and then later they come to the store to validate their proposed purchase. Our job is to be sure that they make the purchase from us instead of going back home and buying it online."
To do that, Just One Touch/ Video & Audio Center goes out of its way to try to make customers feel more comfortable. Those steps include same day or next day delivery service, same day or next day setup, and a satisfaction guarantee. The company also tries to differentiate itself from online resellers by pointing out that clients do not have to worry about the hassle of product returns with Just One Touch/Video & Audio Center.
"We're very excited about this new customer experience that is become a very strong solid area for us. It's been an incredible year," comments Campbell.
If you enjoyed this article and want to receive more valuable industry content like this, click here to sign up for our digital newsletters!