If you don't have a wellness strategy for your company, you'd better think about getting one quick. According to a new study, 73% of consumers expect any brand they deal with to have some sort of a wellness offering, whether that be food, airlines, hotels, banking, cars… or custom integration. And more importantly, 59% of consumers report they will pay more for it.
According to the Oglivy Wellness Gap study, the U.S. $4.5 trillion global wellness economy is growing twice as fast as the global economy. In April, Ogilvy surveyed 7,000 consumers from 14 countries across four continents to gain new insight into how they see wellness in the coming years. In 2020, 77% of people say wellness is very or extremely important to them. Yet, consumers are still hungry for more: 80% of people want to improve their wellness; 75% feel brands could do more for their wellness; only 46% feel that brands take their wellness as a priority.
"Every brand can be a wellness brand now. Wellness is in many ways the more tangible benefit of 'purpose.' We think this is very good news for brands. It shows that wellness remains an opportunity for double digit growth by meeting numerous consumer expectations to close the gap," says Marion McDonald, Ogilvy's global health & wellness practice lead.
Every Brand Should Have Wellness
Another important conclusion of the report is that every brand can grow through wellness. It is no longer a luxury sector of spas, nor the preserve of wellness brands; consumers are very clear about it:
73% say brands need a wellness strategy as part of their core mission
67% say there should be more wellness options, regardless of what they are shopping for
59% agree it's worth paying more for wellness options.
While healthy meals, good sleep and time to relax remain critical priorities globally, this study finds that wellness is now less self-centered, with there being four facets to it: physical, psychological, social and purposeful.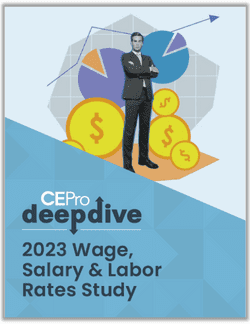 Discover the drastic difference a year can make when it comes to wage, salary, and labor rates in the custom integration industry.
The study says that more consumers believe they can't feel well if they don't feel connected or if they don't contribute to making the world a better place.
In fact:
71% say a wellness brand should make a positive difference
60% say it should give them a sense of purpose
53% say a brand should help them feel connected
This opens many opportunities for brands to form closer bonds with their consumers through activating purpose. The study recommends that social media is good first step to developing a strategy for your brand and can lead to richer and more personalized connection.
Real or Phony Wellness?
Wellness washing is a significantly growing sentiment among consumers, and the study found only 41% agree that brands that make wellness promises are usually believable. Further, 53% say they find it hard to tell the difference between real and fake wellness claims. People want authentic stories, ingredients they can understand, benefits they can believe and most important, brands that deliver on their promises to develop a strong competitive edge.
The wellness economy offers some of the most exciting growth prospects in consumer goods marketing, and COVID-19 will only accelerate this phenomenon, according to Oglivy.
If you enjoyed this article and want to receive more valuable industry content like this, click here to sign up for our digital newsletters!