It's no secret that lighting, and more specifically wellness lighting, has become a major category for residential integrators over the last few years. While this has opened the door for new companies to grab hold of the AV market, industry veterans American Lighting are eager to showcase how linear lighting can change the lighting landscape for integrators during the upcoming CEDIA Expo Virtual Experience.
American Lighting drew a large crowd during their first booth appearance at CEDIA Expo 2019, and the company wants to use that momentum to show integrators the benefits of linear lighting for residential installs.
"We're just as excited this year as we were last year. We weren't expecting the crowd that we got in 2019. We had a little 10×10 booth and there was actually a line formed outside of our booth, so we know that there's a lot of excitement about lighting and how to use it and how to incorporate it into a lot of the designs that are already being put together by integrators," says Jennifer Kirkpatrick, national sales manager, residential, American Lighting.
While American Lighting isn't focusing as heavily on its product line at this year's virtual show, the company really wants to provide integrators with the tools and learning resources necessary to break into the lighting category.
"We have actually decided to focus this year on a lot more educational courses and webinars, so we're really going to focus on educating the CEDIA members on what they can do with linear lighting."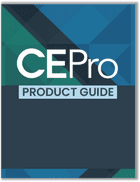 CE Pro's 2022 Product Guide showcases some of the latest and innovative solutions from manufacturers serving the custom electronics industry in a cross-section of categories.
Download the guide now!
These educational sessions will focus primarily on linear/tape lighting, and will go into greater detail on how to best integrate these products into existing control systems throughout each one-hour session.
"Because our main product category is tape light or linear lighting, we are going to have multiple sessions where we talk about specifying linear lighting into a job: How to assemble it, how to integrate it with control systems," adds Kirkpatrick.
"So each day during the CEDIA show we are going to have educational courses that will run for one hour that will go through different types of linear lighting and how to operate it, control it, and integrated into a control system."
In the company's CEDIA Expo Virtual booth, Kirkpatrick is most enthusiastic about showing integrators all of the resources the company has worked on to help demystify lighting products for the CE space.
"I'm most excited to show the integrators how we've adapted to their channel and how we've been listening for the last two years, and we are bringing in products that they've been asking for, things that are going to help them create human-centric lighting scenes and get into that whole wellness category in general," adds Kirkpatrick.
Be sure to visit American Lighting's booth during the CEDIA Expo Virtual Experience from September 15-17.