Other than the travel issues many people from the Midwest and East Coasts experienced during their flights home from Denver and CEDIA Expo 2023, the just concluded trade event wrapped up a stellar week of AV systems and component demonstrations.
What makes the 2023 show interesting despite the fact really no new technologies or format were really demonstrated was the fact that AV companies in attendance flexed their respective engineering muscle. Video manufacturers showed display technologies such as mini-LED, MicroLED, and laser-based projectors with content that included 4K in HDR and SDR.
Audio companies demonstrated Dolby Atmos immersive audio and high-resolution digital audio in stereo.
Prices for these products ranged from approachable to prices that are comparable to an exotic Italian sports car. Coinciding with these maturing AV technologies and products is a selection of content that has never been so diverse with broadcast video, streaming media, vinyl and even CDs.
While it is impossible to recap every product and system demo on the show floor, it is possible to shout out some of the products and system demonstration we did see at CEDIA Expo 2023 in a style that vaguely resembles The Nails' 88 Lines about 44 Women: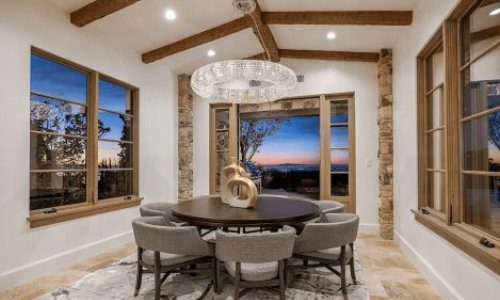 As a custom integrator, lighting is in demand. Effective communication, education and showcasing the value proposition of LED light fixtures in conjunction with integrative control systems are the keys to overcoming challenges and closing sales in this specialized market. Join us as we discuss the future of digital lighting and control with David Warfel from Light Can Help You and Patrick Laidlaw and Mark Moody from AiSPIRE.
Register Now! 
Bridgee: New to the market, Bridgee offers a couple of lines of HDMI cabling products with AOC options. The company's products have HDMI High Speed certification, and its top-of-the-line product line is certified by the Imaging Science Foundation (ISF).
Definitive Technology: On the show floor Masimo's Definitive Technology brand (DT) was showing its Mythos line of on-wall speakers and Dymension CI series of architectural loudspeakers. What stood out about DT's show display was the company's emphasis on bipolar technologies in modern AV systems. Definitive Technology was one of the leading bipolar speaker companies back in the 1990s and now, about 30 years later it is returning to its roots.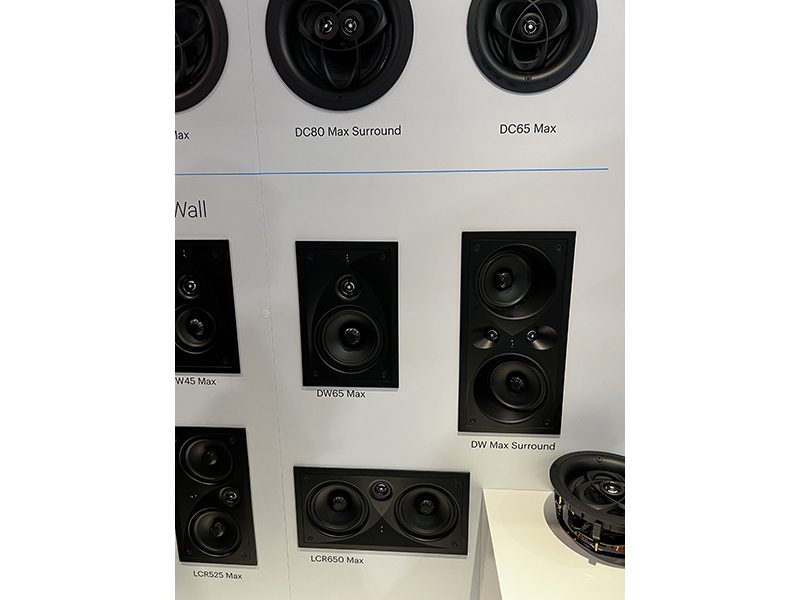 Pro Audio Technology/Theory Audio Design: Paul Hales is one of the most talented speaker designers in the home audio market, and at CEDIA Expo 2023 he let Theory Audio Design's ic6 do his talking. This versatile speaker delivers wide dispersion, along with a surprising amount of dynamics for such a small speaker. The speaker also provides a choice of transformer options and a pendant housing option.
In addition to its audio products, Hales and his brands partnered with a new video display company: Jupiter Systems. Jupiter states that it is sticking its toe into the residential market to gauge interest in its 5K 21:9 line of displays.
OSD Audio: OSD Audio had several whole-house audio amplifiers, home theater amplifiers and a variety of speakers in its booth. Standing out among these products was the company's new S-82 MKII and S-85 on-wall speakers. These LCRs can be used for a range of multichannel AV system installations installed horizontally or vertically. The S-82 MKII utilizes a multi-tweeter housing that can be oriented for horizontal or vertical mounting, and the S-85 features a high-performance ribbon tweeter.
Sonos: The popular whole-house audio and home theater company had an interesting booth layout. Divided into two sections, one half featured the company's residential products. The other half of the booth emphasized Sonos' new Sonos Pro commercial platform. This new product offering runs on the company's S2 OS, and it will offer integrators a host of features, including a web dashboard, remote management, and an array of commercial music services.
Grimani Systems/SSE/StormAudio/MadVR Labs/Barco Residential/Row One Seating: Any system featuring an Anthony Grimani tuned calibration you know will rock. Grimani Systems in combination with StormAudio delivered well defined, powerful low frequencies with highly detailed tight, immersive audio. The Barco, SSE and MadVR video side of the theater was equally impressive. Colors were deeply saturated without a loss of detail, the image was bright, and there was no visible image noise to be seen on a very large screen.
Vanco: One of the products that stood out in the Vanco CEDIA Expo 2023 booth was its new 4×2 Video Wall Switcher, which does more than the name implies. The switch supports a range of video wall applications for light commercial and commercial AV system installations, including sports bars and restaurants. Through the product's tiling option, the switcher is also a sports fan's best friend through its ability to show multiple games on a single screen.
Crestron: Integrating into its new OS4 for Crestron Home, the 425A-50 4-zone streaming amplifier offers integrators a smaller footprint without sacrificing functionality. CE Pro will have more news from Crestron and its OS4 smart-home features.
Samsung: The large, global electronics company has been on fire lately with a series of killer display products, and showcasing its video prowess, the company featured its 85-inch The Terrace Outdoor Full Sun TV in its booth. Moving indoors, Samsung highlighted its showstopping QN990C 98-inch 8K television, and 110-inch MicroLED display that incorporates six HDMI inputs.
In addition, the company stressed the measures it is taking to ensure its dealers succeed with its product line. The Samsung CI Resource site offers all the materials integrators need, including drawings, product sheets and other educational materials. Moreover, Samsung offers dealers its Platinum Dealer Program and Microsite Builder program to assist dealers in the marketing of their companies.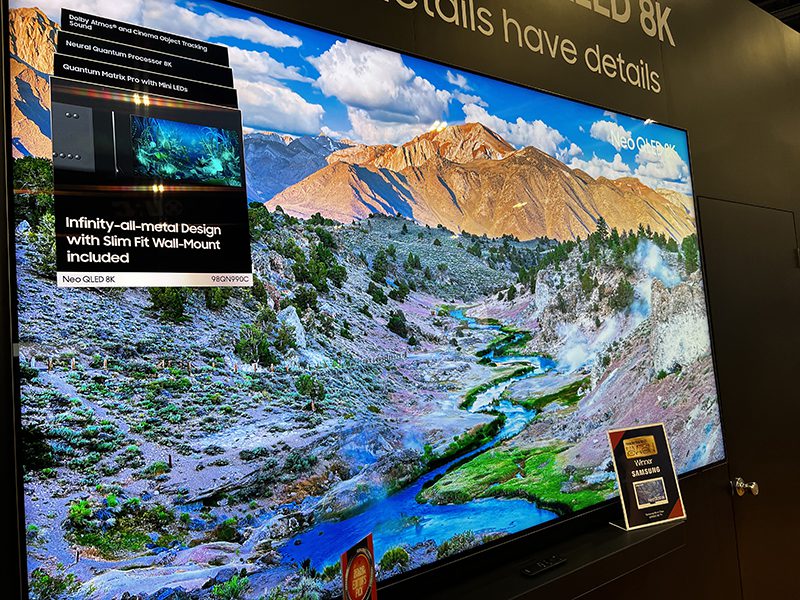 L-Acoustics: This French company is an A-list provider of sound reinforcement systems for bands that include Dream Theater and festivals such as Boston Calling and Bonnaroo. Taking its professionally approved product development into the residential realm the company demonstrated an architectural immersive audio system that included three of its X8 that handled LCR duties, as well as a pair of Syva Subs for the LFE; four L-Acoustics' X4i loudspeakers took care of the system's surround responsibilities, and four more X4i speakers were used to address the system's height channels. Providing the power for the immersive audio speaker array was an L-Acoustics LA7.16i multichannel amplifier.
Elsewhere in the company's booth on the "listening wall" L-Acoustics installed a pair of its Soka inWall loudspeakers that were augmented by a pair of its SB10r in-wall subwoofers. This system was powered by an LA4X amplifier controller. In addition, the high-performance audio manufacturer installed two X4r in-wall/ceiling loudspeakers in its booth that were augmented by a pair of SB6r subwoofers. L-Acoustics powered this system with a LA2Xi amplified controller.
Dealing with an extremely high noise floor because of its placement in the middle of the show floor, L-Acoustics flexed its R&D chops by showing why FOH (front of house) engineers from across the pro audio community choose its products. The system, which retailed for literally tens of thousands less than other systems on the floor was setup and calibrated by the company's proprietary software and it delivered an extremely impressive demo that was highlighted by the opera scene from The Greatest Showman that features Rebecca Ferguson.
The demo delivered high SPL levels that were clean, articulate and highly dynamic. All these attributes are hallmarks of a quality live music event and L-Acoustics was able to bring this experience into a living room setting. It also needs to be pointed out that helping L-Acoustics conduct this impressive demo was the high-performance video manufacturer Barco Residential and the new French immersive content company Odysound.
Epson: Unlike most of the AV system demos on the CEDIA Expo 2023 show floor that utilized home theater content, Epson showed a gamer's dream system in its demo room. In its room the company had several systems on display. Showing its ultra-short throw LS800 the company says this projector can throw a 100-inch image from as close as 8 inches from a screen with brightness levels as high as 4,000 lumens. In total, this system that also included KEF LS60 powered speakers, a KEF KC62 subwoofer, and a control system from URC amounted to a little more than $21,000.
Moving over to its Ultimate Racing Experience demo, Epson used its EB-PU1008B projector fitted with its ELPLX01S short-throw lens throwing a 200-inch image on to a Severtson screen. Delivering the racing simulation element was a NLR Cockpit, NLR Traction+, Thrustmaster Direct Drive steering system; Thrustmaster pedals and an Alpine audio system. In total this racing simulation system retails for just under $30,000 and it provided a fun and immersive racing experience that was pretty intense.
PSB Speakers/Bluesound/NAD/DALI: The major emphasis in the Lenbrook brands' booth was the new BluOS v4 update. The company invested heavily to make its popular wireless whole-house audio platform more streamlined and efficient for homeowners to use daily. Some of the products that caught my eye in the booth include the newly redesigned PSB Imagine line of speakers, the new DALI Epikore II floorstanding speakers, and several amplifiers from NAD.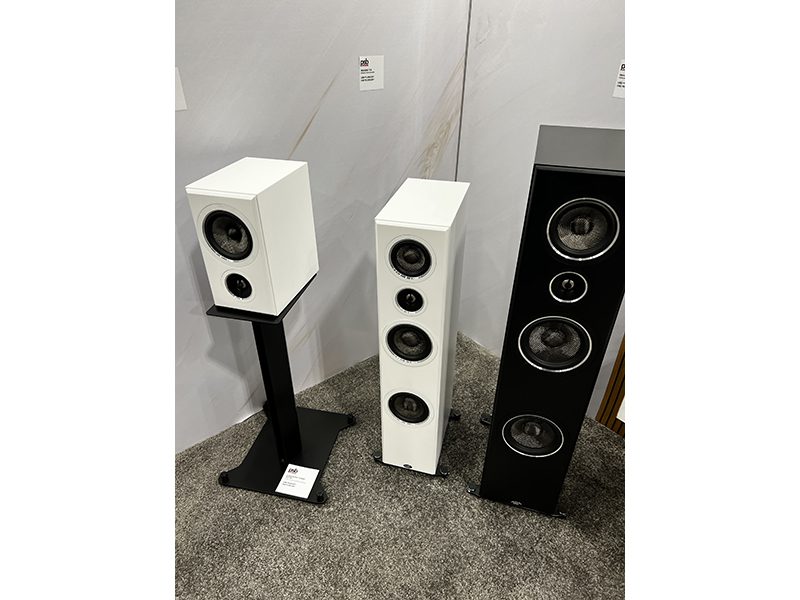 Kaleidescape: Kaleidescape has earned the role as the de facto source solution for many of the top home theater equipment manufacturers, including a number conducting product demonstrations on the CEDIA Expo show floor. One of the most entertaining demos on the show floor was in the Kaleidescape CEDIA Expo 2023 booth.
This system featured a large Quantum Media Displays MicroLED video wall showing concert videos from Sting and Def Leppard. Meyer Sound provided the sound for the system and it was impressive. The display was calibrated for its booth location, which featured lots of ambient light, and the audio was calibrated to match the video.
Kaleidescape offers bit-for-bit content and seeing and hearing that content through reference solutions from Quantum Media Systems and Meyer Sound was awesome. On the hardware side of the Kaleidescape package, the company featured static displays of its new Terra Prime server products, which are available in solid state and hard drive versions.
Indy Audio Labs (Aragon and Acurus)/MSE Audio/AWOL Vision: Showing what would be considered a modestly priced immersive audio system by CEDIA Expo 2023 standards featured an Acurus processor that handled the system's immersive audio processing duties, while the latest version of MSE Audio's dARTS system handled the amplification and speaker side of the audio equation.
On the video side of the equation, the AWOL Vision UST projector lived up to the reputation it has quickly developed in the home AV market as a premier projector company. A nice surprise in the room in a different area was an excellent stereo demo that featured electronics from Aragon and speakers from Phase Technology.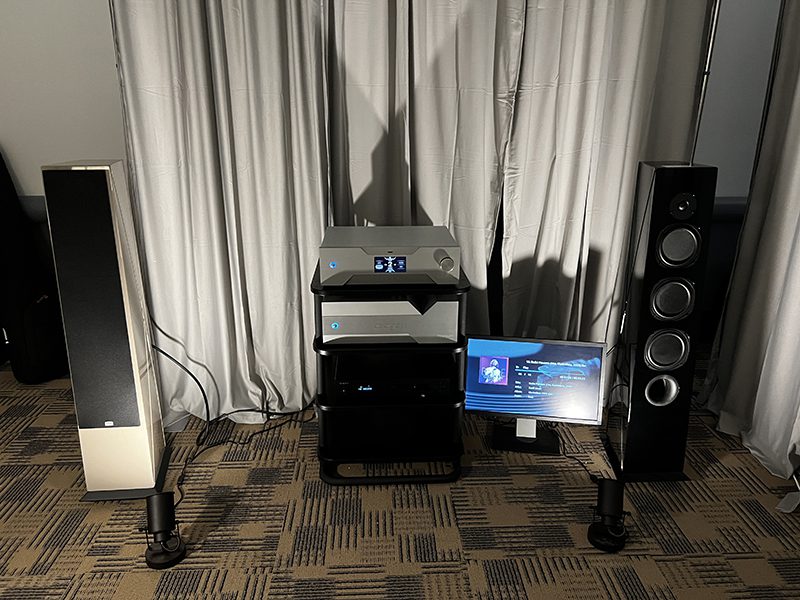 If you enjoyed this article and want to receive more valuable industry content like this, click here to sign up for our digital newsletters!