Multiroom AV Special Report: Exclusive Research
The multiroom AV market stays healthy. Among the other trends identifiable in the survey include the growth in outdoor multizone AV, likely due to the pandemic. Dealers report that almost half (49%) of all their multizone projects included an outdoor audio zone last year, while 27% included an outdoor video zone. Nearly half (43%) included a home theater zone. Home theater was another area of business that spiked during the pandemic.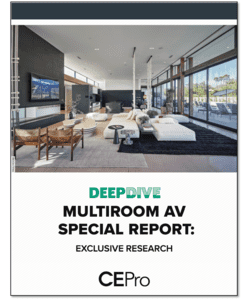 Custom integrators report 44% of all projects include some form of AV distribution. According to the 2021 CE Pro Multiroom AV Deep Dive Study, nearly half of all projects (44%) over the past 12 months include some form of multiroom signal distribution. Meanwhile, integrators predict a 4% increase in their multiroom AV installation revenues in 2021 compared to 2020.
According to the study, the typical multiroom AV system installed has four zones of audio (with eight loudspeakers), three zones of video (obviously with three TV displays), and a median price point of $8,467. To break that down further, it equates to $2,116 per audio zone. Download our research to learn more!