Located in Silicon Valley, veteran integrator cyberManor sits among some of the world's most successful and innovative technology companies. There's a high bar for any high-tech company to live up to, especially one that helps customers enjoy today's "smart home" – which can certainly carry a range of meanings and expectations depending whom you ask.
There is no question as to the intelligence of cyberManor's New Home Technology Center (NHTC), however. President Gordon van Zuiden and the Los Gatos, Calif.-based integrator opened its doors to the new showroom earlier this year, and "smart" only begins to describe its integrated solutions capabilities.
The NHTC, which is a Control4 Certified Showroom built behind cyberManor's corporate office, highlights smart, healthy, sustainable and connected living from the front entry station to the connected appliances to intelligent bed and therapeutic shower systems to solar and energy distribution technology, wellness/biophilia "living wall" and more.
Yes, there's home entertainment too, of course, plus voice control, security and surveillance, lighting control, automated window treatments, water leak detection, indoor air quality monitoring … you name it. If there's a top trending technology, cyberManor has implemented and integrated it inside and out.
"This is really something that's been four years in the making and actually even first was dreamt of the idea when we started the business back in late '90s," van Zuiden tells CE Pro.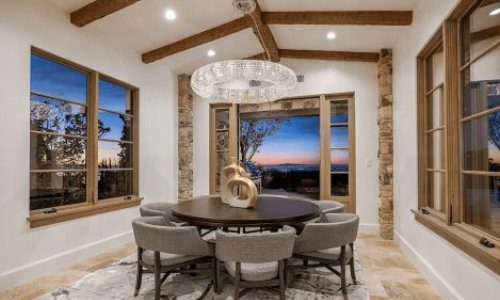 As a custom integrator, lighting is in demand. Effective communication, education and showcasing the value proposition of LED light fixtures in conjunction with integrative control systems are the keys to overcoming challenges and closing sales in this specialized market. Join us as we discuss the future of digital lighting and control with David Warfel from Light Can Help You and Patrick Laidlaw and Mark Moody from AiSPIRE.
Register Now! 
He notes that the feeling around the company was that its core expertise involved audio and video, and increasingly data and other parameters as time went on but evolved as networking and connectivity of devices increased in importance.
"When somebody comes in [our showroom/office], they asked us for our technology expertise for their home. It now really branches, extends into every room of the house," van Zuiden says. "And it's not just the media room or the office or a couple of rooms that were commonly in there – but now it extends into the bathroom, kitchen and the outdoor areas."
New Home Technology Center Homes In on Trends
The technology as well as the areas of the house for their implementation are expanding. Many of the items being showcased in the NHTC wouldn't have been found anywhere near a CE pro's showroom just a few years ago.
But if you've followed CE Pro's annual top five home technologies to watch/opportunities for integrators, unveiled every January, you'll see plenty of boxes checked off by cyberManor here.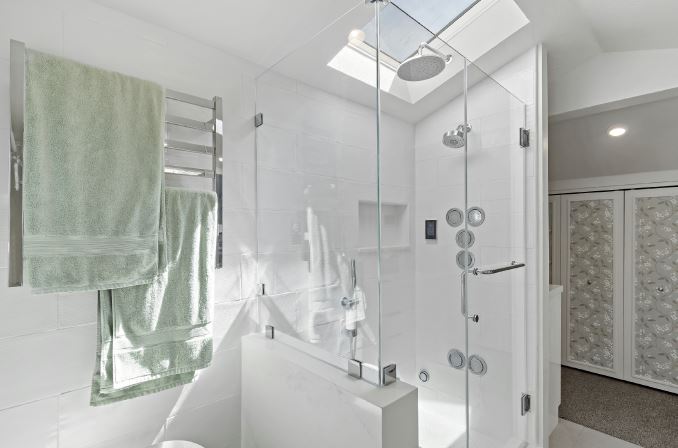 The 950-square-foot home includes a loft master bedroom, 1.5 bathrooms, a media room, 350-square-foot garage and 220 square feet of solar photovoltaic panels.
Among the slew of integrated technology systems and brands – backboned by a Control4 automation system, Pakedge home network and controllable via Josh.ai voice command, Apple devices and more – deployed in the NHTC are:
Intelligent, secure front-door access and control station, Baldwin smart lock that opens via touch or app
High-def video surveillance cameras around the perimeter, and integrated Liftmaster/MYQ controllable garage opener
Living/family room AV distribution including Sonos audio, Origin Acoustics and Triad speakers; cable, Internet, Apple TV, Dish OTA antenna video content for Sony displays, Screen Innovations/LG short-throw projection
BSH HomeConnect Wi-Fi connected kitchen and laundry room appliances from Bosch/Thermador
Lutron Radio RA2 lighting control system that dims and tunes to proper color temperatures to match activities and time of day
Smart, solar-powered skylights and automated shades from Velux and Lutron controllable via touchscreen or voice
Kohler hydrotherapy showering system that turns on via voice control, plus Electric Mirror bathroom mirror TV that disappears when not in use
Smart Bryte bed that learns and improves daily sleep experience
Indoor air quality monitoring system from Panasonic that automatically turns on home exhaust fans when unhealthy air quality is detected, plus Big Ass Fans Haiku controllable ceiling fan, and Ecobee smart thermostat with embedded Amazon Alexa compatibility
Solar photovoltaic panel KWH production, sonnen energy distribution and battery storage system, with touchscreen-based energy consumption dashboard
Flo Technologies water flow meter that sends alerts when water is leaking inside and automatically closes the main water valve if unexpected usage is detected
Rachio intelligent irrigation and sprinkler system, controllable, for roof-top vegetable garden, flora "living wall" and landscaping
Meural digital photo frames that display personalized photos and digital art canvases
Recreating Tech & Comfort Demands for Larger-Scale Homes
"Our showroom technology solutions are never static, it is our R&D center as well as our showroom," van Zuiden points out. "We are always trying and adding new products to vet and test their reliability and benefit to our customers, from electronically triggered film-based window coverings to new indoor air quality solutions."
Because there were constraints on the amount of space cyberManor had to play with, it made the planning phase crucial. The integrator needed to spotlight and vet the technology that would be included, and recreate comfort and design that many clients would require in much larger-scale residences.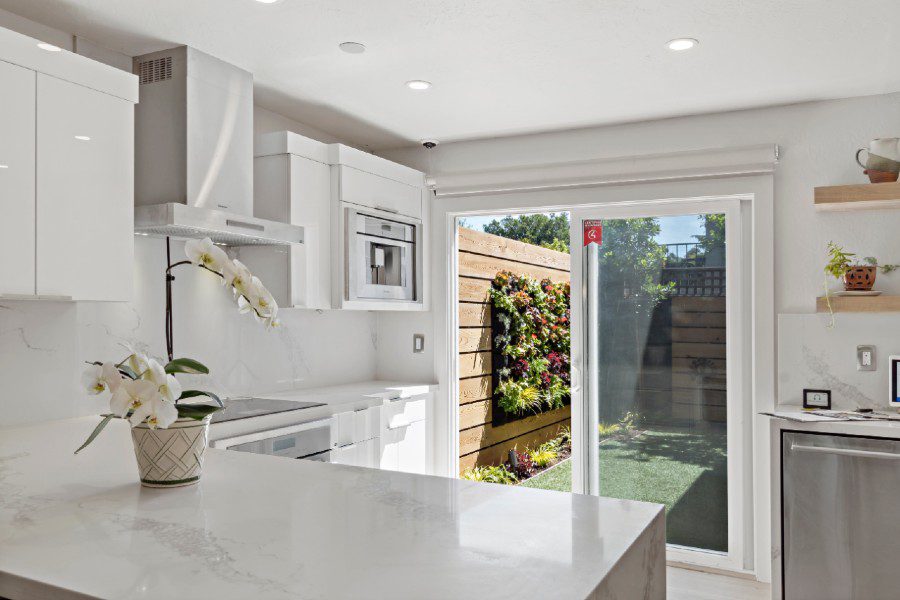 "We knew all along wanted we didn't have, you know, 6,000 or 7,000 square feet of space. We had about 1,000 square foot space, but it was important in that space to essentially have a room that kind of showcased what typically would be the same room in anybody's larger home that we work with," van Zuiden explains.
"So to that end, we knew that the footprint should include a media area, living area, a kitchen space, a backyard space, a master bathroom, master Bedroom, a laundry area, a guest bathroom … so that when you think about the footprint of anybody's home, it pretty much has all of those in it, just more of them."
That allowed cyberManor to create vignettes in the spaces that would be representative of what's in customers' homes (inside and outside), and scrutinize the best technology that could be applied to each so various needs/demands are addressed.
"It gave us a framework with which to work and the time gave us a chance to vet and see which products were really coming to the forefront as the best products in each given area," van Zuiden says.
Trade Partners Elevate NHTC, Underscore Importance of Relationships
Besides hitting on today's trending opportunities for integrators, such as voice control, water leak detection, energy management, connected appliances and wellness/biophilia healthy living tech, the development of the New Home Technology Center reflects the importance of relationships with key trade partners. That's another custom industry theme garnering much more attention of late with events such as last year's Design + Tech Connection conference and the CEDIA Expo Design + Connection tours, which invited interior designers to the annual tradeshow.
In creating the NHTC, cyberManor looked to emulate the Sunset Idea House concept, homes the Western lifestyle publication showcases that meld innovative building design, eco-friendly features, interior decorator and exterior landscaping ideas and more. Think of something like HGTV's Smart Home taken to another level for the CEDIA channel.
For this ambitious construction, cyberManor collaborated with several trades, while providing the system designs and integration, of course. Project partners included architect Kohlsaat and Associates; builder Lundgren Construction; interior designer Celia Boutell of Lydia Lyons Designs; plumbing work by Santos Plumbing; and HVAC installation by Residential Heating and Cooling.
Design-friendly elements of the NHTC on the technology side include aspects like the Electric Mirror TV that stays out of sight when it's off, and architectural speakers that align with low-profile ceiling lighting; there are also stylish touches such as Trufig fit-and-finish housings for electrical outlets and keypads.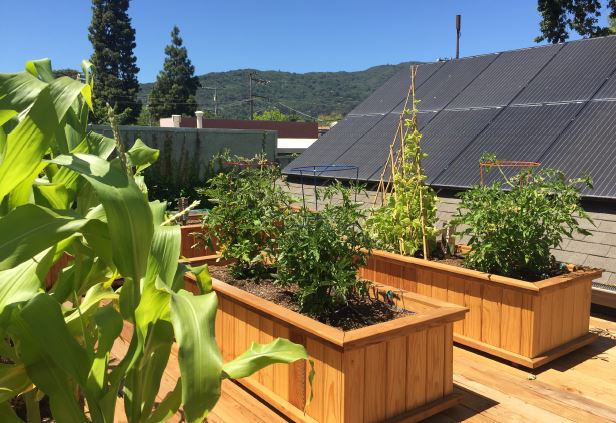 The construction of the NHTC enables cyberManor to show off both the finished product of a completely integrated home, as well as share the process involved when customers take tours to consider what they'd like in their own homes. While they might sit and talk in cyberManor's office space, the discussions go much deeper when prospects can look room by room and see what's possible throughout a home, van Zuiden notes.
"They tell us the different things that they're interested in. Then we are the ones that can advise them. Oh, by the way, have you thought about these kinds of things you can do in the bathroom for intelligence, or in the kitchen for intelligence, or cameras outside for viewing? We want to be in the position where the client feels like they've really been exposed to all the things they could possibly do," he says.
"And then, they can say no to the things they aren't interested in or plan or prewire for things that they are, because the one question or one comment we don't want to hear – and we hear this many times – is 'I wish somebody had told me about this before I started XYZ, because I would have been interested in it.'"
In fact, during the long process that led to its opening, van Zuiden says cyberManor made it a point to take prospective customers through the NHTC as it was being built, so they could understand everything that goes into a smart home.
"We didn't necessarily know what the end product was," he recalls. "We knew all the infrastructure wiring that we wanted, we just didn't necessarily know all the end nodes. And then we actually left that open for about a year to show clients and people coming through – this is all the infrastructure wiring that you need for prewire to make all this magic happen."
Seeing the behind-the-scenes work that goes into a smart and healthy home proved eye-opening for visitors, van Zuiden says, and provided another differentiator for the company that it can continue to deliver in its sales narrative.
"A lot of times we compete against the electrician or the DIYer who thinks that they could do this stuff themselves," he notes. "And then they see how much wire is required, the different types of wire, the places it has to be run to, and then they realize right away the value that we add."
The architect on the project was one cyberManor enlisted because the firm has worked on many of its clients' homes, and delivered at "an affordable price point" thanks to the relationship. Meanwhile, in the later stage while the NHTC was open after the framing and infrastructure phases, the integrator essentially bartered with its interior design partner, illustrating why such partnerships are mutually beneficial.
The designer from Lydia Lyons basically called cyberManor's office home for that year while decisions were being made about form, fit, color, materials and more.
"It was a challenge because they kind of made that their office for the year that we were finishing it off. But in exchange, we didn't charge them rent because they gave us all these great design suggestions and ideas," van Zuiden says.
Incidentally, van Zuiden estimates the NHTC investment adding up to around $300/square foot, or roughly $300,000. He adds that in Los Gatos, the Silicon Valley homes typically fetch $1,200/square foot – so the NHTC represents "a good return on our investment!"
Selling the Smart Home Lifestyle to Hands-On Homeowners
Naturally, the COVID-19 pandemic put a dent into showroom demo opportunities, but cyberManor has been able to deliver a mix of in-person and virtual tours this year.
Home tours are given by the sales and engineering team, since our NHTC is located directly behind the main corporate office, van Zuiden says. Visitors not only get to see how everything works, but get a deep and thorough of understanding of how all the technology works, he explains – from a detailed review of AV and telecom racks to a visit to the garage to understand the infrastructure required for solar battery, smart circuit breaker, lighting control, and smart shower installations.
He cites the front door, basically where the tour starts, as an epitome of educating homeowners right away – and also wowing them right away. The Control4 door station enables AV communications and is tied to the surveillance camera, lighting controls and smart, stylish door lock.
"So we wanted something that was attractive as well as functional there," van Zuiden says of the Control4 door station and Baldwin lock, mentioning how the intelligence also had to look like it would in area homes.
The customers make their way through the various rooms and outside, experiencing the apex of smart home possibilities.
For now, the limited tours are augmented by video tours, which van Zuiden says have been done to accommodate multiple clients at a time, as well as vendors and their employees also to see systems in action.
"We did it for about 50 people for sonnen around the world to show them what we've done in our showroom on a video tour basis," van Zuiden says of the energy provider.
"They can be very compelling and they're very interactive, almost as if they're physically there because I could show and talk to them about exactly what we're doing," he explains.
And if homeowners really want to know how it will feel to live in such an abode – and enjoy the Bryte bed for a good night's sleep and rejuvenating hydrotherapy Kohler shower in the morning – well, that's something cyberManor is considering for when conditions are safe to do so. Like a high-tech Airbnb, only guests will get to buy what they liked during their stay.
"This is a home with products we would want (or now have) in our own homes based on our knowledge of today's best home technology solutions," van Zuiden says, "and where we believe our industry is heading."
Click here to see more photos of cyberManor's New Home Technology Center!
If you enjoyed this article and want to receive more valuable industry content like this, click here to sign up for our digital newsletters!