Netgear Meural Canvas Includes Artwork From National Geographic
With the addition of 500 photographs from the National Geographic Image Collections library, Netgear's Meural Canvas smart frame product provides homeowners with a wealth of images to complement a range of home decors.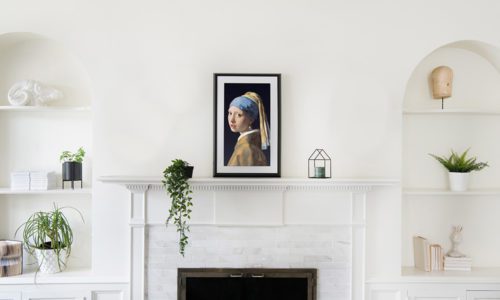 Netgear, a company known for its home networking products, also offers a stylish Meural Canvas smart art frame product line that allows homeowners to easily change their homes' artwork. Recently, Netgear has expanded the Meural Canvas library through a partnership with National Geographic.
The new selection of artwork provides homeowners with 500 photographs from the National Geographic Image Collections. Netgear says curated selections of the library will become available on a rotating basis over the next two years.
"National Geographic's aim is to tell the stories that matter. By leveraging new technology platforms, like social media to help bring the Nat Geo Image Collection to broader audiences, we can deepen its impact," says Alice Keating, senior vice president, National Geographic Image Collection.
"We see the Meural Canvas as a compelling new media storytelling platform, and a dynamic, interactive way to deliver a wonder of hte National Geographic photography into people's homes."
Alexa Helps Control Artwork
Netgear acquired Meural in August of 2018 and says that the Meural Canvas acts as a media distribution platform through a combination of proprietary hardware and a library of 30,000 licensed pieces of art.
A key part of the Meural architecture is the platform's TrueArt technology, which combines hardware, software, and firmware that is designed to deliver a realistic art viewing experience.
The artwork is controllable using a choice of gesture, voice via Amazon Alexa, desktop or mobile app to provide homeowners the ability to interact and choose new artwork on a daily basis.
Related: NETGEAR Introduces New SMB Switches and Access Points at CES 2019
Through other recent agreements such as its partnership with the Norman Rockwell archive and Saturday Evening Post, Netgear is working to deliver an ever-expanding array of art choices to users.
"National Geographic is one of the most beloved and trusted brands in the world," adds David Henry, senior vice president of connected home products, Netgear.
"With Meural, Netgear aims to bring a beautiful, engaging lifestyle product into homes across the world, and connect consumers to a constant flow of visual inspiration, discovery and delight. In terms of organizations with rich visual content to share, National Geographic is at the very top, and we are thrilled to offer a new way for audiences to engage with the powerful, educational, visually arresting photography in the National Geographic Image collection."