Seemingly overnight, 140 Control4-certified showrooms opened up across the globe, showcasing audio, video, home-automation, lighting controls, wireless networking, voice control, and big bold Control4 messaging everywhere.
Independent smart-home dealers in China, Australia, UK, Canada, Argentina, Kentucky, Hawaii, California and elsewhere around the world are taking part in the new Certified Control4 Showroom program that provides special incentives for integrators who invest in Control4-centric spaces.
Brad Hintze, Control4 (Nasdaq: CTRL) senior director, product marketing, tells CE Pro that 250 of these showrooms are under construction, with 140 certified locations making their official debut today.
"We wanted at least three certified showrooms in the major cities," Hintze says. "It helps the brand awareness for all dealers when there is some choice."
UPDATE: #C4Yourself Day
About half of the first Control4-certified showrooms participated in #C4Yourself Day on May 31, opening their spaces to customers, prospects, trade partners and local dignitaries. CE Pro editors attended some of the #C4Yourself soirees and interviewed dealers about their new spaces. Check out some of the transformations and #C4 events: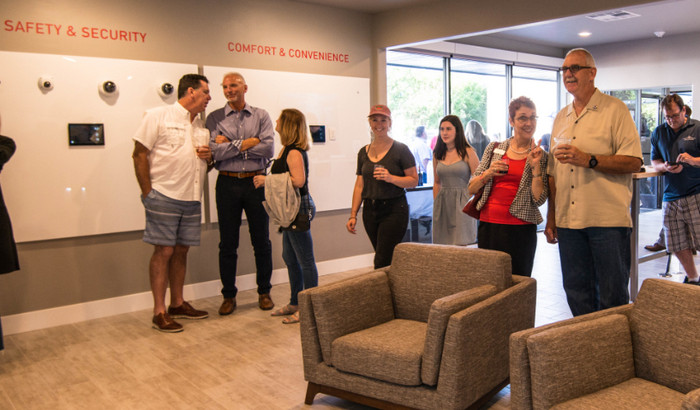 While Control4 does have some established "requirements" for participating integrators, the company is leaving most of the decisions to the dealers themselves. Some of the spaces feature a simple demo room or a dedicated wall for Control4 products and interactions. Others are creating a "more immersive experience" with Control4 featured in multiple areas of the "house."
Simply Automated in Pittsburgh, for example, features a Control4 "vignette" in its certified showroom, while China's Xi-Ardoo puts Control4 in charge of a home theater, kitchen, and numerous other stations in its 5,000-square-foot space.
To achieve "Certified" status, Hintze says, dealers must be able to "turn demos into experiences, with one-touch or no-touch control."
Malibu Wired, a home-technology integrator in West Hollywood, Calif., rose to the challenge for its new certified showroom. Previously, the company had a private showroom available by appointment only. The new one is open to the public.
"As you walk through the front door, there is a Control4 remote and it invites you to pick it up," says company principal Tommy Bartnick. "That was the whole design – to be super-friendly – and in all areas we encourage visitors to touch and experience the systems."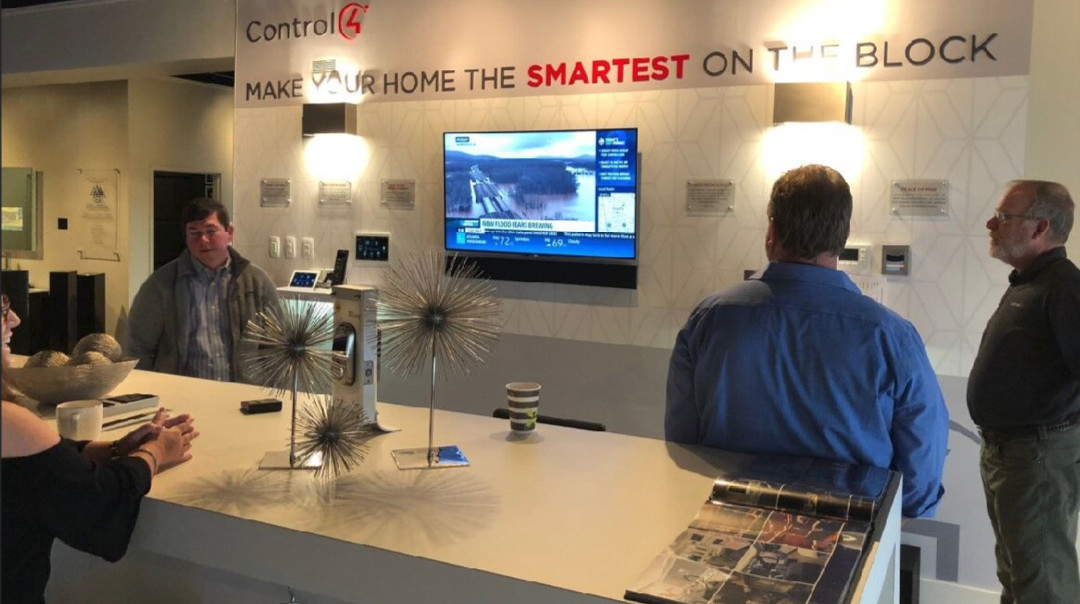 "DIY has raised awareness, but the challenge is getting consumers to really experience the smart home," Hintze says. "Even Nest – with a marketing budget of hundreds of millions of dollars – they still just have cardboard pop-up displays."
For all the visibility of smart-home technology these days, it's still tough for consumers and the trade to experience the stuff first-hand, he explains. Control4 wants its dealers to be the destination for such experiences.
Dealers Investing Big-Time in Control4 Showrooms
Speaking with Control4 dealers, these professionals aren't simply slapping new signage on their existing showrooms, and sprinkling more remote controls around their spaces. Some are building Control4-certified showrooms practically from scratch or gutting existing locations to conform with the protocol.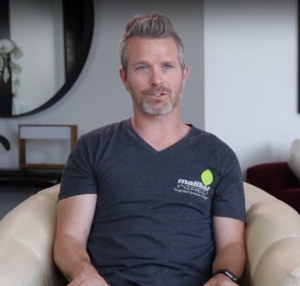 "As you walk through the front door, there is a Control4 remote and it invites you to pick it up."
— Tommy Bartnick, Malibu Wired
In Atlanta, integration company Georgia Home Theater was already "looking to make updates to our facility," says general manager Eric Joy. "This has pushed us to go above and beyond what we would have probably done initially."
Some 1,500 square feet of the showroom is dedicated to the new Control4 area, with upgrades including a new glass door entryway, wood flooring, and brick walls. The company also added "design-centric pieces," including hidden speakers from Triad, a smart mirror from Séura and motorized shading from Lutron.
Hintze says Control4 doesn't need to be the only home-automation brand in a certified showroom, but it must be the "primary" brand. He also says that Control4 doesn't exactly dictate the design of the spaces but the company does demand an "elevated aesthetic."
For its part, Malibu Wired "had to go through quite a few hoops" to convert its Beverly Hills-area showroom into a Control4-certified space, according to Bartnick. "All aspects of the space had to be approved from the Control4 team, all the way down to the wallpaper and wooden floors."
Control4 SVP marketing Susan Cashen says the company recognizes the need for "balance" in the design of independent showrooms, giving leeway for dealers to let their own brands pop, while still providing a "level of consistency" across all certified facilities.
In return for these investments by dealers, Control4 provides signage, discount demo gear, and other customary marketing aids, but they also put these businesses at the top of the list for leads.
About three years ago, Control4 launched a lead-generation initiative to deliver quality prospects to dealers. Telemarketers and qualifiers would communicate directly with prospective customers, handing them off to certified dealers in the area.
Now those "warm" leads will go to dealers with certified showrooms wherever possible. If an area has multiple showrooms, they'll all get the leads.
"Control 4 had already been at the top of the list of our most important vendor partners," says Joy at Georgia Home Theater, "and with the Certified Showroom program, we expect our business to grow together significantly."