The CE Pro Podcast will return with fresh episodes for 2022 next week, but in the meantime, the editors/hosts took a look back on the wide-ranging episodes and guests we had the privilege of welcoming last year.
With about 50 episodes, it's easy to forget just how much the CE Pro Podcast platform covered in the custom integration industry in 2021. For instance, we started the year with episodes featuring landscape lighting trends, integrators' service business, energy automation, wellness – not really delving into custom industry stalwart categories like audio and video until later.
It's all just a reflection of how expansive the custom industry's reach has become. We're not going to recap everything, but here are some highlights that may inspire you to click back on previous episodes you may have missed from the CE Pro Podcast in 2021.
---
Bob Archer's Picks
---
Video Guru Joel Silver Wants This Projector
It is always interesting to see what top professionals use in their respective professions. In the case of a golfer, it may be a set of Nike clubs; for a musician like Slash for example, it may be a Gibson Les Paul, so in the electronics industry we look at leaders such as Joel Silver. In episode #86 of the CE Pro Podcast, a roundtable featuring our 'Video Guys' Joel Silver of ISF, Jason Dustal of Murideo and Robert Zohn of Value Electronics, Silver comments that he is lusting after Sony's flagship VPL-GTZ380 laser projector.
New & Noteworthy CEDIA Expo Exhibitors
As part of episode #73 of the CE Pro Podcast, which we recorded on the CEDIA Expo 2021 show floor in Indianapolis, I thought CE Pro editor Jason Knott did a great job of summing up some of the noteworthy exhibitors at the show. Showing how diverse the industry has become Jason cited a newcomer to the market called AutoSlide. As a dog owner he pointed out how pet friendly this company's products make home life for homeowners. I admit that I look at many of the products on the CEDIA show floor and think how cool it would be to have the product. Jason found a practical solution that really represents how rapidly the smart home is evolving.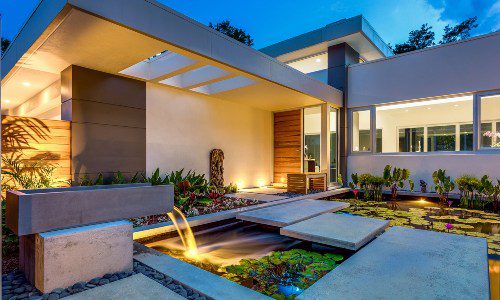 Landscape and architectural lighting create a magical and elegant ambiance for homeowners. The outdoor lighting industry has always been a phenomenal one and continues to grow in popularity. Now is the ideal time to learn more about this rapidly growing and highly profitable industry. Join our panel of esteemed lighting experts that will dive into why it's time for integrators to rethink their role in the outdoor lighting industry.
Register Now! 
AV Yoga Group Is Inspirational & Empowering
Little did I know, but while I participated in the AV Yoga Group class as part of our Industry's Got Talent episode #43, I was battling COVID-19, and even though I was a bit run down, I still found the energy of these women inspiring. Founded Katye Bennett, the woman behind one of the leading PR firms in the industry, KMB Communications, these ladies from across the industry gather each week remotely to improve both mentally and physically. Taking part in the class, I could see a lot of parallels with my martial arts background and I hope to join these women at some point for another class … hopefully in person at CEDIA 2022. The above starts with comments from Southtown Audio Video's Heather Sidorowicz.
---
Arlen Schweiger's Picks
---
Lean on Reps When Exploring New Categories
Outdoor lighting (and outdoor technology and lighting fixtures in general) is among the hottest categories in the industry, but how do you crack into it? For a vendor like Coastal Source, it's been hugely beneficial using manufacturer's rep events such as what NuTech Group has hosted to help dealers learn and be successful jumping into unfamiliar territory. Integrator Michael Wilson of Bethesda Systems in episode #83 shares his company's experience leveraging NuTech Group's dealer trainings and how it's translated into projects.
Energy Automation Can Save the Day
Whether it's from wacky weather or unpredictable infrastructure, the threat of losing power or having power anomalies is always there for customers … but integrators can be heroes if they've designed comprehensive energy management, backup battery supplies, energy storage and more. Troy Morgan of PanTech Design in Texas can speak from experience how the company's Adapt Energy system gives him and his customers peace of mind, and back in January for episode #40 explained why and how integrators can sell energy automation.
Long-Distance Dedication
In the spirit of Casey Kasem's old "long-distance dedication" from the American Top 40 broadcasts, one of my favorite aspects of Zoom recordings for the CE Pro Podcast is having guests join from all over the world. A handful that I welcomed for some great discussions graciously coordinated their calendars to account for big time zone differences (click the bolded links below to find the episode):
From the U.K., Ian Morrish of Together for Cinema chatted in episode #61 about the group's ongoing charitable work involving generous integrators, suppliers and others.
Farther east in Europe, Konftel's Stefan Eriksson joined me from Sweden in episode #75 to discuss the growing need for AV conferencing, plus manufacturer benefits of Climate Neutral certification process and sustainability efforts.
Moving over to Asia and the Pacific, Alan Chow of smart home driver developer Chowmain Software and Apps, came on the CE Pro Podcast with Olibra CEO Zohar Shinar to go over third-party integrations for the Bond Bridge Pro in episode #47.
Finally, we not only had Tributaries and Clarus Cable president Joe Perfito join us in episode #82 to address audio cable and power upgrades, but the companies' chief cable designer Jay Victor outlined the scope of his work and benefits of audiophile upgrades joining from Taiwan.
Now that's some serious reach of the CE Pro Podcast. We hope you enjoyed our 2021 slate of episodes, stay tuned for all that 2022 has in store!
If you enjoyed this article and want to receive more valuable industry content like this, click here to sign up for our digital newsletters!