CE Pro Podcast #43: AV Yoga Club Empowers Industry Bonding
Organized by Katye Bennett of KMB Communications, the AV Yoga Club has grown steadily during the pandemic as industry members find balance between careers and home lives through yoga.
Listen to this podcast using the embedded player below.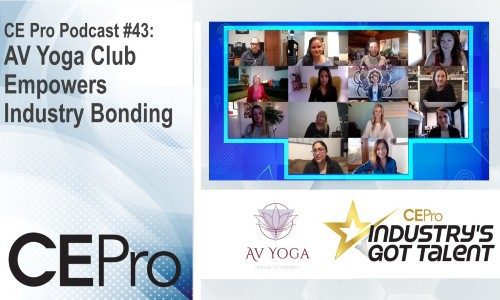 It's safe to say the emergence of Zoom facilitated lots of creativity and connections during 2020. People found new ways to gather, and within the custom integration industry one innovative way this happened is with the building of the AV Yoga Club.
Kayte Bennett, CEO and founder of KMB Communications, started the AV Yoga Club in April 2020 during the height of the coronavirus pandemic and a time when people were looking for something positive amidst a barrage of doom-and-gloom.
Launching the group with a purpose of continuing her own objectives of improved health and wellness, and for the purpose of sharing the joy she had discovered in practicing yoga, Bennett turned to her local instructor Maddie Ringer, owner of Sunshine Yoga, in Red Lodge, Mont.
Gaining momentum early, in less than a year the AV Yoga Club has grown from just a few members to well over 30 members with new people joining on a regular basis.
AV Yoga Club Members Form Special Bond
Following an approximately 80-minute yoga class, we recorded a roughly hour-long "Industry's Got Talent" edition of the CE Pro Podcast in which we had 13 members of AV Yoga, including Bennett and Ringer participating.
One of the immediate benefits the yoga classes has provided participants was interaction with industry peers that were experiencing the same feelings of isolation.
"It's a flying lifeline during the start of the pandemic. No one could see each other and there is no connection. I am so grateful, and we feel so blessed," states Heather Sidorowicz, president, of Southtown AV.
"Katye started this and we got to meet Maddie, who's this amazing human being. Now we have this girl gang, and I've been in this business for 19 years and that never existed for me until this year."
Focusing on the well-known benefits of yoga, Jamie Briesemeister, CEO and co-founder, Integration Controls, says that she looks forward to each session to jumpstart the work week.
"I have my Wednesday session with these amazing women and then I've also been meeting with Maddie on Monday mornings. What a great start to the week that is," comments Briesemeister on the CE Pro Podcast.
"We've had some Mondays; Mondays are always kind of weird and there have been a couple that I knew I had to have difficult conversations … they came around and I would sit with Maddie and I'm like OK, but what do you, what do you need inside? And I am like grace. You know I'm going to have very difficult conversations. I'm going to have to be very particular with my work, so I come off the way I want to come off and I need grace and working through that. Having that intention, the first hour of the day, kind of does set the tone for the day and the week."
Another positive element the weekly yoga sessions foster are new friendships between these career women who in some cases had never met before they "hit the mats" together. Overall, the sessions have extended the special bond among this growing group of women in what's been a traditionally male-dominated industry.
"I've been in the industry for 15 years and I haven't had a chance to spend this much time with a wonderful group and have this connection with some AV women. I was going to say Carolyn [ Ceccoli, sales and marketing director, Leon Speakers] was so kind. She reached out to me and we had a coffee date," recalls Vijita U.G., marketing manager, NuTech Group.
"It was amazing, because I work from home now so I don't have co-workers or this connection I used to when I would go into an office. So just doing that on the side was just wonderful. It was just the world to me honestly."
More Info on the AV Yoga Group & Sunshine Yoga
The AV Yoga Group meets weekly online at 4 p.m. EST. To learn more or to join the AV Yoga Group contact Katye Bennett at Katye@kmbcomm.com or https://www.facebook.com/groups/avyoga.
Ringer has been teaching yoga for about seven years and practicing regularly for more than a decade. She possesses more than 850 hours of training, and her training includes a number of styles, with a focus on Vinyasa flow.
The AV Yoga class on Wednesdays encompasses all of levels the Vinyasa flow practice style. Ringer says she offers modifications and variations throughout the sessions to allow everyone to participate.
She adds that another part of the weekly sessions are light meditation exercises and pranayama or breathing exercises.
To contact Maddie Ringer, email her at yoursunshineyoga@gmail.com or visit her yoga studio's website Sunshine Yoga at www.yoursunshineyoga.com
Thanks to the members of the AV Yoga Group that took part in the CE Pro Podcast:
Katye McGregor Bennett, CEO of KMB Communications, founder of AV Yoga
Tanya Houston, CEO and managing director at Wildwood Public Relations
Carolyn Ceccoli, sales and marketing director, Leon Speakers
Danne Dzenawagis, marketing and communications manager, Leon Speakers
Erin Philips, PRO Audio Technology & Theory Audio Design
Heather Sidorowicz, president, Southtown AV
Jamie Briesemeister, CEO and co-founder, Integration Controls
Kat Wheeler, area sales manager, SnapAV
Patty Manning, Latin America coordinator, CEDIA
Vanessa Sayen, marketing manager, LK & Associates
Vijita U.G., marketing manager, NuTech Group
Wendy Griffiths, vice president, global development, CEDIA
Watch or listen to the episode in the video and audio options above. Find more episodes of the CE Pro Podcast by subscribing to CE Pro's YouTube channel.