Samsung's The Frame display made a huge splash in the custom electronics industry when it was introduced a few years back thanks to its appearance as more like an art piece than a TV.
But while it's become a hit with designers and customers alike, some integrators have voiced frustration about how to add separate audio to the installation without compromising The Frame's aesthetic –ubiquitous TV audio attachment sales like soundbars in particular.
Custom soundbar manufacturer Leon Speakers – no stranger to melding design and audio – has heard such concerns from its dealer base, and its response is the launch of FrameBar, the company announced.
"Our dealers have been asking us to design an audio solution for The Frame since it first hit the market and we're excited to finally have a soundbar that was exclusively designed to pair with it," says Noah Kaplan, Leon Speakers founder and president.
The new loudspeaker model is a discreet, ultra-thin soundbar that was devloped to match the width and finish of The Frame TV, providing enhanced audio and an unobtrusive aesthetic, according to the company.
"We know that the appeal of The Frame is that it doesn't look like a TV at all, so it was important to our design team to give FrameBar an ultra-modern look with multiple finish options while also keeping the design as minimalistic as possible," Kaplan says.
FrameBar Features 4 Finishes, Designer Grille Fabric Options
FrameBar is available in two models and is built-to-order to match the exact width of any model of The Frame TV 43 inches and above, the company says.
A variation of Leon's popular HzUT soundbar, FrameBar incorporates 2.5-inch audiophile-grade woofers and 22mm cloth-dome tweeters in an ultra-thin cabinet only 2.375 inches deep and mounts flush to the wall.
The new soundbar comes in four finishes – white, black, brown and beige – to match The Frame finishes offered by Samsung.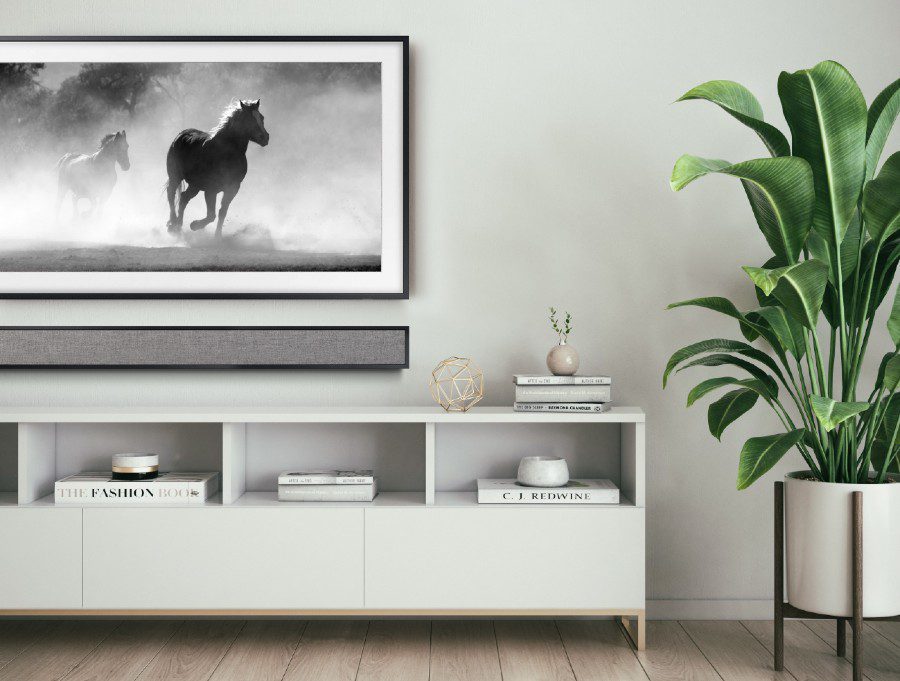 Aesthetically, FrameBar features flat molding with an exposed cabinet edge on the front of the speaker, Leon says.
While FrameBar ships standard with a black fabric grille cloth, there is the option to upgrade to a collection of designer grille fabrics to give the installation an even more customized look, the company notes.
FrameBar is available to order and now shipping to Leon's network of dealers worldwide.
post