If you're heading to CEDIA Expo in San Diego, you'll notice a new name among the lineup of Sound Rooms on the San Diego Convention Center showfloor: Theory Audio Design.
It may be an unfamiliar brand, but it comes from a name that's very well known – and well respected – in the audio industry. Veteran Paul Hales launched Theory as a sister brand to his Pro Audio Technology (PRO) company.
"PRO continues to thrive and is a leading brand in elite home theater and distributed audio systems around the world," says Hales.
"With Theory, my goal was to bring the thrilling sound for which my products are known to a broader audience, and that is exactly what we've done. The performance and design of the Theory products are extraordinary. I cannot wait to show off these ground-breaking products at CEDIA 2018."
Attendees will be able to experience the Theory offerings of in-wall and on-wall loudspeakers, soundbars, subwoofers and amplified loudspeaker controllers (ALC) in Sound Room 14 (SR-14) along with the PRO products.
Stylish Loudspeakers and High-Power Subwoofers
The initial loudspeaker lineup from Theory includes three in-wall and four on-wall models, ranging from dual 5-, 6- and 8-inch woofers.
To complement TV viewing, Theory has three sb85 soundbars designed to match 65-, 75- and 85-inch flat panels.
Meanwhile, to fill out the bottom end, Theory is debuting with a pair of subwoofer models, featuring 12- and 15-inch high-power drivers.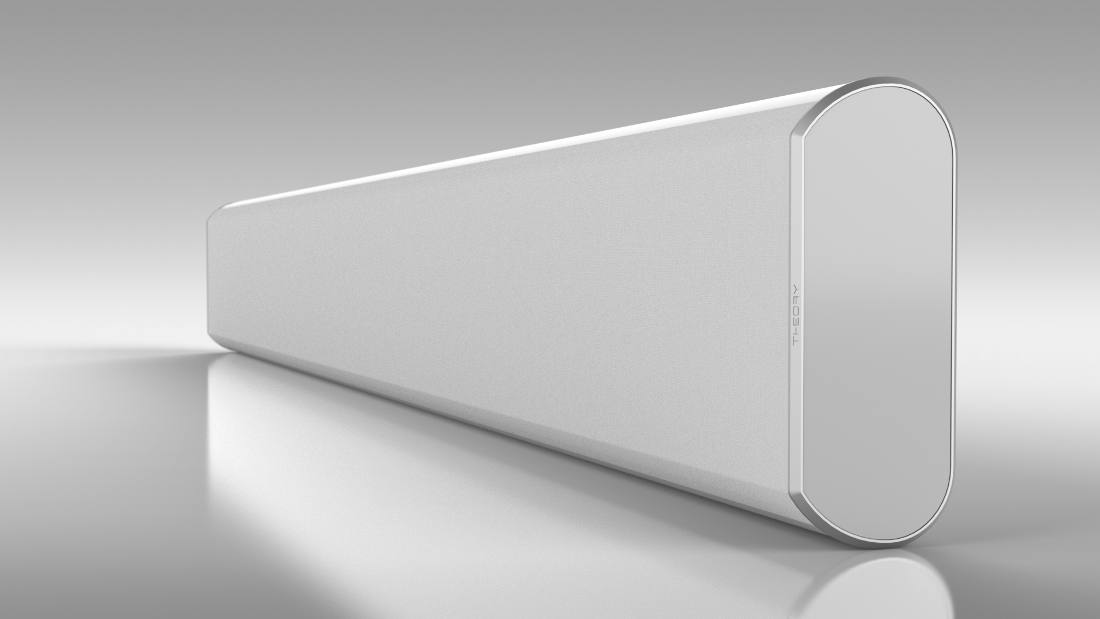 Theory notes that engineering and componentry symmetries with PRO can be found in its loudspeakers, which incorporate "1.4-inch aluminum diaphragm compression drivers on Theory ImpedanceOptimizer waveguides that achieve 110dB of SPL [sound pressure level] with just 1-watt input."
Integrators and customers will appreciate the external features too. Custom aluminum extrusions boast a depth of just 3.6 inches and come in black or white, with clean lines, rounded edges, machined aluminum accents and configurable decorative trim – the design-minded trim options include carbon fiber, white, gray or black gloss, natural and black aluminum, brushed stainless steel and matte pewter.
Related: Pro Audio Technology Explains the Science Behind the Use of Multiple Subwoofers
For mounting the speakers and soundbars, Theory offers a "T-slot" mount system that it says accommodates a variety of mounting bracket styles such as Z-Clips, yokes and ball mounts that can be placed anywhere along the length of the speaker for installation flexibility.
Multitasking Amplified Loudspeaker Controller
Theory says its ALC-1508B and ALC-1809B eight- and nine-channel amplified loudspeaker controllers act as an "audio Swiss Army knife" that drives a system by packing the capabilities of a multichannel DSP processor (it's a 24-bit/96kHz DSP processing engine), high-power home theater and distributed audio amp, multichannel mixing amp, high-res speaker processor and multichannel bass management into a single 1U chassis.
The two fan-less models deliver two and three 300-watt high-current amplifier channels for subwoofer power respectively, as well as six 100-watt bridgeable amp channels to drive the loudspeakers.
The ALC-1508B can deliver 5.1, 5.2 and 7.1 surround sound, while the ALC-1809B and its extra 300-watt channel bumps the audio up to 5.3, 7.2 and 5.2.2 Dolby Atmos support.
Both ALCs include 80 user-programmable parametric EQ filters (10 per channel), plus gain adjustment, source signals for system diagnosis, and delay of up to 75 msec per channel to yield optimized onsite calibration.
For multiroom and mixing capabilities, the ALCs include an 8×8 matrix mixer, microphone input, all-channel priority ducking/paging, four stereo plus mono-sum inputs, bass and treble controls.
Theory says the ducking enables voice commands from devices with Alexa to page any or all zones within a distributed audio system and speak clearly over the audio, which will gradually rise again to full output after the voice trigger is given.
No MSRPs have been announced for the new slate of Theory products, but the company anticipates shipping in Q1 2019, with more models to come.
Follow CE Pro's coverage of CEDIA Expo 2018.