When it comes to keeping up with Joneses in ultra-affluent Seattle and its suburbs, Håkan Olsson and Kim Thompson are more than happy to inspire neighbors to aspire to what's in their Kirkland, Wash., home. That's because principals of Beemer Smart Home turned their everyday residence and its rooms into their professional showroom.
It's an experiential tour that helps seal the deal on profitable proposals for whole-house automation, AV, and lighting/shading systems.
The main reason prospective customers — and possibly their interior designers, architects, landscapers and builders as well — are so drawn to Beemer Smart Home is that the couple talk the talk and walk the walk. About an ever-expanding range of technology and design topics.
Their home, which is surrounded by waterfront properties owned by employees of behemoths that include Microsoft, Amazon, Starbuck and Boeing, offers visitors a tour where wow factors include spotlight technologies such as a Seattle Seahawks-themed home theater, courtesy of Ketra fixtures, and the layered approach to Beemer Smart Home's Lutron lighting and motorized shades control demo.
Intentionally imperceptible to the eyes, but a magical "wow" attention grabber for the ears, are the completely concealed loudspeakers throughout the home, including an entire surround-sound system in the home theater.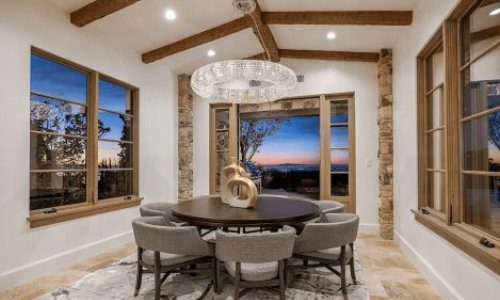 As a custom integrator, lighting is in demand. Effective communication, education and showcasing the value proposition of LED light fixtures in conjunction with integrative control systems are the keys to overcoming challenges and closing sales in this specialized market. Join us as we discuss the future of digital lighting and control with David Warfel from Light Can Help You and Patrick Laidlaw and Mark Moody from AiSPIRE.
Register Now! 
That's really fun to "show off" because Olsson, the Swedish native who has a background in audio engineering and is a classically trained musician, gets to let listeners try to guess where the speakers are installed — all are LRX Series Invisible Loudspeakers from local vendor Stealth Acoustics (see sidebar).
Olsson and Thompson gave CE Pro their home tour this summer, and discussed its vital role in elevating aspirations of customers who truly can envision how implementation of a technology-driven lifestyle can translate to their own spaces.
If You Build It, They Will Come
The first thing Olsson does with guests is to truly make them feel comfortable and "at home" in the Beemer Smart Home environment. He walks them over to the elegant but not overly lavish living room, where a slideshow has been prepared to discuss what they are about to experience on the tour.
When we got started, Olsson had beverages and spinach-and-artichoke dip waiting at the table. It's a modern, stylish living room that could be featured in a home on HGTV. Beemer Smart Home has been in business for almost 20 years, the past six-and-a-half in the show home – which Olsson and Thompson snatched up when on a walk they saw it was in the process of being built.
Talk about keeping up with the Joneses, in this case, just as it has become for other homebuyers, Beemer's competition was…themselves. The move to the new home was a whopping one block away from their previous home, and they got in as the framing was up and at the studs stage.
Unfortunately, Olsson recounts, the builder would not let the integrator install the invisible speakers at that time due to some code compliance, but that actually turned into an ideal real-world problem that Stealth speakers could solve. The team retrofitted the LRX models throughout; on the plus side, it lets Olsson tell a better story when asked about how much labor will be involved and whether it is costly to cut into a finished ceiling.
"We got the keys on August 5 and August 6 me and my guys were here. They did the walkthrough first, because it's a new house and everything, but on August 6 it looked like a construction site again," he says with a chuckle.
Thompson apparently wasn't aware the project would be starting so soon. But, hey, that shows Beemer Smart Home's punctuality and dedication to a customer-centric approach, since technically Olsson and Thompson were Beemer clients in this case.
"He had it all taped off and had everything to do the job, and I walked in here and it was like, 'What are you doing?' It's less than 24 hours," Thompson chimes in.
Wowing Variety of Visitors with Lighting Fixtures & Automated Shades
Olsson explains that in their previous house, customers would start visiting and experiencing the invisible speakers and lighting control. When the couple moved, it was the perfect opportunity to create an immersive and aesthetically impressive audio solution but also an immersive, impactful lighting and shades demonstration.
While Olsson's background serves him well when it comes to explaining the home theater and distributed audio systems' hidden loudspeakers, Thompson has become Beemer's lighting and shades guru and salesperson.
Along with being a top Stealth dealer in the state, Beemer Smart Home is a top Lutron integrator. Thompson and Olsson love the color-tunable Ketra fixtures — which offer as much wow factor as the home theater as homeowners and designers see the benefits of their color-changing effects on the room environment. Additionally, the windows flooding the kitchen with natural light are an ideal place to highlight how varying fabric samples provide different levels of blackout or opacity for better blending of natural and artificial light.
"The reason we did it is because in the previous house we started to have customers come over to listen to speakers, or when we decided to get into lighting more," Olsson remarks, adding that in that house it was lighting control in the spotlight.
"We are firm believers that when you show how it comes together in a home environment, it's a whole different deal for that customer. But even more importantly, designers and architects can get a feel for what the end result is going to look like," he notes. "I must say, when you show clients, architects, and interior designers that you can have good-sounding speakers without a grille and without affecting the line of light the lighting casts, they're thrilled — in most cases, it's the architects and interior designers where you have to [show and explain the home's technology demos].
Integrators who have succeeded in selling fixtures often do so by presenting it experientially just as they would a home theater surround system.
"One strategic pivot we did this year is that we have doubled down on lighting, because we've seen so much discrepancy in the market of what architects and electricians do for the customers and what could be done," Olsson says.
Toward that end, Beemer Smart Home has partnered with leading design firms including renowned Light Can Help You, which offers different packages ("Their materials are so great, too," adds Thompson) they can leverage, and they attended Lightapalooza to absorb as much as possible about the latest booming industry trend. Olsson sees it as a smart home gateway drug, or perhaps more apropos, a Trojan horse since it leads into discussions about technologies that are hidden such as the Araknis home network and Stealth invisible speakers.
"Once you get in on the lighting, you talk about the different technology — if you're doing the lighting why not do the network, and if you're doing the network you can do the distributed audio," Olsson comments.
The kitchen and foyer tour features the range of automated shade fabrics and explanation of benefits such as privacy, health and wellness, energy efficiency, and design friendliness. There's a dining sequence and a relax setting, and Beemer Smart Home shows how all the fixtures deliver different effects even though they are all dimmed at the same 38%.
Around areas like the kitchen island and hallway artwork, Beemer's message turns to ways layered lighting color temperature, dimming and tunability, circadian lighting, and accent lighting, can impact a space.
"It's one of those, you don't know what you don't know," Thompson comments. "I'll take them through my usual spiel, and they'll learn something."
Sound System Must Not Be Seen to Be Believed
The upstairs of the home caters to a mainly female audience of interior designers, kitchen & bath designers, and HGTV devotees, the downstairs was built for those with mighty mancave aspirations… but also have to prioritize aesthetics as much as sonic performance.
Just as with lighting applications, Beemer can win over project stakeholders with the large LRX85 speakers from Stealth that sound great and offer tons of installation flexibility. They can work in a multipurpose room — usually around the design darling Samsung Frame TVs.
It's not just that Beemer installed a few invisible loudspeakers here and there to give customers a taste of their performance and versatility. It's that they deployed nearly two dozen of them, including the full-throttle, completely hidden Dolby Atmos system in the downstairs theater.
By the way, it's a home theater that at the press of a button via a Control4 interface can change the Ketra lighting scheme to Seattle Seahawks blue and green. That will greatly appeal to the sports fan of the house and of the NFL's most rabid — and rich — fan bases
In the home theater, Beemer installed 13 Stealth invisible speakers for a rockin' Dolby Atmos system that to the naked eye cannot be noticed — even the James Loudspeaker subwoofers get in on the act. Upstairs, where they team with AudioControl amps to deliver the music from above, 10 Stealth speakers in total provide seamless flow and stunning performance to each space.
Olsson admits that as an audiophile and musician, he was among those who was skeptical about the audio quality of invisible loudspeaker, but he is a convert – which also makes it easier to be more passionate about the product just as they are about Lutron and Ketra. Olsson has visitors attempt to figure out where the sound is emanating from in the theater or upstairs audio zones, and it helps seal the deal on the project.
Leaning on Local Manufacturing Partners
Stealth Acoustics Vice President Brian Azzano joined us on the Beemer Smart Home tour (and later at a jobsite) and explains how integrators such as Beemer Smart Home are able to leverage a design-friendly brand like theirs — which is a division of Dimensional, a much larger company that serves the commercial market.
Stealth's Mount Vernon, Wash., facility, about an hour-and-a-half north of Seattle, is in the process of doubling its production space and investing in new tools and resources. The company debuted its 8th-generation LRX panels at CEDIA Expo last month.
Azzano points out that not only does the vendor have a renovated facility that effectively doubled production space because of Stealth's success thanks to dealers who truly understand the best ways to demo the product, but the manufacturer can now deliver a "Made in the USA" talking point and provide better integrator support.
"Paul, the owner of the company, is a staunch believer in having as much control over everything and that includes manufacturing too — he's a proud American manufacturer," he notes. Azzano says the message has resonated in Europe in particular, which appeals to Olsson's heritage.
"I love it, that's awesome," Thompson adds, quickly underscoring, "well… it works! It works so well — we love Stealth speakers."
Olsson comments that having a company such as Stealth close by to provide support has helped on the technical end to drive design and specification on projects. Recently, for instance, Beemer Smart Home installers and Olsson needed to ensure that the LRX models would not adversely impact (like crack it) an elegant, but delicate, ceiling plaster with their resonances. On another job, Beemer was in a jam and had to install speakers it didn't have – the next day.
"I called up Brian and you know what he did? He loaded them into his truck and brought them over," Olsson recalls. "We love [Stealth] even more because you are local and you are so supportive. Whenever there is an issue, either Brian or his colleagues are here to help us solve them.
The Seattle area also happens to be home to AudioControl, whose amplifiers and processors mate very well with Stealth speakers, Olsson enthuses. Plus, AudioControl was recently acquired by AVPro Edge, which unlike AAMP has a history in the custom channel.
Additionally, as a Snap One dealer, Beemer Smart Home can detail all of the integration and automation possibilities of Control4 (like surveillance cameras and video doorbells) as well as their ability to offer a year of 24/7 remote monitoring and services from Parasol. It's also given Olsson and Thompson recurring revenue shared with Parasol via $49/month subscription-based service packages, which are offered at various pricing tiers.
So not only has Beemer Smart Home figured out how to open the showroom door to clients and other trades they can partner with or earn referrals from, but they have the service and networking foundation to maintain touchpoints — and reap RMR. Indeed, there's no place like home.
If you enjoyed this article and want to receive more valuable industry content like this, click here to sign up for our digital newsletters!