What do dealers think about when they think about "home security" products? Probably traditional home security systems, with alarms and cameras. Close behind would likely be locks, particularly the latest breed of smart, electronic locks. Perhaps door and motion sensors are next up, followed by lighting. But what about smart shades? Given the range of benefits shading brings to a home's overall security blueprint, it's a bit of a mystery as to how this product category has become the odd one out.
Smart shades may not get their due as an effective crime deterrent and security device but make no mistake: consumers are buying them. Lots of them.
In fact, a study from the analyst firm Persistence Market Research entitled "Global Market Study On Automated Blinds and Shades" posits that the global market for automated blinds and shades is expected to reach US $24,236 million by 2033, growing at 4.5 CAGR from 2023 to 2033.
And while there are multiple reasons offered for this growth, overall improvement to quality of life, comfort, and security are mentioned as the primary drivers.
In fact, many studies put security right at the top of the list, ahead of even convenience, as the top reason why homeowners buy smart home products.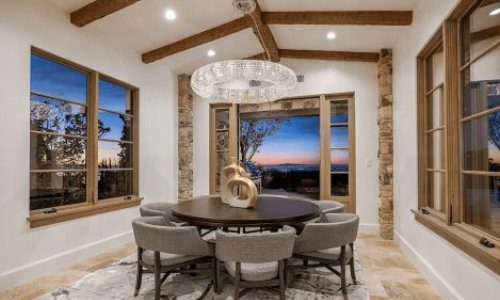 As a custom integrator, lighting is in demand. Effective communication, education and showcasing the value proposition of LED light fixtures in conjunction with integrative control systems are the keys to overcoming challenges and closing sales in this specialized market. Join us as we discuss the future of digital lighting and control with David Warfel from Light Can Help You and Patrick Laidlaw and Mark Moody from AiSPIRE.
Register Now! 
Take these new findings from Parks Associates for example: their April 2023 study found that "more U.S. households are entering the smart home device market, with purchases primarily focused on security and energy monitoring purposes."
According to Parks' Jennifer Kent, "The security industry is a strong channel for smart home devices and new services, with many opportunities to connect different ecosystems through the security system platform."
Understanding the Security Benefits of Automated Shading
The most obvious security benefit of motorized shades is that homeowners can schedule the shades to be down when they're not home, through integration with any of a variety of smart hubs or home-control systems. They can also be activated by smart thermostats, smoke alarms, and other devices that receive triggers when the house is empty.
The shades can receive those triggers and automatically lower the shades so no one can see inside. And integration to any popular home automation system like Control4, Crestron, URC or others means that you will be able to check your shades' status on your smartphone to ensure that they are in the position you want, whether up or down.
At nighttime, you can rest easy knowing that when you go to bed that the alarm is set, the doors are locked, the lighting is the way you want it, and the shades are all drawn – and you can do it all right from your bedroom.
Smart shades can also be programmed to lower automatically when it gets dark outside, enhancing privacy and security. They can even be put into vacation mode, which will create random patterns of opening and closing, making it difficult for potential housebreakers to detect a routine.
It should be noted that smart lighting can also be an effective deterrent against break-ins, making would-be burglars think there is someone inside the home. However, smart lighting may not be quite as effective during the day because of the natural sunlight; this can be a concern, since most home burglaries occur between 10:00 a.m. and 3:00 p.m.
Window treatments, with their various fabric choices (sheer, light filtering, room darkening, and blackout) can be a useful backup for smart lighting, creating a powerful one-two punch. In fact, integrating both smart lighting and smart shades with other home automation devices will further enhance the effectiveness of the homeowner's security plan.
If someone tries to enter the home forcefully, the window shade sensor will detect the activity, smart programming will turn on the lights, and a security camera will record all the activities while sending an alert to smart gadgets such as a smartphone or tablet.
Also, what about that window in the home that is way above the floor and difficult to reach, but potentially offers a view of the interior of a home? The CNET Smart Home, where smart devices are tested, has two windows about 13 feet from the floor. As they noted, for windows like these, manual shades simply aren't practical.
But aside from the convenience factor, a controllable, motorized shade ensures that a virtually unreachable window does not become a peephole into the homeowner's domain. And criminals are far less likely to attempt a break in through a window when they can't see what on the other side of the shade.
Of course, shades aren't opened and closed solely at the beginning and end of each day. Homeowners can create some very simple routines to lower the shades when the sun is at its strongest, thus blocking out the UV light that can cause carpets, furniture and floors to fade.
And then there's the energy savings: having the shades closed on the west side of the house when the sun is beating in can play a dramatic role in reducing A/C costs. On the flip side, you can allow the heat to come in and warm your house naturally during the colder weather, keeping heating costs at bay.
Making Customer Education a Regular Part of the Sales Process
Ultimately, the best method for jumpstarting this effort is dealer education. We find that, day in and day out, security dealers just don't broach the subject with their customers. Many dealers may in fact carry these smart shades, but they are not doing enough to promote their value to the consumer – especially the consumer who has already set up at least a basic smart home ecosystem.
Security dealers can start with the security benefits, but they should not ignore the myriad other benefits of smart shades beyond security– those that relate directly to lifestyle and comfort, like the ability to set schedules.
For consumers who have a lot of shades, blinds, or window coverings in their homes, opening them all in the morning and closing them at night can become a major chore. Automated shades put all this activity onto a schedule, providing the ultimate in convenience.
Perhaps dealers are hesitant to sell automated shades because they are unclear themselves about the various power options available, which include RF, Battery-powered, AC/DC power, solar and more (PowerShades offers a True Power over Ethernet option).
Dealers should take comfort in knowing that most reputable shade manufacturers are available to explain the differences between the various power options as well as which option is best for any specific smart home scenario.
Now What?
The process of selling motorized shades starts with piquing the customer's interest: focusing on the specific benefits that meet a customer's unique needs; once they're intrigued, move on to matching the customer with their ideal shade product:
Sell All the Benefits of Shading (Not Just Security)
All the advantages outlined earlier – from security to convenience to energy savings – should prove extremely effective in piquing your customer's interest. Ask how much time they spend opening and closing shades each day.
Ask if they have a lot of windows facing the east or west side where they get blinded by the sun when they're eating breakfast or overheated by solar rays in the afternoon and evening.
Ask if they would like to be able to prevent people from seeing in their home when they're not there – or to ensure privacy in the morning while they're getting ready to go to work.
Pick the Type of Control
Once you've got the customer hooked, the next question is, "What type of control does the customer want?"
Do they prefer a handheld remote to allow them to raise and lower shades when they want, or a "gateway" that allows the dashboard to set the schedule and set up scenes?
Or do they want to go with full integration into a home-control system so the shades are triggered by thermostats, lights, or other devices?
The #1 question is whether the customer can run wires, especially with new construction or a remodel. That sets the stage for what type of motors will be used (if they can run wires, they never have to worry about charging batteries).
If they can't run wires, the question is, how do they want to charge the shades? They can use a device like a cell phone charger allowing them to go around the house and easily charge all the shades. Another option, if wires can't be run, is the use of small solar panels to keep batteries charged.
Determine the Types of Shades
When selecting or recommending fabrics, styles, colors, and patterns, the shade manufacturer can provide valuable assistance with sample books or over-the-phone advice. What's more, the customer may be working with an interior designer who can provide all the information necessary – taking the design issues out of the dealer's hands. For all other situations, CE Pro has a handy guide on selecting the right type of shades yourself.
For security dealers who don't want to leave money on the table, combining motorized shades into their overall smart-home sales effort is a smart move. Selling motorized shades isn't difficult, once dealers themselves have seen the light and fully understand the clear benefits of convenience, cost savings and security that these shades bring to any home or smart security system.
Jason Turner is the Vice-President and Co-Founder of PowerShades.
If you enjoyed this article and want to receive more valuable industry content like this, click here to sign up for our digital newsletters!