Now that the extreme urgency of the pandemic has faded, many have begun to look back at the wellness category. Was it a wake-up call for everyone or was it a flash-in-the-pan trend like the rest? For anyone like me who has really enjoyed how wellness has been transforming several industries, there's some good news. Wellness remains a strong motivator in consumer buying patterns, it's just that inflationary pressures are causing people to think twice before spending on anything.
In a follow-up to its original 2020 state of wellness survey, Healthline Media found that 43% of adults in the United States stated that their lifestyles were extremely or very healthy. That's a 16% increase from pre-pandemic levels. Meanwhile, 45% more people are using their free time to further improve their health and wellness.
Where does that focus go? There's a lot from the study, but the main ones that may be of interest to integrators are cooking (53%), spending time with the family (48%), making more time for oneself (42%), eating healthier (40%) and exercising more (40%). Exercise is a very special case, as that saw a massive 150% increase from the start of the pandemic.
Sure, cooking and eating healthier may be a bit of a stretch right now, but with companies like Samsung adding Smart Cooking to its SmartThings app, and Matter now opening that ecosystem to many others, that reality may be a little closer than expected.
The point is the interest isn't just there, it's more prevalent now than it ever was before. It just might not seem that way because it's currently being buried under six feet of economic woes, but that's the story with everything now.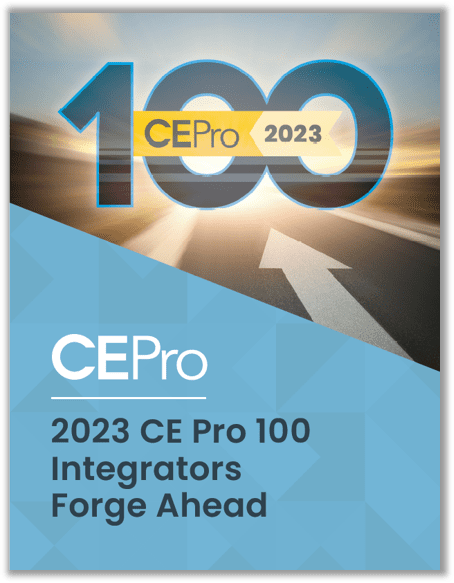 Which companies in the custom integration market made CE Pro's 24th annual CE Pro 100 list?
Building Client Relations is More Important than Ever
About 39% in the study said inflation was the main reason they have yet to make any significant changes, and that concern has only continued to rise with inflation. It is worth noting, however, the these buying patterns change the higher the consumer income bracket. The same goes for one's perception of health and wellness.
For instance, 60% of respondents making $100,000 or more a year felt that their lifestyle was very healthy. Meanwhile only 25% making $45,000 or less agreed on that. Likewise, 57% of the higher income group found themselves focusing on their health and wellness while only a third of the lower income group did the same.
Despite this, well-being remains a priority and even a source of empowerment for just about everyone in the study. Compared to before the pandemic, 24% more people are willing to make sacrifices to live a longer life while 33% agree that knowing more about their health and wellness options makes them feel like they are in more control of their health and wellbeing.
This motivation is key, as it presents itself as an opportunity and a potential driver for sales and interest. The main challenge, the study states, is getting to know the needs and challenges of the customer. For integrators, this is something that should already be occurring on a regular basis. Such a massive part of the business process is developing and cultivating client relationships and understanding their distinctive needs and wants for a project. The main challenge is rethinking how you convey that value to customers.
If you enjoyed this article and want to receive more valuable industry content like this, click here to sign up for our digital newsletters!