Control4 (Nasdaq: CTRL) is the preferred home automation brand among CE Pro 100 home-technology integrators. The smart-home manufacturer overtook longtime leader Crestron for the first time in 2015 and continues gaining market share (or at least mind share) among this group of highest-revenue specialists.
Results of the CE Pro 100 annual Brand Analysis for 2019 (from data collected in 2018) show Control4 at 68%, followed by Crestron (45%), Savant (42%), Lutron (23%) and Alarm.com (22%).
Control4 has moved up a few notches every year since 2016 (60%) as it continues to improve products and services for dealers – methodically, relatively safely, with hardly a misstep during CEO Martin Plaehn's eight-year tenure.
Runners-up Crestron and Savant have made riskier moves over the past few years – Crestron transitioning to a new, built-from-scratch OS previously known as Pyng, and Savant tinkering with touchscreens, A/V over IP, motorized shades, energy management, iOS and especially lighting controls.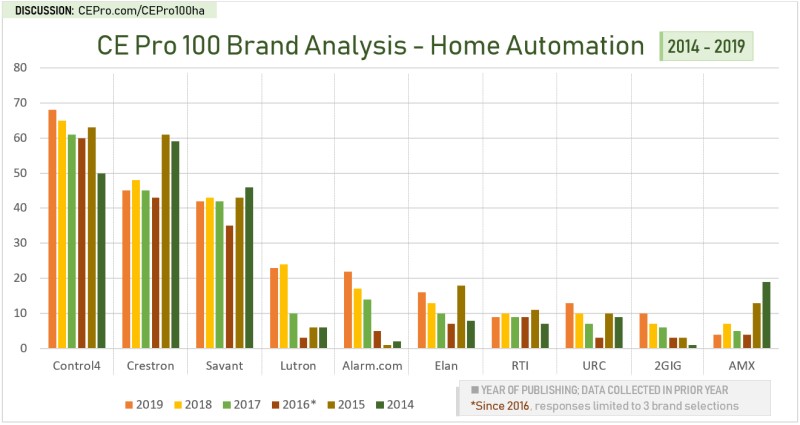 Understanding the Figures
The Brand Analysis data comes from a survey of the CE Pro 100 group of highest-revenue integrators. While we believe their preferences are a strong barometer of market sentiment overall, we also stress the survey population comprises just 100 companies. A 5-point difference between brands represents just five companies, and the listed companies vary from year to year.
CE Pro 100 companies were allowed to select three "preferred" brands for every category, in any order. As such, we can't say for sure which are the "go-to" brands across the board, and which may be back-ups.
We get some indication of brand priorities in 2016, when CE Pro began limiting responses to three brands per category. The brands that fell most dramatically might have been less-specified among dealers that carried the lines.

We also can't judge from the data which product lines have the highest market penetration because we don't cross-tabulate the number of installations per company and the brands represented.
For instance, E4 Control Systems in Murrieta, Calif. (#14 on the CE Pro 100 list) serves production-home communities to the tune of 5,500 installations per year, mostly Control4.
On the other hand, Audio Video Systems in Plainview, N.Y. (#7) installs about 150 high-end systems per year, using Crestron and Savant.
Despite the differences in volume, Control4, Crestron and Savant would each register one "point" in the brand analysis between the two integration companies.
Likewise, remember that the Brand Analysis is based on surveys of the 100 largest home-tech integration companies in the U.S. The lot skews to the high end, which explains the preference for Control4, Crestron and Savant. There are some 15,000 other integration firms, many of which buy through distribution, where brands like URC and RTI are sold to authorized dealers.
Finally, readers should recognize that a brand's "popularity" (or not) is often a reflection of the manufacturer's distribution strategy. Control4, for example, seeks broad market penetration, while Crestron leans towards exclusivity.
On Elan, Alarm.com, 2GIG and Lutron
Security/automation manufacturer 2GIG and its platform partner Alarm.com have been picking up a few CE Pro 100 dealers every year since 2016. Does that mean more integrators are adopting recurring-revenue models enabled by security monitoring and SHaaS (smart home as a service)?
Not necessarily. It's quite likely that the rising "popularity" of these two security-centric companies is due to a mix of CE Pro 100 dealers that increasingly includes security dealers.
On the other hand, 2GIG and Alarm.com might be climbing the ranks of the CE Pro 100 because they are more closely aligned with home-automation vendor Elan Home Systems. 2GIG and Elan have long been related under Nortek Security & Controls, but it's only been in the past two years that NSC has integrated the two brands more purposefully – both technologically through IP-based communications and business-wise through shared portals and programs.
In turn, that integration might be partly responsible for Elan's rising profile among the CE Pro 100. Elan also has been raising its profile in the industry's largest buying group, ProSource, comprising some 500 dealers, including a huge chunk of the CE Pro 100. Elan was named ProSource's Specialty Technology Vendor of the Year in 2018 and 2019.
Finally, what is Lutron doing in the top 5 of the "home automation" category? Lutron is the runaway most-preferred brand in lighting controls, so it's possible CE Pro 100 dealers who don't have a Top 3 in whole-house control simply selected Lutron from a drop-down menu as a vendor in the category. It's also possible more dealers in the CE Pro 100 are specifying DIY-type systems that employ Lutron's DIY-oriented Caseta as the core of a basic smart-home ecosystem.

The Future of Control4 (and SnapAV)
What will happen to Control4's trajectory? Last month the company announced a merger with SnapAV, one of the most popular distributors and manufacturers in the industry. SnapAV's OvrC platform is the preferred managed-services platform for home-technology integrators, followed by Control4's BakPak and Ihiji.
While Control4 is already widely distributed among home-tech pros, the company will likely add even more dealers after the merger. Critical mass seems to be a key objective of both CEOs.
"We think demand for smart-home technology is continuing to explode," SnapAV chief John Heyman told CE Pro last month. "We believe more installers over time will be required to meet consumer demand."