The annual CES show is all about cutting-edge technology and the latest areas of consumers' lives that are being impacted by tech.
One rapidly accelerating category that CE Pro has been following for a while now and continues to track is wellness/biophilia. Encompassing everything from air and water purification to human-centric lighting to soundscapes, digital art canvases and other ways we can more fully reconnect with the natural world, wellness is something being more heavily addressed both in and out of the smart home sectors these days.
Of course, CES involves many fledgling startups side-by-side with venerable tech manufacturers, plus DIY solutions as well as integrator-friendly features. At the recently staged Digital CES 2021 virtual event, plenty of companies were pitching wellness/biophilia solutions, and some were certainly out-of-the-box in terms of the CEDIA channel, but you never know who's going to pick up on an idea and run with it for residential integrators.
With that in mind, here's a sampling of five solutions shown at CES 2021 that highlighted the range of smart/connected/IoT stuff currently or soon-to-be available to consumers for seemingly any area of their house (we'll likely see some of these at the upcoming KBIS show too), covering the myriad aspects of wellness and biophilia.
Ergomotion Adjustable Base Smart Beds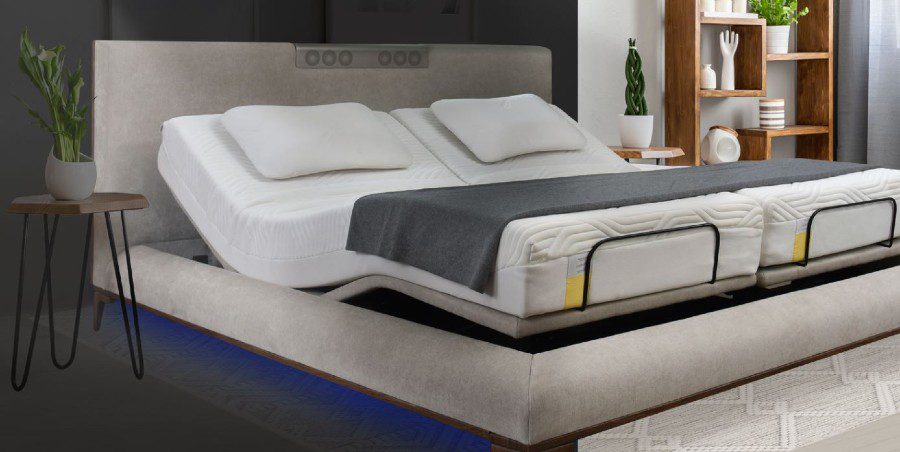 The custom industry has already seen interest in smart bed solutions from Bryte, a company that's part of the Azione Unlimited buying group and CEDIA Propel Affinity program. Based in the holistic wellness hotbed of Santa Barbara, Calif., Erogmotion brought its smart bed showcase to CES 2021.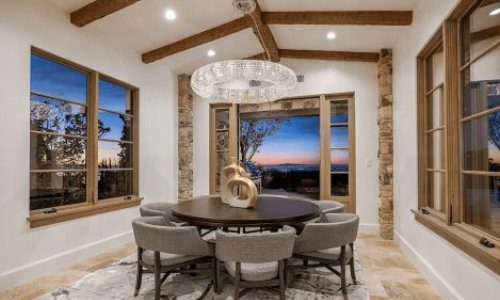 As a custom integrator, lighting is in demand. Effective communication, education and showcasing the value proposition of LED light fixtures in conjunction with integrative control systems are the keys to overcoming challenges and closing sales in this specialized market. Join us as we discuss the future of digital lighting and control with David Warfel from Light Can Help You and Patrick Laidlaw and Mark Moody from AiSPIRE.
Register Now! 
Sleep is a key tenet of home wellness, and the company offers a variety of solutions via its Wellness Retreat in Relax, Restore, Renew and Rewind editions.
Various features, depending on the model, deliver wellness and lifestyle benefits plus integrated technologies along with Ergomotion's adjustable base and bed frame.
The Rewind solution, for instance, includes sleep tracking data integration (with anti-snore intervention and "rise to wake" feature); Wi-Fi smart home integration for automating associated devices like thermostats and security systems with sleep cycles via Amazon Alexa and Google Home support; relaxation therapy sonic massage; calm cycle, TV/lounge, flat and Zero G adjustability presets; underbed spa lights; dual USB charging ports; head up/foot up and auto heat tilt; and optional customizable headboards and underbed storage.
Other versions integrate things like an aromatherapy functional fragrance treatment, heating cocoon for arms and legs, and customized "circulation cycle" to help soothe muscles. ergomotion.com
TOTO Wellness Toilet
No, we're not full of you know what – this was not only a product at Digital CES, but it's from a Japanese company that knows what it's talking about having made bathroom products for over 100 years. With all of that innovation under its belt, TOTO was truly excited to share its Wellness Toilet solution for residential bathrooms – it's an ongoing project, so not available now but something to keep an eye on for a room in today's smart home that integration customers are keen on.
"The Wellness Toilet uses multiple cutting-edge sensing technologies to support our customers' wellness," says Ryoji Nakamura, general manager of TOTO's Digital Innovation Division. "It tracks and analyzes the individual's physical and mental status, and provides various recommendations to improve their health and diet. With the Wellness Toilet, we plan to become integrated into customers' daily routine to support their wellbeing."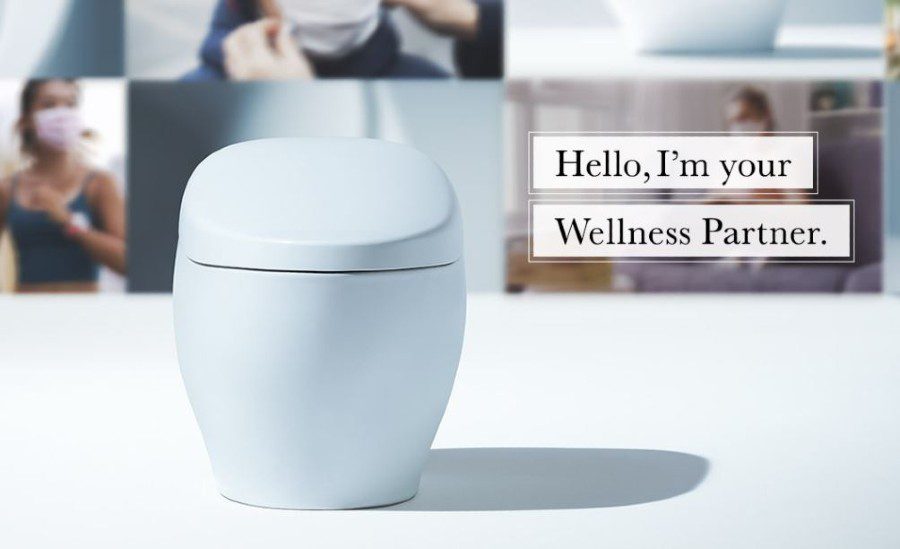 As part of the way it works, the toilet scans the body when someone sits down, so every time a user takes a bathroom break they can be continually checked, Nakamura explains. An app delivers wellness and health status info plus recommendations via the dashboard.
Additionally, Nakamura notes, while wearable devices are becoming common for helping individuals track wellness, the Wellness Toilet collects and analyzes data from two touchpoints those do not cover – human skin and waste.
A wealth of wellness data can actually be collected from fecal matter, according to Nakamura, who adds that TOTO has been developing the solution in collaboration with experts in the field worldwide and its mantra of open innovation. totousa.com
CleanAirZone Bio-Based Air Purifier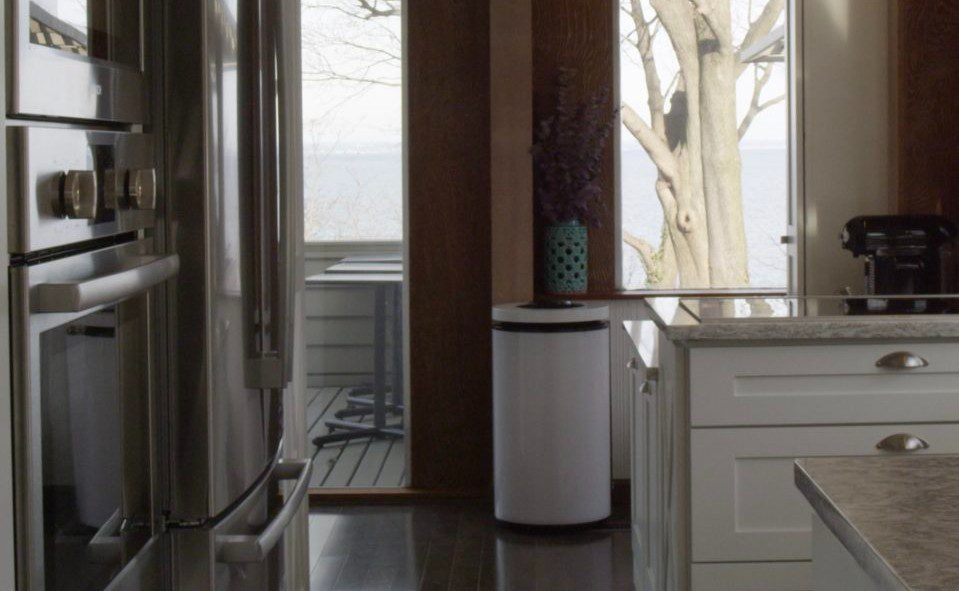 Air purification R&D company CleanAirZone is taking the biophilic aspect about getting back to how nature impacted our environment eons ago quite literally. The company says its Bio-Based Air Purifier employs a bio-scrubbing solution that uses biotics and enzymes taken from nature via a proprietary green technology formula that does not require filters and produces no harmful wastes or byproducts.
"The powerful air purification technology sustainably and efficiently captures and destroys an extensive list of air contaminants in indoor environments," the company states. "CAZ's patented technology replicates nature's 3 billion-year-old process of cleaning the atmosphere by combining water and microbiotics and enzymes."
CleanAirZone claims its filter-less system, which uses a bio solution dissolved in water, eliminates 99.99% of contaminants, capable of capturing ultrafine particles (0.00006u). The two-step technology first captures pollutants, according to CAZ, by using the electrical charge of harmful airborne particles to grab them within a grounded area inside the device "similar to the way dust gravitates toward and clings to a computer monitor."
Then, contaminants are digested by the enzymes in the BioCAZ Solution, which eliminates the pollution via oxidation process, the company explains. It adds that the technology has been "extensively tested and proven in both lab and field settings for eliminating" all types of volatile organic compounds [VOCs], mold, bacteria, allergens, gases, odors, TB and viruses including H1N1, influenza B and COVID-19.
Importantly regarding the latter, CAZ notes that environmental microbiology lab AssuredBio, has demonstrated efficacy of the system using a DNA-based test to eradicate the presence of COVID-19 in the environment. CAZ says its solution can be used in various residential and commercial settings, good news as the indoor air quality (IAQ) category continues to surge in custom integration. cleanairzone.com
GardenStuff ELIoT Vertical Indoor IoT Garden
Addressing the wellness/biophilia aspect of bringing nature indoors, Italian StartUp brand GardenStuff looked to grow its audience, so to speak, at CES 2021 for its "compact and intelligent" vertical IoT garden. The company cites research that finds 78% of indoor plants die and get replaced every year – the most constantly replaced item in our homes.
GardenStuff wants us to not only help indoor plants thrive but become more synergistic and ubiquitous within the homes to create more comfortable and healthy environments.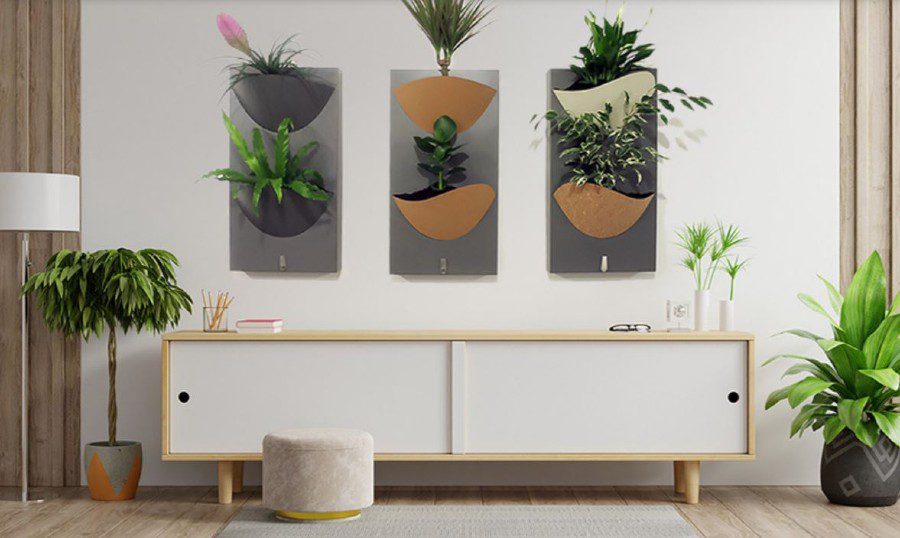 The ELIoT garden pieces – featuring Italian design and 100% sustainable/recycled materials – and accompanying app "uses IoT and thanks to the multiple customizations, its central processing unit first starts analyzing the environment and discovers the perfect-match plant environment," explains Francesco Tirinnanzi, CEO. "And after, it lets you keep in touch with the plants and let them grow as best [as possible]."
Tirinnanzi says each ELIoT works as a standalone unit that taps into IoT capabilities by collecting data from the environment and the soil every six minutes.
Everything is collected within the ELIoT app, which then sends the data to the company's server, where AI algorithms analyze the data, charts and forecasts and then quickly respond with advice, reminders and recommendations so owners' plants can keep on growing. gardenstuff.co
Lify Smart Wellness Remedy System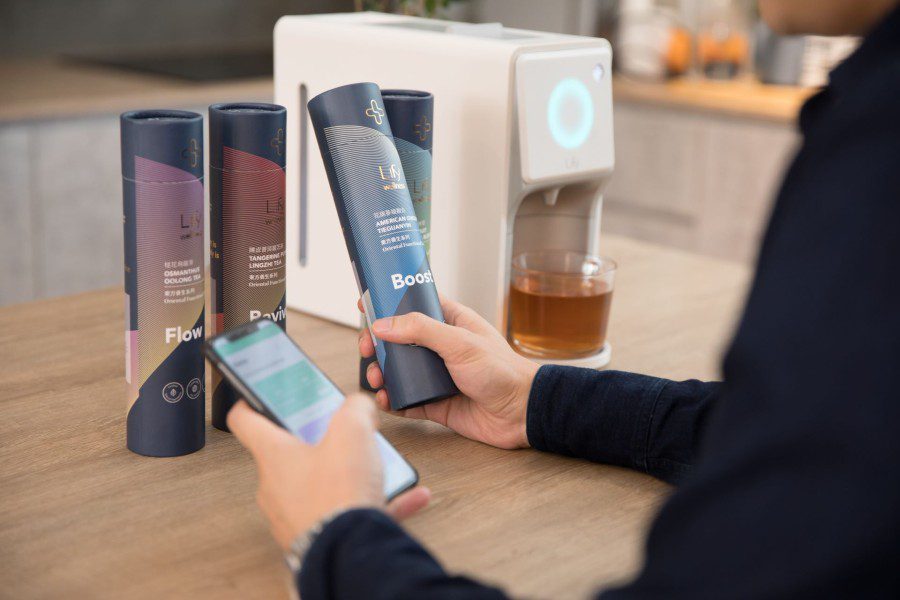 Wellness is well on its way to becoming commonplace in the modern kitchen. Like a Keurig for the wellness crowd, the Lify Wellness solution combines the company's Smart Herbal Brewer, smart app for personal brewing preferences and full brewing control via Wi-Fi, and what the company describes as "100% natural remedies and science back health boosters – ready in 40 seconds."
Lify says it worked with wellness professionals – herbal scientists, traditional medical practitioners and tea masters – to launch 12 wellness formulas that employ superfoods, herbal ingredients, CBD, collagen, vitamins, antioxidants and more. The IoT kitchen solution rose partly out of the pandemic to help busy people achieve health and beauty goals, relieve stress, relax and sleep, or remain focused, depending on which formula is right for their needs.
A Lify Score on the Wellness Companion app recommends brews based on preferences from aspects such as physical conditions, diet habits, lifestyle habits and emotion management.
The Lify herbal discs are made from biodegradable material, the company says, with multi-layers to withstand the high-pressure extraction process and maintain freshness. lifywellness.com
If you enjoyed this article and want to receive more valuable industry content like this, click here to sign up for our digital newsletters!