For years, manufacturers of refrigerators, stoves and microwave have attempted to deliver smart kitchen appliances with real value. Touchscreens built into refrigerator doors and special food sensors integrated into stoves were flashy ways to differentiate products, but they never really caught on. Now, however, these same manufacturers may have struck a chord. By employing technologies like Internet connectivity and artificial intelligence, smart appliances are creating a real stir in the kitchen.
"Homeowners have started expecting connected home features in their new-build residences and remodels, and recent innovations—particularly in the kitchen—are meeting the demand," reports Kitchen & Bath Business magazine.
Greater Prouductivity; Less Waste
Internet connectivity and artificial intelligence in the kitchen does more than just enable consumers to monitor and manage the functionality of their appliances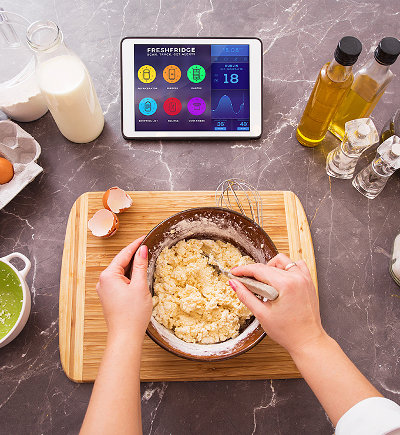 from mobile devices. In the case of a Kickstarter product called FreshFridge, it can save money by minimize food waste. The system, made up of connected food containers, smart sensors, a central hub and a cloud-based app, essentially turns an ordinary refrigerator into a smart appliance. The food containers measure temperature and send expiration notices to the central hub and app.
An app called Chefling manages food inventory, too, but in a different manner than FreshFridge. Users take a picture of their grocery receipt and the app automatically suggests recipes and transmits notifications of expiration dates. It's also compatible with Amazon Alexa, which enables users to ask Chefling for a rundown of what has expired and what's currently in the panty.
According to KBB, homeowners will be as much or as little involved as they want, but there are likely to be three methods of programming smart kitchen appliances:
Consensual Control.The system will warn the homeowner when energy use is high or that something needs to be fixed, upgraded or ordered, and then the homeowner can take action.
Monitored Control. Motivated both by energy use and comfort, this type of system will consider programmed preferences by the homeowner before taking automatic actions. In this case, the homeowner more than likely will be notified when an action has already been taken.
Adaptive Automatic Design. This type of home programming would go all the way and automatically change the temperatures and other needed products without notifying the homeowner.
While energy efficiency and convenience may be the impetus of the development of smart kitchen appliances, future iterations may focus more on enabling consumers to be more productive in the kitchen. For example, in addition to notifying consumers of expired pantry items, a smart appliance could enable a homeowner to create meals given the usable items on the panty shelf. From coffee makers and blenders, to refrigerators and ovens, Internet connectivity and artificial intelligence are poised to turn kitchens into rooms where technology plays an important role and is so seamlessly integrated it becomes a natural part of the environment.
If you enjoyed this article and want to receive more valuable industry content like this, click here to sign up for our digital newsletters!