Technology has definitely invaded the bathroom, and it goes well beyond checking your phone while sitting on the toilet. According to a global study by Homedit.com, LED TV Mirrors are the most searched smart bathroom technology online with nearly 60,000 related monthly searches.
Meanwhile, heading into 2021, a separate survey by Homeedit.com reveals that 84% of consumers worldwide label smart mirrors as the second-most appealing bathroom technology, second only to sanitizing bathroom accessories.
In terms of online searches, a Japanese toilet also known as a Bidet Toilet is the second most prevalent smart bathroom gadget most desirable to homeowners with 49,560 searches made globally per month. The toilet not only flushes and sprays, but also cleans and dries at the touch of a remote control.
Automatic Soap Dispensers fall next in line with 22,910 searches for all related key phrases that rank, followed by whirlpool bathtub.
Closing the top 10 most-searched bathroom technologies are two shower technologies: Shower Speakers and Smart Shower with 5,540 and 4,720 combined global searches.
In this updated Wage & Salary Report, you'll find out results for salaried occupational categories broken down by 14 regions of the U.S. & Canada. Uncover valuable information about where your company stacks up when it comes to paying your important people by
downloading your free copy today!
2021 Bathroom Technology Outlook
Meanwhile, Homedit.com also surveyed 3,561 homeowners to reveal the five technologies that are most appealing in 2021:
Sanitizing bathroom accessories – 89%
Smart mirrors — 84%
Smart showers – 76%
Self-cleaning toilets — 67%
Water conservation systems – 43%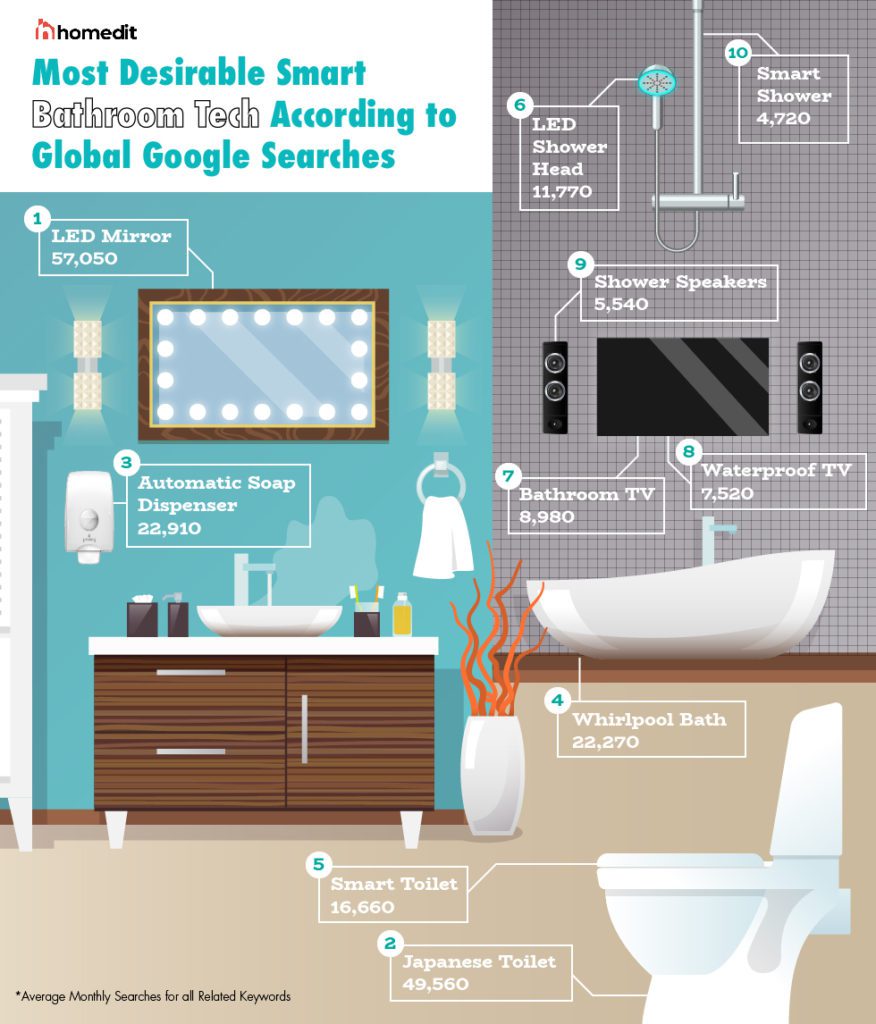 Stefan Gheorghe, spokesperson at Homedit.com, notes, "Smart home technology has come leaps and bounds, offering a whole host of smart devices that not only make our lives that little bit easier, but also conserve water, electricity and the environment.
"It's clear with the ongoing coronavirus pandemic, sanitizing technologies have soared, paving the way for automatic dispensers to be encouraged for domestic and commercial use where possible. And although smart home technologies remain slightly more expensive, homeowners are beginning to see the added ROI on such products especially for property resale and the long-term investment on money saved.
"It seems the skepticism that once existed is beginning to diminish with more than 213,000 related searches for smart bathroom technologies around the world, indicating a significant interest."