Azione Adds Red Carpet Home Cinema, Elects New Board, More
Azione Unlimited has added luxury movie rental service Red Carpet Home Cinema to its growing list of partners.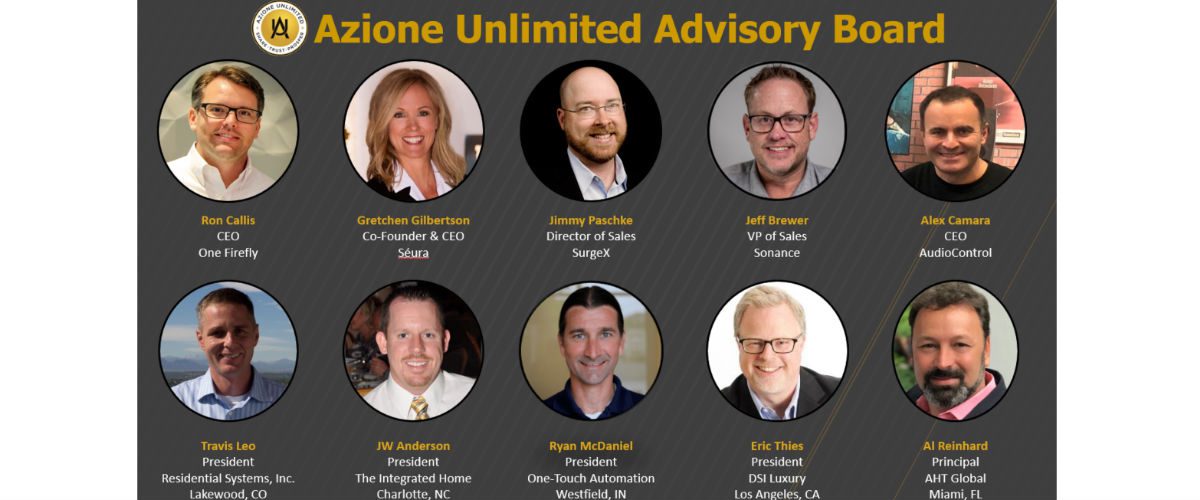 Azione Unlimited has announced three new developments in 2020. The company has added three new board members, declared the dealer and vendor winners for an all-expenses-paid vacation to Italy, and added Red Carpet Home Cinema to a list of vendor members.
"In the past eight years, Azione Unlimited has conceived, organized, and produced a distinct impression upon the custom integration industry. The organization has evolved quickly into a powerhouse of education, community, and business opportunity for both dealers and vendors," says Richard Glikes, president of Azione Unlimited.
"Our philosophy is resonating within the industry, and our message is connecting with best-in-class dealers. 2019 was an incredible year for the group, and we are excited to carry that momentum into 2020."
Azione Adds Red Carpet Home Cinema
Red Carpet Home Cinema offers "a luxury movie rental service" that enables clients to view blockbuster films the same day they are released in the theater. This offering is a perfect enhancement to the affluent residential projects Azione Unlimited members commonly work on and creates a unique value add for Azione to add a dominant new partner in an emerging category.
"The beauty of partnering with Red Carpet is in the confidence that Azione Unlimited has picked the right partner for the right category," says Patrick McCarthy, director of new business development.
"We've already experienced a few homeruns with Bryte, Blackdove, and Pure Wellness being a top-end provider for their respective emerging categories, and we are absolutely thrilled we can do it again with Red Carpet."
New Board of Directors
As three of the Azione Unlimited Board of Directors seats became available in 2020, two new vendors and one re-election dealer present new opportunities for those supporting Glikes to promote further group successes.
The newly elected advisory members include Jeff Brewer, vice president of sales at Sonance, and Alex Camara, CEO of AudioControl. Dealer-member Eric Thies, president of DSI Luxury in Los Angeles, continues his term after re-election.
"Joining the board is an exciting moment because it allows me to be an integral part of a community that continues to grow and diversify its impact in the industry," says Brewer.
"Recently, Azione Unlimited distinguished itself as the Smart Home Association, but with all the important initiatives, influential programs, and brilliant minds in the organization, I really believe it has shifted to the smart dealer association."
The ten-person Azione Unlimited board was developed jointly with the philosophy that vendors should also be members. The result of that belief created a balanced board of five dealers and five vendors, with Glikes as the president.
"Azione is an important part of the growth we are experiencing at AudioControl and I'm excited to join the board and work with some great leaders to help influence the way we are supporting members and grow their businesses," adds Camara.
"I am particularly excited to deliver my perspective on how we continue to increase the value of Azione to all our members exponentially in an increasingly competitive marketplace. This is simply a tremendous opportunity to help shape the future."
11 Members Win Trip to Italy
After a year of success, Azione Unlimited unveiled the 11 winners of their 2020 trip to Italy. The year-long contest incentivized dealers and vendors to generate more business within the group.
The trip provides the 11 winners and one guest a six-day, five-night journey that drinks and eats its way throughout Rome, Florence, and Siena. It includes wine tastings, walking tours, and exploration of ancient Italian landmarks.
Commitments were measured in four distinct categories that measured adoption, growth, engagement, and excellence. Dealers and vendors earned tickets for specific goals such as moderating training sessions, hitting growth milestones, adopting new lines, or attending conferences.
During the contest, 2,023 tickets were awarded to 98% of the Azione Unlimited membership. Of the 2,023 tickets:
53% awarded in the "20%+ Growth" category
26% awarded in the "Adoption" requirements.
20% awarded in the "Engagement and Excellence" requirements
The 11 winners include:
Growth
Mark Ontiveros, Audio Images, Dealer
Jason Voorhees, Cantara Design Group, Dealer
Eric Bodley, Future Ready Solutions, Vendor
Neal Grennan, Samsung, Vendor
Engagement
Patrick Cain, Front Row Audio Video, Dealer
Robert Lewis, AVC Home Theaters, Dealer
Michael Benedetto, Monitor Audio, Vendor
Adoption
Don Dixon, Definitive Electronics, Dealer
Sean Hawley, Tech Automation, Dealer
Gabi Wolper, Fortress Seating, Vendor
Chris Discotto, Salamander, Vendor