For those of a certain age — which covers many in the custom technology industry — the "perfect 10" will always be synonymous with names like Nadia Comaneci, Mary Lou Retton and Bo Derek. We're recognizing another perfect 10 at CE Pro this year — the winners of the 10th Annual CE Pro Quest for Quality Awards, who strive for perfection in the area of service as manufacturer partners to custom integrators.
Once again, CE Pro is bestowing silver, gold and platinum honors for those companies that have been singled out in numerous categories by integrators for their commitment to service. That includes general communication, technical support, warranties, sales and marketing help, shipping, lead generation, incentive programs, training, trade show offerings, website and social media presence and more.
Many names have earned repeat appearances on the Quest for Quality Awards list over the past decade. Other names are new to receiving the accolades. In any case, it's no simple feat to earn the award; integrators voted for favored manufacturers by actually typing in their names, not merely clicking on a dropdown menu to pick out a company — and this year CE Pro received 12,120 votes in total.
Congratulations to all the winners!
---
Best Customer Service
PLATINUM: SnapAV
"Every member of our team is laser-focused on providing the best customer service in the industry, and it's their mission to give integrators the support they need to get them back on the job as fast as possible. We continually provide training on all of our products and services to ensure every Customer Satisfaction Specialist can solve our customers' pain points and help their days run more smoothly." —Dawn Boland, Vice President of Education and Support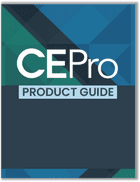 CE Pro's 2022 Product Guide showcases some of the latest and innovative solutions from manufacturers serving the custom electronics industry in a cross-section of categories.
Download the guide now!
GOLD: Coastal Source
"We have the finest dealers in the world who, in turn, have the most elite customers in the world. One of the key drivers in our company values is the value of our customers. This allows us to design and build industry-leading systems while creating seamless dealer experience to yield a positive end-user experience. Superior customer service is the foundation that supports our five key system fundamentals: performance, simplicity, reliability, repeatability and dealer profitability." —Franco D'Ascanio, President
SILVER: Vanco
"At Vanco International, we are committed to helping residential and commercial AV dealers and distributors succeed, which is why our knowledgeable technical support team is available Monday-Friday by phone, email and live chat to provide integrators with a combination of customer service support for any of our thousands of prod- ucts, as well as assistance with orders, and expert advice on system design." —Mark Corbin, President
---
Best Technical Support
PLATINUM: Control4
"Our technical support team is the first line of defense if an integrator is ever stuck on a job. With our online knowledgebase, technician community, live chat, and around-the-clock phone support, we do whatever it takes to make sure that the issue is completely resolved, even if that means sending one of our technicians into the field." —Scott Jeffery, Senior Director Technical Support
GOLD: Crestron
"In one word, QUALITY. Quality of the products and people. Our products are of the highest quality in the industry and if or when they do need support our people are there via email, online chat, telephone and yes even in person (ATSG) anywhere in the world, any time. This carries through regarding dealer protection. Besides having lifetime warranties on our speakers, residential lighting controls and shading solutions, our dealers know we have them covered in every way imaginable, above and beyond any other manufacturer in our space." —John Clancy, Vice President, Residential
SILVER: Sony
"Our award-winning CIS program for custom integrators delivers profitable products with cutting-edge performance, tightly controlled product distribution and best-in-class dealer support resources. Our national network of manufacturer's representatives and ES technical trainers provide Sony CIS dealers with the local support they need to grow their business, including coop advertising, extensive product training, promotional updates, marketing plans and more. And, of course, our ES products, built specifically for custom integration, come with class-leading warranties, 60-day A-stock advance exchange and a dedicated, U.S.-based support line." —Joshua Sy, Western Regional Manager, AV/CIS Sales
---
Best Lead Generation
PLATINUM: Sonos
"Sonos is focused on offering a system that not only delivers great sound, but gives customers the freedom to choose anything they want to listen to, and any way they want to control it. Over the past few years we've gathered feedback from hundreds of home technology professionals to learn more about how we can build a modern, integrated, and seamless platform of products and services for the smart home. We've learned a lot and will continue to apply those learnings to better partner with the channel and deliver dealers the tools they need to serve their customers." —Casey Clemens, Head of Installed Solutions, Americas
GOLD: Google Nest
"I get consistent leads from their website, which often expand into bigger jobs." — Verbatim comment from reader
SILVER: Amazon Ring
"At Ring, we believe in customer choice when it comes to our products and services. Though most of our devices are DIY, we aim to provide our customers various setup options that best fit their needs, including working with a professional installer. Through our professional installer network, we're pleased to seamlessly connect our partners to new opportunities, as well as offer our customers the best possible installation experience." —Andrew Vloyanetes, GM of Installed Solutions
---
Best Sales/Marketing Assistance
PLATINUM: Vanco
"Our experienced staff of technology experts provide top-of-the-line sales and marketing support to our integrators both remotely as well as on-site at various vendor events including industry tradeshows, roadshows, counter days, and dealer appreciation events. Our team also delivers national training videos and webinars that provide dealers and distributors with the confidence they need to successfully recommend and install any of the products from our four brands: Vanco, Evolution, Beale Street Audio and PulseAudio. Vanco representatives are also able to provide one-on-one webinar support to dealers by request in order to improve their day-to-day business growth.
"Marketing support from Vanco International includes custom end cap programs and distributor signage, giveaway items, POP displays, dealer-branded event and promotional flyers, and product demo displays for in-store use. Vanco provides product images, catalogs, sales sheets, promotional videos, and other product info packs to assist with project bids and presentations when vendors are expanding their marketing efforts." —Mark Corbin, President, Vanco International
GOLD: Nortek Security & Control
"We're extremely proud to win this badge of honor and recognition from our reseller partners. Elan dealers are special, and recently we've shined the PR spotlight specifically on our dealers' awesome projects around the globe via case studies, story sharing, social media and other marketing eff orts. Our dealers do amazing things with Elan, and it's been a pleasure to share their success. This includes the deep connection of several Nortek Security & Control brands with the Gary Sinise Foundation. Also, a key diff erentiator is our emphasis on our national cooperative Builder Program that brings integrators and builders together in meaningful ways. We've fostered new opportunities for all our partners via enhanced integrator
collateral, training and related marketing programs." —Richard Pugnier, VP of Marketing
SILVER: Savant
"At Savant, we strive to support our dealers with innovative tools and eff ective resources to drive their success with specifiers, builders and end users.
The Savant 2020 Ambassador program includes sponsorship dollars and tools designed to help dealers educate specifiers and key influencers within their communities.
The 2020 Ambassador program also includes sponsorship dollars for dealers to deliver branded educational videos, created by the team at One Firefly. These educational videos empower integrators to be confident and passionate when presenting Savant solutions to their clients.
In order to make adoption of new product categories (such as lighting, energy, and customized speakers) that add vital revenue opportunity for dealers less daunting and more eff icient, Savant has created online design, quoting and purchasing tools that help integrators access key data, quick pricing, and more.
With user experience driving most Smart Home decisions, Savant delivers Demo Mode across key user interfaces, including Savant Pro App and the Savant Pro Remote. Demo Mode allows dealers to simulate the Savant experience for potential clients.
"Alongside delivering intuitive and innovative smart home solutions, Savant is committed to delivering eff ective support resources. We are proud to be recognized for these awards and committed to continually enhancing dealer revenue opportunities, profitability and brand awareness." —Angela Larson, Senior VP of Customer Operations
---
Best RMR Support Programs
PLATINUM: SnapAV
"Our mission for OvrC is to help pros become world-class in supporting their clients in an operationally efficient way. By doing this, we ultimately help pros become profitable and enable them to grow their business. It's been fantastic to see so many of our customers, either by themselves or through organizations like Parasol and OneVision, leverage OvrC to create significant RMR in their businesses." —Kenny Kim, Vice President of Product Management, Connected, and Infrastructure Products
GOLD: Control4
"With 4Sight, our integrators can offer customers a secure cloud connection to their Control4 system, enabling hands-on personalization, mobile access, voice control, Intercom Anywhere, and control from anywhere in the world. 4Sight is unique in the industry for its affordability and value, and it's a privilege to meet that need for our customers." —Kordon Vaughn, Senior Director of Product Marketing
SILVER: Nortek Security & Control
"It's gratifying to be acknowledged by our resellers for the RMR opportunities we've built with our BlueBOLT Remote Power and Energy Management. Working in conjunction with our power management category leaders Panamax and Furman, BlueBOLT provides real-time, cloud-based control and monitoring of all energy used by electronic devices from anywhere. Today, this is especially important considering our era of threatened global resources. BlueBOLT services help our integrators be most nimble and efficient. With the major revamp we delivered in the past year, dealers now save even more time, money and provide world-class, real-time customer satisfaction." —Richard Pugnier, VP of Marketing
---
Best Software Support
PLATINUM: D-Tools
"Customer success has been a major focus for D-Tools over the past several years. Recognition by our industry peers for the fourth year in a row makes the CE Pro Quest for Quality awards that much more humbling and satisfying. We have worked hard to develop a support system that our customers can tap into in a number of ways — multi-path training options that include onsite training, online training, regional trainings, bi-weekly webinars, an eLearning platform, and a deep knowledge base, all of which help our customers become more successful with our software and profitable as a business.
"Additionally, our support technicians and professional service consultants work diligently with our customers on best practices, how-to questions, custom reports, catalog development, and more. Further, our customer success team is on hand to guide customers through available options to become highly proficient and productive with our software. We have made it a goal to provide our customers with the best support in the industry, and in letting them know that our talented team is here to help each of them benefit from our solutions." —Randy Stearns, CEO
GOLD: iPoint
"We strive to be an extension of our customers' teams, meaning that if a user has an idea for a new feature, a problem they can't figure out, or a business process that doesn't quite work, we are here to listen, help, and offer long-term solutions. Most of our software users know our support team members by name because we build relationships with each other. This personal touch starts during the onboarding process when new companies first start setting up iPoint and continues with personalized onsite and remote training sessions. Everything we do focuses on relationships as a key element of making software less daunting." —Dave Maurer, Director of Consulting & Training
SILVER: ProjX360
"What distinguishes ProjX360 from our competitors in customer support is that we have a very detailed onboarding process when a new company signs up for our software. When a company signs up we do an introduction call and learn how your business is set up and operates. Then we have a series of five to six, sometimes more depending on the company, of personal GoToMeeting screen shares and walk their team through the setup and workflow of the software. At the same time, we are teaching them best practices for the software and discussing best business operations processes. Aft er the main point team for the company is comfortable with the software, we help them launch it to their team via GoToMeeting screen shares. We have unlimited support available via email, phone, and live chat on our website. We also have videos for every aspect of the software on our website and we do two weekly webinars on different parts of the software. If someone needs training again for a refresher they can also request that." —Doug Greenwald, Founder/CEO
---
Best Warranty Policies
PLATINUM: Coastal Source
"Great systems yield great warranties!" —Franco D'Ascanio, President
GOLD: Vanco
"With a 60+ year legacy in the AV industry, Vanco International continues to engineer, manufacture, and sell top-tier audio/ video products and electronic accessories that are 100% QC tested in Vanco International's U.S. headquarters. The Vanco team works directly with dealers and distributors to provide flexible warranty and return policies including a lifetime warranty on all Vanco cables. We also offer industry-leading warranty terms, technical support and trainings so our customers know they are taken care of from the start of a job to many years down the road." —Mark Corbin, President
SILVER: SnapAV
"We carefully develop and test all of our products to ensure they deliver the quality you expect and deserve. On the rare occasion a product doesn't work as it should, we strive to get our integrators back up and running with minimal disruption, whether that's through advanced replacements, expedited shipments, or whatever it takes to correct the experience and maintain their confidence in our brands and services." —Avi Galili, Vice President of Hardware Engineering
---
Best Shipping Policies
PLATINUM: SnapAV
"With the expansion of our local presence, we've been able to give integrators even more options to pick up products where and when they need them. It's our goal to get customers what they need as quickly and conveniently as possible, whether that's through same-day shipping on orders placed before 7 p.m. EST, FedEx Hold at Location, or putting pickup locations in their neighborhood." —Nathan Porter, Vice President of Global Logistics & Fulfillment
GOLD: Vanco
"We can proudly and confidently say we offer some of the most competitive free freight policies available to the market. When our dealers demand immediate product, we are able to provide them with expedited shipping on any of our thousands of residential and commercial AV product SKUs. Vanco utilizes an innovative, state-of-the-art tracking platform which eliminates the possibility of errors or delays in the shipping process and improves delivery efficiency, providing our customers with peace of mind. With this platform, our dealers and distributors are given access to live shipping updates on their orders, ensuring customer satisfaction from the very beginning. Orders are manually screened by a trained group of professionals who scan through each delivery to compare serialized products against the corresponding purchase order numbers to ensure accuracy while also eliminating any possibility of the distributors selling the products to re-sellers who violate MAP pricing. At Vanco, we value the rights of our distributors and we protect them by not selling to any end users." —Mark Corbin, President
SILVER: Resideo
"They make sure their customers are taken care of." —Verbatim comment from reader
---
Best Dealer Website
PLATINUM: Sonance
"We are currently in the planning phases of dreaming up the next generation of a dealer Web Portal and look forward to bringing that to our partners in 2021.
"Our key focus remains on our three pillars: "Authentic Partnership – From customer service and tech support to our sales organization and company leadership our first goal is to be the best partner possible to our dealer and distributor community. We want to continue to find ways to add value and live out authentic partnership.
"Designed to Disappear – Hiding technology into architecture remains a key component of our strategy in providing our customers resources to bring creative ideas to the design build community. Sonance, James Loudspeaker, Trufig and Iport all focus on finding ways to help deliver on this goal. "Heritage of Innovation – We are proud of the last 36 years of innovation and see so much opportunity to continue this legacy as we move forward." —Mike Cleary, director of channel marketing
GOLD: SnapAV
"We've been focusing on growing the website with more product choice for our dealers in 2019, and plan to continue to do so this year. As we grow, our focus on dealer input and feedback remains the same and has helped us deliver a seamless web experience that saves time and adds value to their business. Thanks to our recent merger with Control4, we have increased opportunities ahead to refine our customers' digital experience, so stay tuned for even more great features coming soon!" —Bike Howard, Vice President of Digital Experience
SILVER: URC
"The URC dealer portal is a critical resource for all URC Authorized dealers where they can place orders, track shipments, find product information, software and tools. We're thrilled to receive this honor for 2020, and have just launched a complete redesign of the product last week which includes enhanced navigation, downloadable marketing resources and an alerts section where our partners can see what we've launched recently and what we're working on. All of these improvements were based on feedback from our valued dealers and we will continue to add enhanced features throughout 2020." —Petro Shimonishi, Director of Global Marketing
---
Best Consumer-Facing Website
PLATINUM: Amazon Ring
"Ring.com is a great place for our neighbors (what we call our customers) to learn about our devices and services, and identify the solutions that work best for their homes. And, with RingPartnerProgram. com, we're thrilled to off er independent installers an eff icient way to join Ring's network of independent professional installers." —Andrew Vloyanetes, GM of Installed Solutions
GOLD: Google Nest
"It adds a level of legitimacy having the Nest brand name behind my company." —Verbatim comment from reader
SILVER: Coastal Source
"Consumers care about the experience and the end result rather than the minutia of individual product details. Our in-house team did a superb job of capturing the experience of Coastal Source outdoor lighting and audio in both our consumer website and our very popular Outdoor Living Guide." —Franco D'Ascanio, president
---
Best Training Programs
PLATINUM: URC
"Each year, hundreds of loyal URC dealers attend training events, join our live webinars and actively engage with our eLearn
ing curriculum. All URC training sessions are hosted by highly experienced programming and training specialists. Hands-on integration with devices and equipment offers the ultimate realistic experience, complete with real-life scenarios and exercises that dealers can relate to. Our flagship Total Control three-day certification training, delivers the perfect amount of knowledge and information that dealers can retain and utilize in the field, including a step-by-step learning process with review exercises." —Russ Hoff man, Director of Training and Technical Support
GOLD: Luxul
"As the network is the foundation of the smart home and networking is an ever-evolving field, Luxul is dedicated to keeping its distribution partners and dealers up to date on the very latest technologies and practices. Training sessions are hosted monthly from the company's corporate office in Draper, Utah, while scheduled onsite trainings are held at Luxul's distributors nationwide. Dealers are offered various ways to expand their IP networking knowledge and master the company's products — from CEDIA-accredited educational sessions to webinars and industry events. Quarterly webinar series like 'Luxul City Limits' and 'Burning LAN' include sessions inspired by legendary rock songs, designed to help Luxul's dealer fan base expand its IP networking knowledge and master the
company's products.
"Luxul also offers programs to support its dealers, further enhancing their training focus. For example, Luxul's Free Design with a Guarantee through the Customer Assurance Program, or CAP, provides dealers with certified wired and wireless network designs — complete with tech support — that are guaranteed to meet their customers' reliability and performance requirements relating to Wi-Fi. In addition, Luxul's new ProWatch cloud management solution enables dealers to offer their clients remote management service (RMS) maintenance contracts, allowing them to develop a predictable recurring monthly revenue stream." —Mike Grubb, Vice President of Marketing, Legrand | AV
SILVER: Coastal Source
"Our outdoor lighting and audio systems are known for their simplicity and extreme performance. For our systems to perform at their highest level, our dealers need to fully understand and implement the advantages of our patented cabling and connection system. Quality training on our systems design, both technically and artistically, are essential. We go the extra mile to keep attendees engaged with interactive sessions and hands-on exercises. Our training programs give our dealers the knowledge and confidence they need to become extremely successful." —Franco D'Ascanio, President
---
Best Dealer Programs/Incentives
PLATINUM: SnapAV
"Through Partner Rewards, we get the unique opportunity to show customers our appreciation for their business with discounts, free shipping, and exclusive programs. With our recently launched program The Big Install, integrators can earn rewards when they shop in new categories, providing a new way to grow their business while further increasing the value of their partnership with us." —Janyl Yousefpour, Vice President of Customer Marketing
GOLD: Savant
SILVER: Sony
"Our award-winning CIS program for custom integrators delivers profitable products with cutting-edge performance, tightly controlled product distribution and best-in-class dealer support resources. Our national network of manufacturer's representatives and ES technical trainers provide Sony CIS dealers with the local support they need to grow their business, including coop advertising, extensive product training, promotional updates, marketing plans and more. And, of course, our ES products, built specifically for custom integration, come with class-leading warranties, 60-day A-stock advance exchange and a dedicated, U.S.-based support line." —Joshua Sy, Western Regional Manager, AV/CIS Sales
Best Dealer Protection Policies
PLATINUM: Crestron
"In one word, QUALITY. Quality of the products and people. Our products are of the highest quality in the industry and if or when they do need support our people are there via email, online chat, telephone and yes even in person (ATSG) anywhere in the world, any time. This carries through regarding dealer protection. Besides having lifetime warranties on our speakers, residential lighting controls and shading solutions, our dealers know we have them covered in every way imaginable, above and beyond any other manufacturer in our space." —John Clancy, Vice President, Residential
GOLD: Nortek Security & Control
"Dealers tell us the difference between SpeakerCraft margin and sales programs and similar offerings from other vendors all comes down to one thing: while other programs look good on paper, they often cannot be adapted to the dealer's brand position, profit and growth goals. We focus diligently on the implementation of protection programs in the real world and how they translate to the dealer and their clients in terms of value coupled with performance. Focused efforts have been applied to tamp down online reselling and maintain proper price points. It's a proud moment for us that our dealers have independently selected SpeakerCraft worthy of this coveted award." —Richard Pugnier, VP of Marketing
SILVER: Bose
"Bose protects its MAP pricing!" —Verbatim comment from reader
---
Best Social Media Presence
PLATINUM: Dish
"Since launching our Custom Integration program in 2016, Dish has made a concerted effort to address the unique needs of the CI channel, which have been reflected in our recent presence at trade shows and on social media. Not only have we made a larger splash through our marketing efforts on the show floor and through our sponsorship of successful awards programs, we also utilized a social strategy to speak directly with our customers. Fundamentally, the Dish CI team understands our dealers, and have catered our messaging, offers and communication to reach them with the highest level of impact." —Frank DeFilippis, General Manager, Custom Division
GOLD: Sonos
"We are always looking for new ways to inspire and empower listeners. Whether sharing specially curated playlists, animating colorful videos with product tips and tricks, highlighting the engineers and creators behind the scenes, or replying directly to questions on Twitter, our goal is to bring a human touch to both your feed and the world of consumer electronics." —Michael Leon, Global Creative Director
SILVER: Google Nest
"[Google/Nest] providing more exposure for our industry is helpful." —Verbatim comment from reader
---
Best Co-Op Advertising Program
PLATINUM: LG Electronics
"LG has made a concerted effort to provide resources and the tools to help make it easy for the custom integrator to use LG products such as our best-in-class OLED TVs in their installations. We are gratified for the recognition of these efforts and will continue to work closely with the channel to maintain a high level of service in addition to great products." —Mark Major, Senior Key Account Manager – CI and Distribution
GOLD: Samsung
"Samsung is honored to receive the Gold for Best Co-op Advertising Program in the 2020 CE Pro Quest for Quality Awards. Looking ahead, we are excited by what the future holds for our team and for our valued integrators, partners and customers through Ascend. Thanks to the new portal, our resellers have the top-notch marketing and advertising tools they need to be successful." —Chris Mertens, Vice President of U.S. Sales, Display & IT, Samsung Electronics America
SILVER: Sony
"Our award-winning CIS program for custom integrators delivers profitable products with cutting-edge performance, tightly controlled product distribution and best-in-class dealer support resources. Our national network of manufacturer's representatives and ES technical trainers provide Sony CIS dealers with the local support they need to grow their business, including coop advertising, extensive product training, promotional updates, marketing plans and more. And, of course, our ES products, built specifically for custom integration, come with class-leading warranties, 60-day A-stock advance exchange and a dedicated, U.S.-based support line." —Joshua Sy, Western Regional Manager, AV/CIS Sales
---
Best Trade Show Presence
PLATINUM: Dish
"Since launching our Custom Integration program in 2016, Dish has made a concerted eff ort to address the unique needs of the CI channel, which have been reflected in our recent presence at trade shows and on social media. Not only have we made a larger splash through our marketing eff orts on the show floor and through our sponsorship of successful awards programs, we also utilized a social strategy to speak directly with our customers. Fundamentally, the Dish CI team understands our dealers, and have catered our messaging, off ers and communication to reach them with the highest level of impact." —Frank DeFilippis, General Manager, Custom Division
GOLD: Sony
"Our award-winning CIS program for custom integrators delivers profitable products with cutting-edge performance, tightly controlled product distribution and best-in-class dealer support resources. Our national network of manufacturer's representatives and ES technical trainers provide Sony CIS dealers with the local support they need to grow their business, including coop advertising, extensive product training, promotional updates, marketing plans and more. And, of course, our ES products, built specifically for custom integration, come with class-leading warranties, 60-day A-stock advance exchange and a dedicated, U.S.-based support line." —Joshua Sy, Western Regional Manager, AV/CIS Sales
SILVER: Legrand
"What sets the Legrand | AV booth apart at any trade show is that dealers visiting it can actually see how the company's brands come together to make the smart home a reality — from audio, humancentric lighting (HCL), and networking systems to mounts and enclosures. This is achieved largely through solutions vignettes that demonstrate how the products integrate with each other and what's possible in real-life scenarios. For example, interactive demonstrations of Vantage's human-centric lighting systems show how they deliver precision dimming, color control, and tunable lighting to achieve the perfect harmony of natural and artificial lighting, while simultaneously controlling shades, audio, HVAC, and other electronic systems from the same keypad or even a single button, depending on programming." —Mike Grubb, Vice President of Marketing, Legrand | AV