Every year the editors of CE Pro put our collective heads together and identify five leading home technology opportunities for residential integrators, as part of our January kickoff State of the Industry coverage.
Sometimes inspiration draws from tradeshows we've attended such as CEDIA Expo, ISE and InfoComm; our visits to spring and fall conferences hosted by the industry buying groups; and chatting with top dealers at the Total Tech Summit/CE Pro Summit.
It's always fascinating to look back and see where we hit and missed. Then, of course, there are always wrinkles thrown in, like the Great Recession and Covid pandemic – but if you scroll past the 2023 trends, you'll find others going back to 2012.
Look for full coverage of our "5 Top Technology Trends for Integrators" in the January 2023 issue as well as online. For the bite-sized appetizer version, here are our choices for new year:
MicroLED Technologies
Migrating from the commercial market, the performance attributes of these technologies support high-end, high-performance home theater. At CEDIA Expo, it was more like an InfoComm show with the amount of large-format LED offerings on the show floor.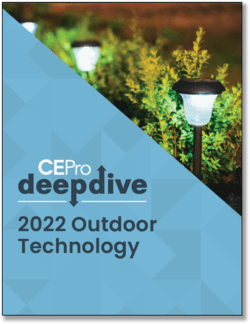 The 2023 CE Pro Outdoor Technology Deep Dive reveals unique set of impediments, including explaining pricing and interacting with outdoor-centric trades.
Get your copy now to take a "deep dive" into the trends and challenges of outdoor technology.
Download the report now!
ATSC 3.0 (Pearl TV, NextGen TV)
This latest ATSC iteration is gaining momentum and more manufacturers are including ATSC 3.0 technologies into their new products. NextGen TV is growing in implementation and availability across the country, promising to redefine how we watch – and interact with – over-the-air (OTA) programming.
EV Charging Stations
As electric cars continue to surge in popularity, integrators will have opportunities to offer their clients these EV charging solutions as more manufacturers get on board, integrated into whole-home energy systems. The electric ecosystem for energy storage and management continues to expand.
Indoor Air Quality/Whole-Home Air Purification
Ever-growing in options that now include portable and whole-home filtration, these are among the most ubiquitous technologies that homeowners are looking at in the wellness category in addition to circadian lighting. Often overlooked is the central vacuum category, which has an even more compelling story for dealers to tell today.
Design Centric Technologies
Interior design friendly solutions, including small aperture lighting, TVs that display artwork, invisible speakers, soundbars, light switches, LED accent lighting, security products and more are in more demand from homeowners that want electronics that unobtrusively blend into their homes.
Here's a look at previous years' Top 5 Technology Trends predictions:
2022
2021
Biophilia/wellness
Landscape lighting
8K video
5G, other cellular events
Water, water
Wellness
Low-voltage lighting
Architectural design
Accelerated cord cutting
Labor crisis and new workforce paradigms
Mass-market smart-home services
Chief security officer for the home
Tunable white lighting
Multi-dwelling (MDU) market
Video projection systems
Voice control integration
Virtual reality and augmented reality
Device discovery and data collection
New models in tech deployment
Fiber in the home
2016
Audio and Video Analytics
DC Power Distribution
4K Ecosystem
The Front Door
User Empowerment in Home Automation
2015
Production home building
Immersive home entertainment
Engaging home automation
The aware home
Cloud-based networking
2014
High-Resolution Audio
Mass-Market Home Automation
Cloud Video Surveillance
More Sensor Opportunities
Automated Door Locks
2013
Enterprise-Grade Home Networks
Headphones
Wireless Audio
Motorized Shades
4K Ultra HD TV
2012
Self-contained security/automation
LED lighting
Computer audio
Voice, gesture, alternative controls
The cloud