CE Pro Names Top 5 Home Tech Trends for 2020
Biophilia, landscape lighting, 8K video, 5G/other cellular, and water-related systems to be featured as CE Pro Top 5 Home Tech Trends for 2020.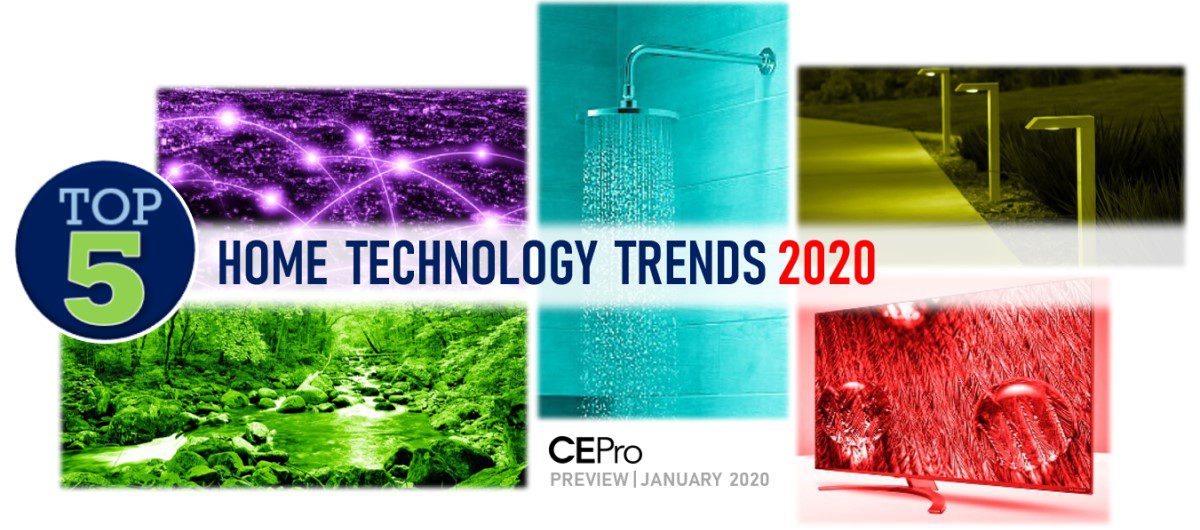 After much discussion with smart-home pros and others in the home-tech channel, the editors of CE Pro have selected the Top 5 Home Technology Trends for 2020: Biophilia, landscape lighting, 8K, 5G/other cellular, and water-related systems.
To be featured in the January print issue of CE Pro, these are the products, technologies, initiatives and themes that should blossom in the new year, impacting the residential integration sector for better or worse.
The Top 5 list features trends that are already on the radar – and possibly have been for years – but haven't necessarily broken through as "the next big thing" for the home-technology channel.
We believe 2020 will be the breakthrough year for the following themes:
Biophilia
The term biophilia was virtually unknown in the home-tech community until February 2019, when it was presented during a CEDIA Talk at ISE 2019. Since then, the industry has embraced the concept of bringing the outdoors in, simulating elements of nature for health and wellness. While circadian lighting is the most familiar concept in tech-based biophilic design, the smart-home industry is working hard to incorporate other key elements including indoor air quality, pure water, circadian climate, artificial skylights, and audio/visual representations of nature.
Top 5 Home Tech Trends for 2020 will be featured in the January 2020 State of the Industry print issue of CE Pro. Contact your sales rep for advertising/sponsorship opportunities.
Landscape Lighting
Home-technology integrators for years have been incorporating landscape lighting into their outdoor installations, primarily as a complement to outdoor audio. This year, however, the category sky-rocketed with a wide range of new vendors entering the channel with products that integrate into popular home-automation systems. The category in 2020 will bring the channel one step closer to owning the outdoors.
8K Video
In hindsight, 8K probably should have made the last CE Pro Top 5 list, as the new video format really started gaining traction this year. But we weren't sure the stars would align in 2019, so we held out for a year. 2020 will definitely be "the big one" for 8K, with products, content, infrastructure and consumer awareness driving the category.
5G, Other Cellular Events
For the past few years, the industry has recommended 5G for the CE Pro Top 5 list, but the new cellular format wasn't going to impact our industry anytime soon. Come 2020, home-tech pros will begin to feel the impact of 5G. New IoT M2M solutions will hit the market; cell-boosting products will be launched; and networking schemes will change.
In addition to 5G, other cellular happenings will affect our industry in 2020, including the 3G sunset – a huge challenge/opportunity for the alarm industry – and the growing popularity of small-cell networks.
Water, Water
This one crept up on us pretty quickly, with CEDIA Expo being the big aha moment. More water-related companies are wooing the smart-home channel, and more plumbing-centric categories became popular this year, including leak detection and water shut-off, water purification, water conservation and management, smart showers, live plant walls, residential spas and steam rooms, and more. We predict 2020 will be the year smart-home pros get serious about plumbing.
DO YOU WANT TO CONTRIBUTE TO THE TOP 5?
Integrators, if you have any interesting experiences to share regarding any of the Top 5 Home Tech Trends, please email julie.jacobson@emeraldexpo.com or leave a comment below.
---
Top 5 Trends: Previous Years
Wellness
Low-voltage lighting
Architectural design
Accelerated cord cutting
Labor crisis and new workforce paradigms
Mass-market smart-home services
Chief security officer for the home
Tunable white lighting
Multi-dwelling (MDU) market
Video projection systems
Voice control integration
Virtual reality and augmented reality
Device discovery and data collection
New models in tech deployment
Fiber in the home
Audio and Video Analytics
DC Power Distribution
4K Ecosystem
The Front Door
User Empowerment in Home Automation
Production home building
Immersive home entertainment
Engaging home automation
The aware home
Cloud-based networking
High-Resolution Audio
Mass-Market Home Automation
Cloud Video Surveillance
More Sensor Opportunities
Automated Door Locks
Enterprise-Grade Home Networks
Headphones
Wireless Audio
Motorized Shades
4K Ultra HD TV
Self-contained security/automation
LED lighting
Computer audio
Voice, gesture, alternative controls
The cloud