It's no secret that lighting controls and fixtures, as well as motorized shades, are among the hottest categories in the custom electronics industry. During CEDIA Expo 2023, providers of these solutions outfitted their booths with unique demos and innovative product introductions, plus discussions of integration support, design services and more.
Here's a brief survey sampling some of what the companies in the lighting controls/fixtures and motorized shades categories showcased at the Colorado Convention Center in Denver, Sept. 7-9.
Lutron
The biggest name addressing these market sectors is Lutron and as usual the Coopersburg, Pa., company did not disappoint at CEDIA Expo. In fact, Lutron amplified its message of how its solutions enhance a home's lifestyle comforts and conveniences with a pair of impressive demos that appealed to the senses.
Additionally, Lutron revealed its new tunable-white Lumaris Tape Light, which can add stunning aesthetics and colors to various rooms and other home applications. Integrators can create attractive, wow-factor lighting under cabinets, coves, stairways, bathroom vanities, home theaters and elsewhere via the versatile Lumaris Tape Light.
Perhaps most important, it's the first professional-grade tape light that's a native part of Lutron control systems, the company notes. The package includes both LED tape and the controller, purpose-built for Lutron RadioRA 3 and HomeWorks QSX systems.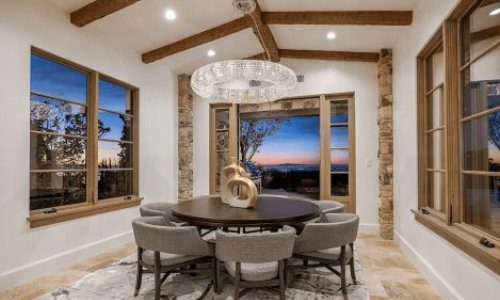 As a custom integrator, lighting is in demand. Effective communication, education and showcasing the value proposition of LED light fixtures in conjunction with integrative control systems are the keys to overcoming challenges and closing sales in this specialized market. Join us as we discuss the future of digital lighting and control with David Warfel from Light Can Help You and Patrick Laidlaw and Mark Moody from AiSPIRE.
Register Now! 
On the motorized shades front, Lutron announced the launch of a new Roman Shade offering, the battery-operated Triathlon Roman Fabrication Kit and fabrication guide. Thanks to its wire-free installation and the ability to specify nearly any fabric, the shades can open up greater system design flexibility.
Lutron adds that the Triathlon Roman Shades support control of daylight and the ability to be integrated within the company's whole-home systems or leading third-party automation systems. The fabrication kit will include a custom-configured tube and bracket assembly, refreshed electronic drive unit, workroom configurable add-on spring modules, and an attachment system to accommodate lift and uptake mechanisms.

Regarding the setup of its 50 x 60-foot Expo booth, Lutron divided its self-guided "experiences" into two rooms – The Gallery and The Retreat, each illustrating distinct ways the company wanted integrators to immerse themselves in the intelligent lighting, automated shades, and intuitive controls.
The Gallery focused more on the technologies and how everything comes together in elegant, aesthetically pleasing fashion for homeowners, where various room attributes can be highlighted depending on the solutions. The Retreat, meanwhile, emphasized the look and feel of how expertly combining natural and artificial light and automated shading go hand-in-hand to impact everyday comfort, activities, health and wellbeing.
"We're doing a why/how kind of walk with these rooms," Lutron Vice President Ben Bard noted as the experiences' distinction. "That 'why' and emotional side is in The Retreat, and The Gallery is more of the 'how,' like angles and things to design a system – our Design Centers are like a scaled-up version."
Draper at Home
Spiceland, Ind.-based Draper at Home showcased its innovative roller shade solutions both inside and outside the convention center. Indoors, the company's booth featured design-minded products like its FlexStyle Cassette, a trim and elegant shade that ships assembled and ready for mounting; FlexShade InsideTrack, a motorized shade with black textured finish and dual fascia to stack two shade rollers so owners can have room darkening and regular privacy addressed in the same model; and the unique Gabled Bottom-Up FlexShade for angled windows.
Also in the booth, the company had visitors test out the Ascend roller shade, a manual shade that retracts with the touch of a hand. Along with those releases, Draper at Home as always had its very wide cross-section of samples and examples of its custom fabric color capabilities. Similar to past years, the company showed how its colors can be matched with Sherwin-Williams color palettes, for instance.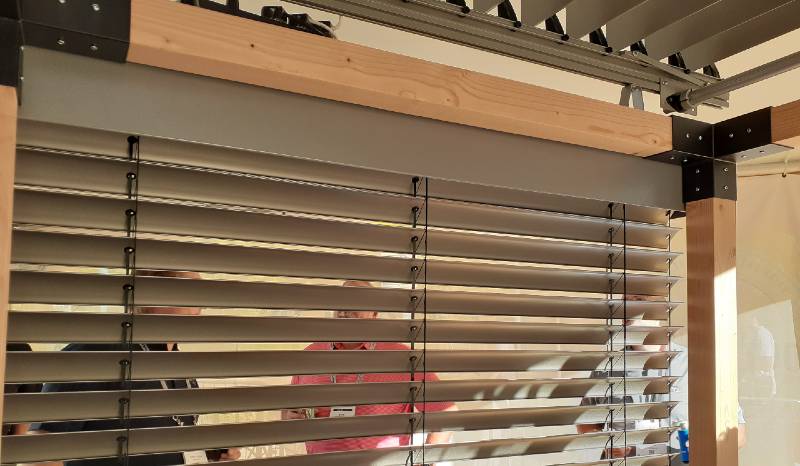 Meanwhile, across the street at "Destination Outdoors," the company's FlexShade products stood out amid the audio and video wares with which it shared the pavilion. The motorized, wind tunnel-tested FlexShade Tension ZIP roller shade is said to resist wind, weather, and insects to help dealers expand homeowners' usable outdoor space. The Exterior Motorized FlexLouver is an economical and easy-to-use outdoor (or indoor) shading solution, which Draper's Steve Edwards notes not only serves U.S. clientele but addresses the European market.
"If you're in Europe, about half the windows in a home will have exterior Venetian blinds," he says. "Energy costs are very high, [the Draper product] uses sun-tracking software so the louvers tilt and stop direct sunlight from hitting the glass, the heat never gets in."
Nice North America
One of the newest forays into the hot category of motorized shades is Nice, which offered attendees a great introduction to and demonstrations of its Sun Shades. The company launched the product with a variety of roller shades and blinds solutions in late July, and it certainly appeared ready to hit the market.
"I think this is one of the things that people are really excited about," enthuses Nice Chief Product Officer Paul Williams. "We're actually showing two different blinds, one the outside. What we wanted to show was that we could do these pretty extreme [applications] with these shades."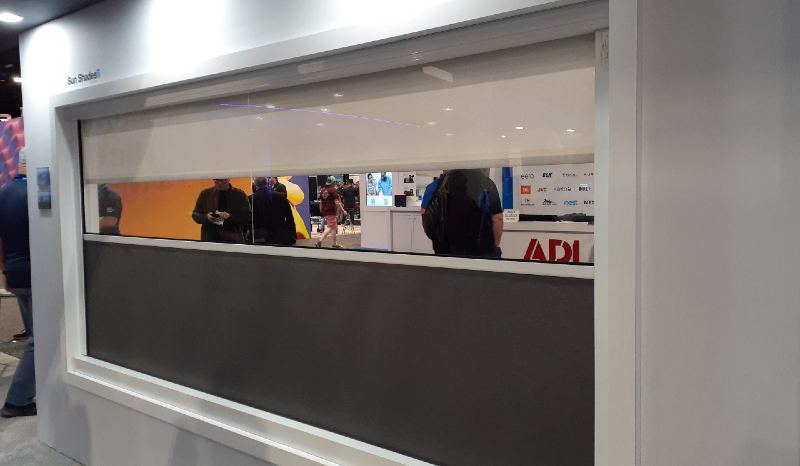 Williams demo'd the company's innovative design takes on its entry to the category, such as bottom-up and top-down automated movements. The Sun Shades can be programmed for a percentage to open/close, and the motor calculates the length of the run and amount of time it takes to reach that length to facilitate such precision. Williams says the hembar alignment has also been a focus so multiple shades in a room can match one another when they open/close.
Toward that end, Nice has capitalized on its internal resources and background expertise in motor assembly so as not to require OEM'ing that portion of the products, he notes.
"This is one of the great things about [the acquisition two years ago] – Nice has been in the motor business since the year 2000," Williams comments. "Our motors are used in a lot of products here on the show floor, like J Geiger, and that's why it made sense for us to move here because we've really got this rich history of building motors for the shade industry. It's a natural add-on for us, so let's just go the whole way and make the shades."
They also created an online training that takes only about 3 hours for dealers to go in and learn about the types of shades, how to do measurements, etc., so they can become comfortable selling them if they're new to the category, Williams adds.
Somfy
One of the largest manufacturers of motors serving the industry, Somfy introduced its Sonesse 30 PoE motor. The Sonesse 30 PoE motor allows for a more streamlined installation process thanks to its low voltage and easy wiring, which the company says increases safety and eliminates the need for an electrician.
Other benefits of the new model are that motors are immediately discoverable and ready for commissioning by using a web GUI, and a physical setting tool is not required, according to the company. On the resimercial side and MDU projects, the company adds that for building owners who are seeking a solution to reduce operational costs, the PoE allows network cables to carry electrical DC power and IP data connectivity over an existing data connection with a single Cat 5e/6 ethernet cable.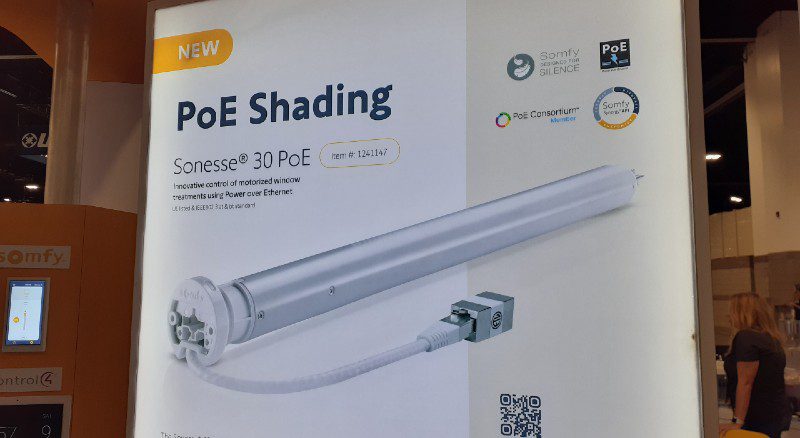 Additionally, Somfy continues to make its solutions play nicely with others. Its Somfy Synergy API facilitates simplified integrations with third-party control systems. The company emphasizes that it designs solutions that are intentionally open, offering certified drivers for others' automation systems, including being in the process of certifying compatibility with Snap One's Control4.
Kyle Roy, Somfy specifications manager for the Northwest U.S., notes that the new PoE motor is a shift from previous-gen product that required a gateway. "It's a way for us to sit on the PoE network, but not actually have a new motor," Roy says.
"Then with PoE, because it's such a universal standard, the level of automation and data you can really get granular on how you tweak systems," he adds. "It has a real advantage of getting integration partners set up, like Control4 and Crestron, plus we have our own root controller, a touchscreen you can run your whole house off of, but it's strictly for shades."
Hunter Douglas
Leading motorized shades and system controls provider Hunter Douglas was back at CEDIA Expo 2023 and giving booth attendees another look at their
"Last year Hunter Douglas had the opportunity to preview Aura with dealers at CEDIA Expo, the initial response was incredible and energized our whole team," notes Scott Stephenson, senior director of product, global motorization at Hunter Douglas.
"Returning this year with Aura available and actively shipping opened up so many fun conversations about unique use cases for these one-of-a-kind shades, from helping people with non-traditional work schedules to creating 'window light' in windowless areas of basements and even how Aura can be incorporated into a complete lighting design for a home," he adds of the unique demonstration. 
Crestron
Among its enhancements to the new Home OS 4, Crestron adds one of its most anticipated advancements in lighting control – unifying multiple lighting protocols and devices within a single home automation platform. The platform, delivered via Crestron DMX-C fixtures, now allows dealers to add "essentially any" lighting device into a Crestron Home system running the new operating system by writing a new drive or downloading the recently added drivers from the Crestron library, the company says.
As its first example, Crestron has launched Philips Hue smart lighting as its first example driver and has released new APIs to the driver development community, allowing for third-party integration possibilities alongside the company's own lighting update.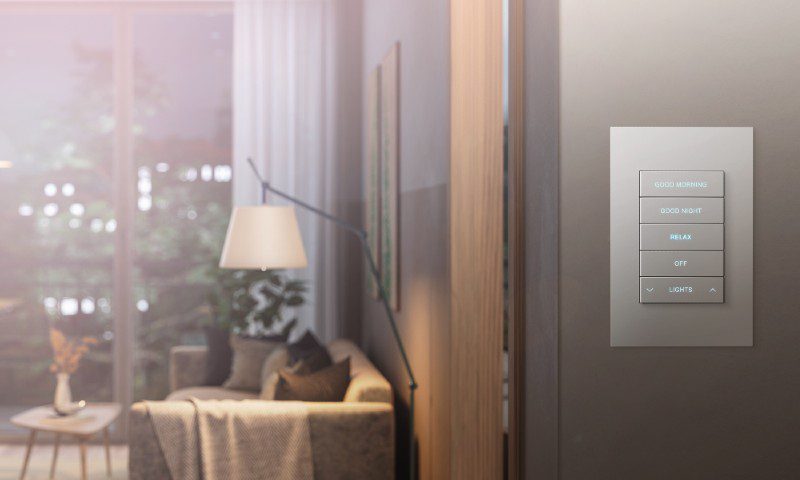 According to Crestron, this new feature replicates the experience of native Crestron tunable light fixtures, giving Crestron Home users full control over the color, hue, saturation, color temperature and light intensity. Users can also opt to synchronize lights with their natural circadian rhythm or match the natural light outside.
On the roller shades front, Crestron exhibited its new QMT 3 motor décor hardware collection. Further enabling dealers to work with homeowners, designers and architects, the hardware comes in six color choices to blend with a variety of interiors – white, almond, light gray, dark gray, brown, and black.
Savant
Like other home automation companies, Savant expanded into the lighting realm with its acquisition of GE Lighting a few years back. Now known by the Cync moniker, the smart lighting products are now fully integrated to be natively controlled in Savant's Pro App, instead of a disparate Cync App, so owners can increase their system capabilities by using the same interface that controls the rest of their home technology.
Not only are the Cync lighting fixtures and controls more useful to the homeowner, but Savant is anticipating its dealers can become further entrenched in the sizzling hot category, Savant's Angela Larson noted at CEDIA Expo. It's a great way to jazz up a room with color- and temperature-changing effects, and the app can incorporate circadian programming for next-level lighting installations.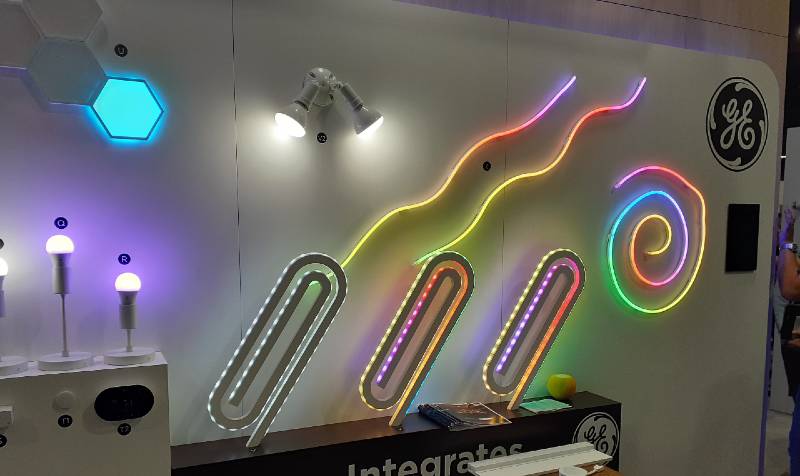 "A lot of what we're showing here is entertainment lighting – there's no reason a dealer can't do strip lighting, cabinet lighting, artistic lighting, creative lighting," she stresses. "So even guys who are not ready for the lighting business, they can sell some of these products."
Savant showed solutions that included production home-grade 6-inch can lights and other fixtures that blend in well with home environments and will work well to expand dealers' projects and satisfy owners.
"It's retrofittable, and you know how much cleaner your ceiling would look without all those screw-in bulbs," she advises. "It's a great little tool for a dealer who wants to clean all that up – so this has gone over great."
WAC/AiSPiRE
WAC Lighting's AiSPiRE brand brought a couple of key introductions to CEDIA Expo this year to help integrators light up customers' residences in various ways with beautiful LED fixture capabilities.
One is the new WAC-STRUT Stealth Framing Projector, an LED luminaire that operates as part of the company's WAC-STRUT modular LED lighting system that bundles lighting, electrical and power; the other is AiSPiRE ABiCUS, a universal DMX Gateway that delivers communication between lighting fixtures and control platforms.
At its booth, AiSPiRE illustrated how the new WAC-STRUT Stealth Framing Projector can enable installers to project a crisp, square or rectangular area of light to frame artwork, sculpture, collectibles or architectural elements. It produces maximum visual impact by zooming in, zooming out, or using a custom-cut gobo to shape the light in complex designs, according to the company.
ABiCUS simplifies many of the complexities of setting up a DMX network, AiSPiRE notes, and functions with all of the AiSPiRE and WAC Lighting DMX solutions including: Atmosphere and Aurora recessed fixtures; AiSPIRE Linear LED Tape & DPI sheets; RPS low voltage lighting solutions, including recently released Alpine Micro; and the aforementioned WAC-STRUT system.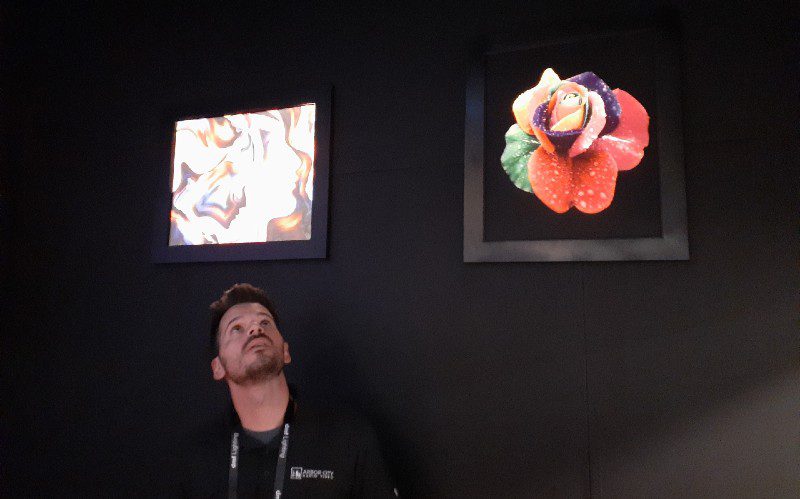 To punctuate its solutions and the impact of lighting fixtures, WAC had an eye-opening AiSPiRE Experience room where it used different color temperatures to show how drastically different artwork and other elements can look depending on the scene.
DMF Lighting
Modular downlighting specialist DMF ramped up to its commitment to the custom integration channel, which in the company's overall picture is still small but growing more and more as evident by its CEDIA Expo presence. DMF has been investing to scale and build out its modular solutions for integrators, with assembly in the U.S. and production in Taiwan to enable cost-effective development and pricing.
"What's unique about it is it allows us to bring this product to what we call 'mass configuration' in the U.S., so it gives us the best of both worlds," notes Michael Danesh, who serves as COO for the company, which his family founded. We're able to serve [luxury residences] effectively and we're able to provide a price point where we can still capture a majority of [integrators'] projects."
DMF introduced its iX Series 2-inch Retrofit Conversion Kits, which the company says widens retrofit applications possibilities. No longer will installers need to tear up ceilings and remove old housings, as DMF notes the unique solution converts existing 4-, 5- and 6-inch fixtures to a 2-inch opening, creating new sales opportunities for dealers in the rapidly growing lighting fixtures category.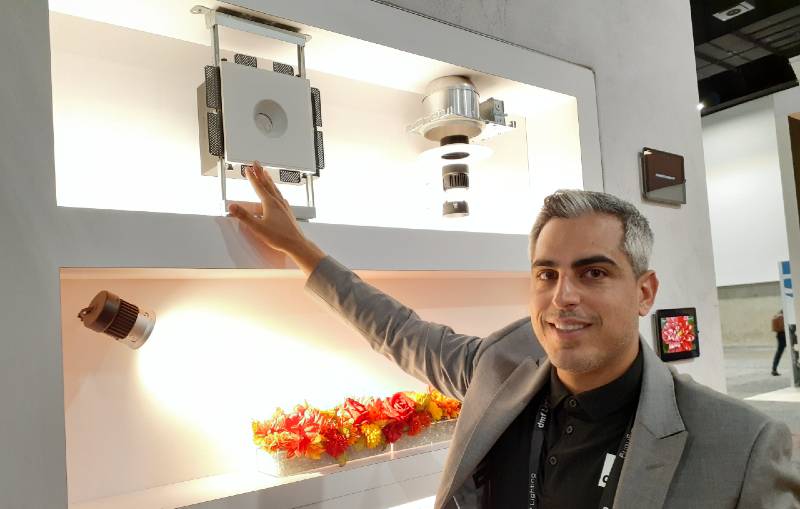 Danesh also discussed how DMF leverages its relationship with fellow Southern California company HK Lighting, which it acquired an ownership interest in last year, to better serve the luxury residential market. HK (Hiroshi Kira) Lighting is focused largely on landscape lighting for commercial venues and resimercial applications, and its industrial design and build quality attributes are being employed by DMF.
"All of it is built to order, and we realized, wow, there's a real opportunity to take these products, reposition them and make some modifications for that luxury marketplace," he comments.
"All of the products you see [in our booth] are machined out of high-grade aluminum milling, and the reason we do that is to ensure reliability of the product. It gives the opportunity for a dealer to supply a high-end, high-grade landscape product from a company that's been in lighting 20+ years."
Environmental Lights
Environmental Lights had another tremendous expo espousing the benefits of the lighting category and all its "eye candy" LED applications – literally with hundreds of products covering just about any project, enthuses Ryan Walters, senior sales engineer at Environmental Lights.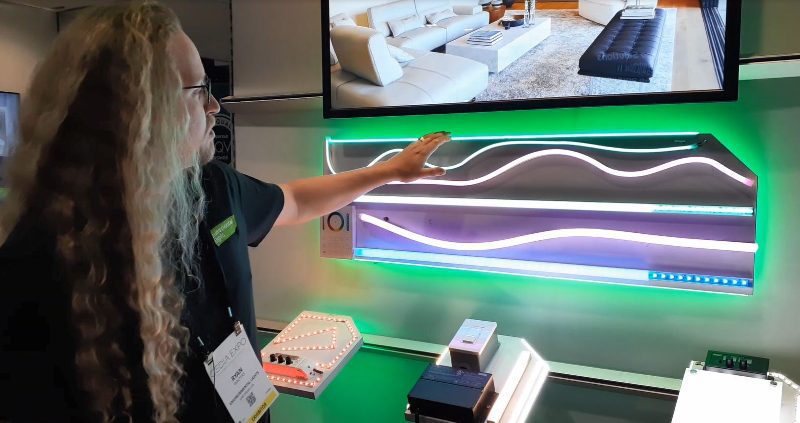 "All of our products are really fine-tuned to fit any needs of any single project," he says. Walters adds that Environmental Lights' job is to be ready to hop on a call with any of the project stakeholders to assist with support or guidance from start to finish.
Among the new products he and the team highlighted at the event were additions to its Continuous line, which he explains is a chip-on-board product, and new DMU (dual mode universal) dimming driver.
They showcased the Continuous LED in a couple of form factors, with one being a bendable strip light and the other wrapping around a pod.
"The really nice thing about these products is they're all fully diffused. You're not going to see any hot spots, and a lot of them are really small so they can fit into niche-type places," Walters notes. "Imagine you've got a spiral staircase with a really small cap underneath it where you don't have a channel for a traditional strip light – using something like this will give you beautiful ambient light, but not have that terrible refection that's coming off the stairs."
Proluxe by American Lighting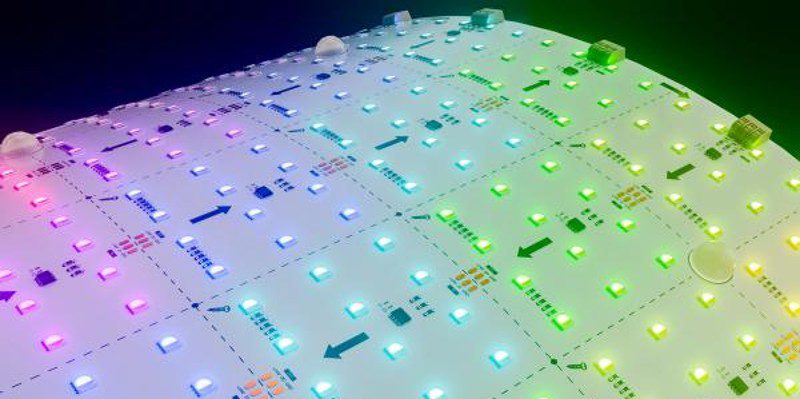 Showing a number of products that integrators can use in a variety of ways, Proluxe by American Lighting shared its story about how it has been in business for 34 years. During the expo, Proluxe was highlighting products like its new Pixel 360 Icon and Pixel Canvas Series as it continues to augment its presence in the CEDIA channel.
Additionally, the company displayed its 360 Neon Lighting, as well as its RGB Microlux products. Proluxe emphasized in its booth to visitors the flexibility and ease-of-installation these products provide integrators.
FX Luminaire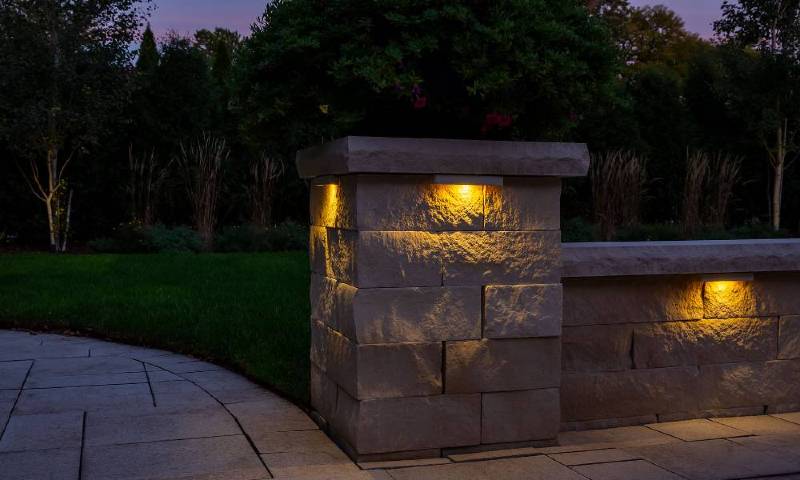 With solutions that cover landscape, architectural, hardscape, line-voltage, pathways, strip and more lighting applications, FX Luminaire had loads of products to show booth visitors. The company offered a training session on lighting design using its fixtures and its advanced Luxor Technology with zoning, dimming, and color-changing capabilities. Additionally, FX Luminaire elaborated on its in-house expert design services that can help integrators maximize performance and profits on projects.
"FX Luminaire's low-voltage landscape lighting solutions seamlessly integrate into today's home technology market by providing homeowners with both aesthetic and functional benefits," says Luke Reardon, domestic marketing manager at FX Luminaire. "Our products can be integrated into existing home automation systems, allowing users to control and adjust outdoor lighting remotely."
URC
In addition to its new automation wares, URC showed its upgraded URC Lighting product line featuring the LT-3300 giving dealers the ability to use as either a dimmer or switch at installation.
With installation-friendly features like simple programming, auto load detection, built-in configuration button, customizable LED bar for visual notifications, reliable performance, and Z-Wave networking, the LT-3300 ranks as another solid complement to its dealers' solutions sets.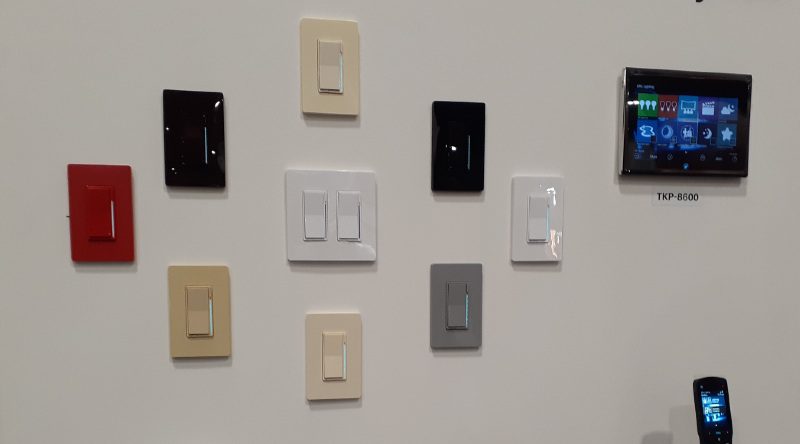 "It's just one SKU, we're trying to make it as easy as possible for the dealer so all they have to do is just configure it via the programming to be a switch or a dimmer," says URC VP of Product Development Lars Granoe. "The very nice thing about this is you can also use scene control with the buttons on the side, or double tap, triple tap."
Another cool function with the LT-3300 is its LEDs, which can flash red for certain triggers or light up brighter at night if someone is heading to the kitchen, bathroom, etc., for instance.
Screen Innovations
Screen Innovations unveiled its SI Ecosystem, a package of products and technology (available in three versions) designed to give dealers flexible and robust wired, wireless, and app control. The SI Ecosystem provides real-time adjustable features, wireless link quality, frequency/channel adjustments, and routing tables.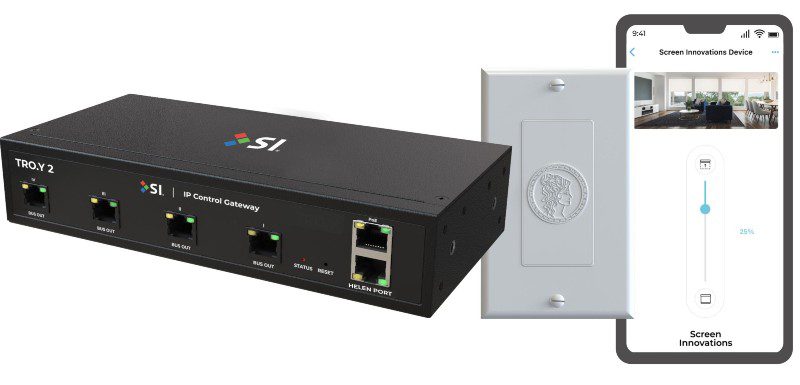 As many as 150 wireless or 512 wired PoE/485 shades and screens can be powered and controlled via a single SI Ecosystem, according to the company. The shades and screens arrive onsite already commissioned and ready to install, customize and integrate with leading third-party control systems, SI adds.
Vantage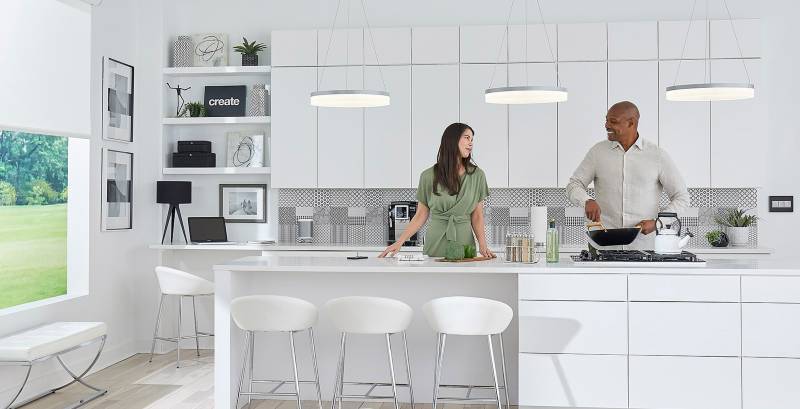 Legrand's residential lighting control brand Vantage illuminated attendees on its new LHUMAN KolorTune capability in the Vantage Design Center software. LHUMAN KolorTune enables myriad tunable fixtures the company supports to be used in a lighting control system and provides the tunable, controllable profiles needed to create lighting scenes with precise color temperature.
The library of fixture profiles opens the door to lighting design freedom, simplicity, and affordability for achieving tunable and human-centric lighting (HCL) designs, according to the company, which has developed numerous relationships thanks to its Vantage Fixture Alliance initiative.
Colorbeam
The low-voltage fixture specialist discussed its expanding solutions set with attendees at CEDIA Expo 2023, adding to its existing Din-rail module infrastructure that incorporates 96W Class 2 power supplies and 12-channel DMX decoders.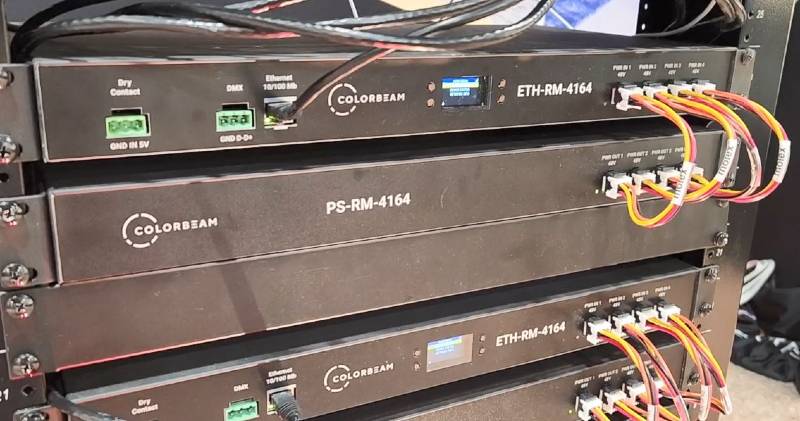 The company introduced 1U rack-mount power supplies as well as a 1U, 64-channel DMX decoder, the PS-RM-4164. Colorbeam explains that the 1U power supply is equivalent in horsepower to four Din-rail power supplies in a slim 1U chassis.
Additionally, Colorbeam showed the feature-packed ETH-RM-4164 1U rack-mount DMX decoder. The company points out it handles 64-channel DMX decoding and can drive 16 independent lighting loads, supporting four channels per load and 48 fixtures over 16 loads; is IP- or DMX-addressable; offers auto detect and auto configuration functions; and employs RJ45 connectors to feed fixtures via Cat 6 cabling. Plus, the device can drive any combination of its recessed, landscape, bi-white-tunable and RGBW fixtures.
Blackwire
At CEDIA Expo 2023, even distributors were getting into the lighting fixtures fray. Blackwire released its Blacklight Design Tool, which streamlines the linear lighting design process from start to finish. Integrators begin by importing the floorplan of the job site, and from there they can effortlessly draw out each fixture. The tool then quickly and accurately lays out, configures, prices, and generates a purchase order for the custom lighting system design, the company explains.
Blackwire points out that its software is user-friendly and calculates all the equipment required, from tape LED strips, extrusions, and lens covers to wiring, controls, mounting hardware, and accessories. It also manages electrical calculations for wattage, tape length, voltage drop, supply wiring gauge, and load capacity for power supplies and connected control devices.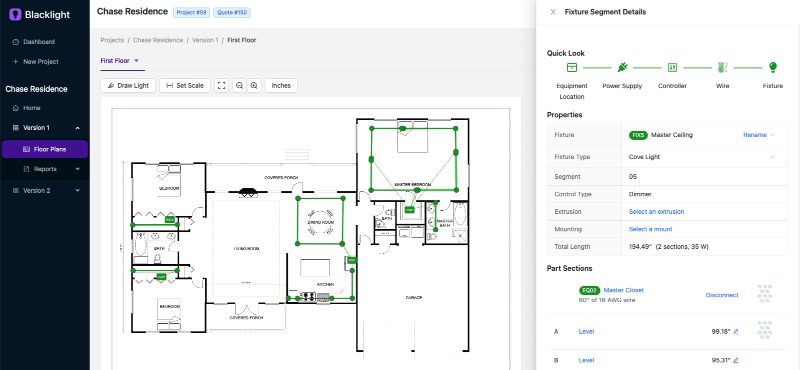 If you enjoyed this article and want to receive more valuable industry content like this, click here to sign up for our digital newsletters!