This custom home in Atlanta was built from the ground up to meet every facet of the family's lifestyle with lighting at the forefront. Utilizing Vantage's LHUMAN human-centric lighting control solution, lighting design company Light Can Help You and integrator Atlanta Home Electronics created a lighting environment inside and outside to meet the client's request for a lighting system that changes throughout the day and is centered around life and wellbeing.
Homeowner Michael Cowart discovered in his career as a commercial real estate developer and many visits to their beach home in Costa Rica that lighting has a big impact not only on the aesthetics of a space but also on wellbeing and productivity.
"When you're at the beach, you really can see the way that the lighting changes dramatically throughout the day," Cowart says. "Lighting has such a calming effect, especially at sunrise and sunset. Understanding the deeper effects of lighting and how it can change a room or your mood, I wanted to bring that same element into my home."
What Cowart was looking for is human-centric lighting (HCL), which uses precise lighting control technology integrated with tunable fixtures to replicate natural light indoors, matching the color temperature and intensity of sunlight over a 24-hour cycle.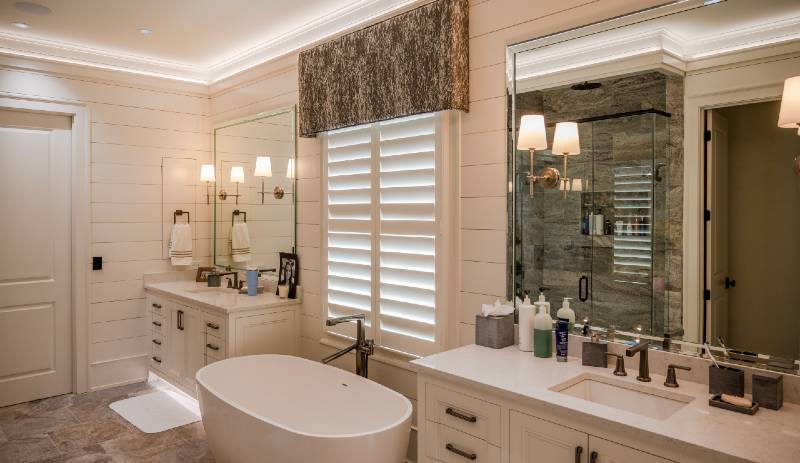 For this project, Cowart — like many owners building a home or those working with a designer — had already identified the fixtures he wanted to use. It was paramount to find a dynamic and flexible lighting control system that could effortlessly program the color temperature and intensity that define an HCL experience and was compatible with a broad range of tunable fixtures.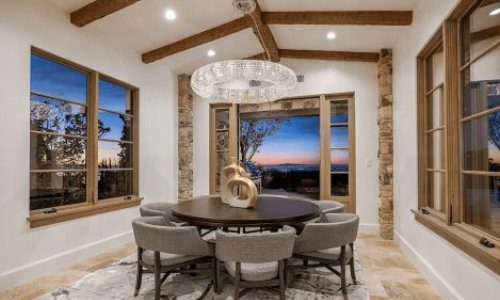 As a custom integrator, lighting is in demand. Effective communication, education and showcasing the value proposition of LED light fixtures in conjunction with integrative control systems are the keys to overcoming challenges and closing sales in this specialized market. Join us as we discuss the future of digital lighting and control with David Warfel from Light Can Help You and Patrick Laidlaw and Mark Moody from AiSPIRE.
Register Now! 
Lighting Consultant, Integrator Choose Flexible Vantage LHUMAN
Light Can Help You and Atlanta Home Electronics vetted and selected Vantage LHUMAN integrated lighting solution as the most suitable solution.
"Based on the lighting fixtures and the design, Vantage was really the only option we had to control everything that was already included," says James Fenn, systems designer at Atlanta Home Electronics.
Vantage LHUMAN enables designers and customers to choose the tunable fixture they want. In addition, using the solution's tunable controllable profiles, the lighting system can achieve lighting scenes with precise color temperature, from fixture to fixture, for the task at hand — from productivity to relaxation or to replicating the natural lighting cycle indoors.
Atlanta Home Electronics used the LHUMAN Tunable Profile Library, which provides precise tunable profiles for the latest fixture makes and models from top lighting manufacturers within the Vantage Fixture Alliance. Vantage has created profiles for leading fixture companies, including AiSPiRE, LF Illumination, ELEMENT fixtures from Tech Lighting, Environmental Lights, Lucifer, Proluxe by American Lighting, Circa Lighting, PureEdge Lighting, Colorbeam Lighting, and No. 8 Lighting.
From the library, installers simply select the chosen fixture(s) and Vantage's Design Center programming software will automatically provide the defined fixture control details and color temperature mapping for the lighting fixture. This not only achieves super simple and fast programming but also allows Vantage's control processor to provide the correct color mix, producing accurate color temperature and intensity for the lighting task selected.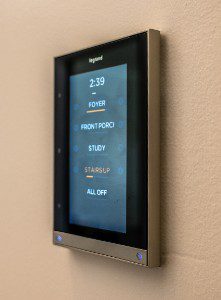 This makes human-centric lighting possible using most fixtures; designers can mix and match fixtures in the room with the assurance that values will match from fixture to fixture for a cohesive room lighting design; and it supports 0-10V, DMX, and DALI control protocols.
Freedom of design is also possible with Vantage's digital and button keypads, with faceplate options that can be mixed and matched to fit the home or the room aesthetic as well as control needs within the space, the integrator notes.
Extensive Vantage LHUMAN System Integrates 100+ Fixtures
With Vantage LHUMAN, Atlanta Home Electronics simply dropped the preconfigured light profiles for the 100 lighting fixtures of various types (recessed, decorative, linear, etc.) around the Cowart home into the Design Center software, achieving a cohesive lighting effect across the space and executing David Warfel's lighting design as expected.
The system made a substantial and time-consuming amount of complex labor effortless. On top of that, LHUMAN enabled HCL control, automating light shifting throughout the day with parameters set up across the house to achieve a natural lighting scene. For example, the homeowner's customized scene for in the morning offers a low-level glow in the kitchen for which to enjoy a cup of coffee — similar to the light experienced during a sunrise.
In the family room, a sports scene was crafted that brings the lights down and turns on red accent lighting. The effect makes the room feel like a sports club. The movie scene dims the main fixtures but turns on lighting in the nearby kitchen and bathroom. Another special touch was sensor-activated lighting in the master closet.
There's also outdoor lighting around the patio and pool. These lights come on at dusk. A nearby keypad provides at-a-touch operation of the patio's recessed lighting, fan, and screens.
"One of the key challenges to doing lighting for wellness — lighting that mimics natural light — is making the color temperature and intensity of all the different fixtures look the same at a particular given moment of the day," says Warfel, lighting evangelist and founding lighting designer of Light Can Help You. "Whether those fixtures are from different manufacturers or even the same manufacturer, it can be a challenge. With Vantage, it was surprisingly easy to have that match."
When it came to user interfaces, the homeowner chose a combination of Vantage's digital keypad and four-button EasyTouch Glass keypads. The digital keypads were installed in high traffic areas where many more lighting scenes were needed, including the kitchen, living room, breakfast nook, and front door entry. All the interfaces were outfitted with nickel faceplates for a cohesive look room to room.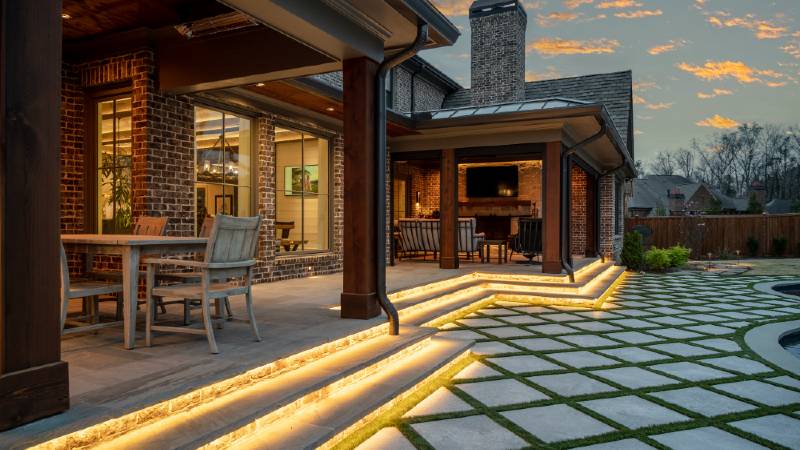 "Throughout the installation and design of the system, I learned a lot more of what Vantage is capable of," said Fenn. "The freedom of design — from all the options you have for the fixtures, layouts, and color spectrum to the variety of keypads — and the level of support, Vantage LHUMAN is definitely the lighting control system to use."
If you enjoyed this article and want to receive more valuable industry content like this, click here to sign up for our digital newsletters!