One of the big themes of every CEDIA Expo is the ever-expanding reach and advancements of home controls manufacturers' ecosystems. The major players in home automation have stepped up their games in recent years, heavily increasing functionalities, feature sets, integration capabilities, end-user friendliness and more.
That was on full display at the Colorado Convention Center during CEDIA Expo 2023 in Denver, Sept. 7-9. Home controls exhibitors continued to innovate by showing off myriad ways custom integrators can not only bolster residential projects, but also arm their dealers with the means to crack into light commercial/resimercial markets.
Additionally, as more manufacturers broaden their portfolios of connected technologies, their CEDIA Expo booths have evolved too. Between Denver this year and Dallas last year, control and automation companies have started making their booths more narrative driven – whether it's more lifestyle vignettes or better flow moving from one highlighted technology to an adjacent one.
And in a continually evolving, growing trend, that end-user friendliness is now including greater access to the keys that drive their smart home experience. Control manufacturers are putting more power in the hands of end users to adjust system settings, scenes, graphics and more.
Here's a taste of what various industry home control companies showcased at CEDIA Expo 2023: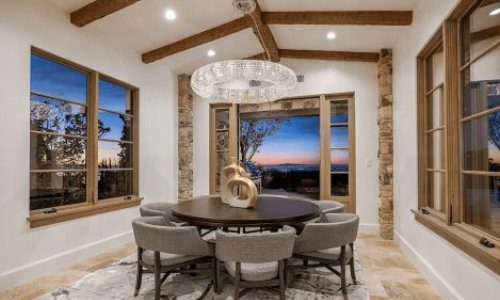 As a custom integrator, lighting is in demand. Effective communication, education and showcasing the value proposition of LED light fixtures in conjunction with integrative control systems are the keys to overcoming challenges and closing sales in this specialized market. Join us as we discuss the future of digital lighting and control with David Warfel from Light Can Help You and Patrick Laidlaw and Mark Moody from AiSPIRE.
Register Now! 
URC
URC had plenty to discuss with its authorized dealers, including its new lighting solutions, HDA (High-Definition Audio) offerings, improved user interfaces and controllers, expanded voice control integration, plus many other announcements on third-party compatibility.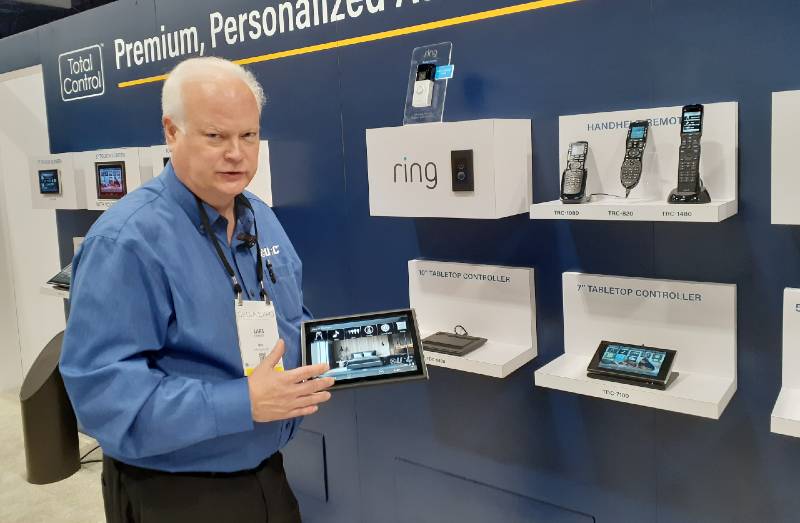 The companies and solutions now supported by URC's Total Control platform announced during CEDIA Expo 2023 include: Unified Shades including Lutron, Somfy, KNX, and Legrand brands, Big Dog PDU, Sunbrite Veranda TVs, Automate Pulse 2, Sunsa Wand Blinds, DMX's AiSPiRE ABiCUS, Kaleidescape Move Player, PoEWit Lighting, and more.
Again this year, the Harrison, N.Y.-based company spotlighted in its booth how its solutions serve well in the light commercial/resimercial space. A bar area with multiple screens was used for effect since that's a leading vertical for resi integrators. URC introduced its stylish TDC-5100 User Interface, which combines hard buttons with touchscreen, and fast response processing, VP of Product Development Lars Granoe noted.
Adding to its Xfinity and Apple TV voice integration support, URC also announced new Amazon Alexa Skills to provide users more options for speaking commands to use their systems. Granoe was also happy to highlight the company's Ring certification to connect to the popular video doorbell and security maker.
Control4 (Snap One)
Snap One automation brand Control4 released the latest version of its operating system, OS 3.4, and showcased the new controllers such as its elegant Halo Touch remote, which features a 3.2-inch color touchscreen with a new GUI, backlit buttons, push-to-talk voice commands and dual-band Wi-Fi support.
The OS improvements are said to enhance the homeowner's user experience including enabling them to customize settings ordinarily managed by dealers. From their cloud-service subscriptions, clients can create admin and standard account types, and shore up security by establishing that only admins can invite and edit users, define roles, access account information and update property details.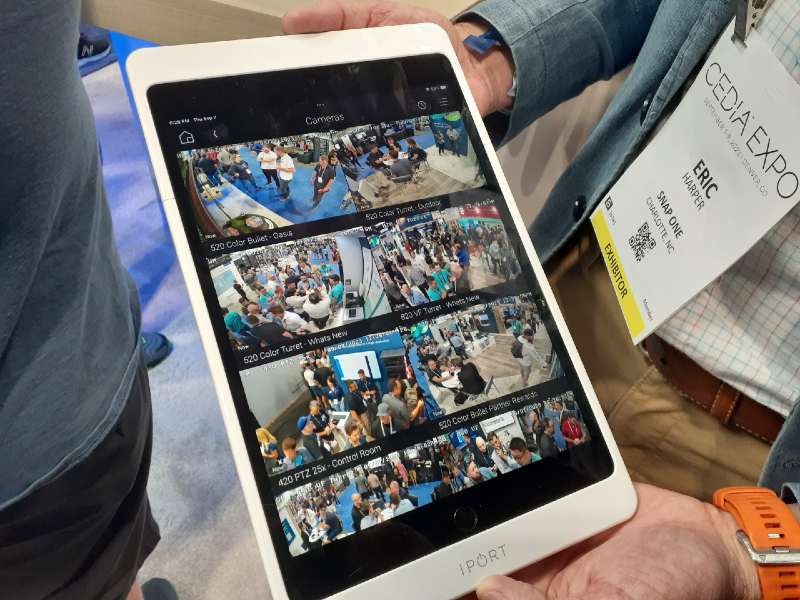 Other updates in OS 3.4 include: better surveillance camera experience with in-app audio and Live View indicator upgrades; redesigned lighting control page for easier color and color temperature selection for Control4 Vibrant Lighting; and piggybacking on recent improvements to the menu and navigation experience for 4Sight management, which provides users with global remote access to their system.
Of course, a huge advantage for Charlotte, N.C.-based Snap One and its Control4 dealers is the company's ubiquitous OvrC remote systems management platform, which also received a refresh and is more converged with the Control4 integrator Composer software. The new Controller Registration feature facilitates faster project commissioning and setup of all connected devices; ability to upgrade to OS 3.4 in roughly a minute; and a more streamlined and simplified customer handoff process.
Everything is geared toward helping efficiency on the installation side and customer satisfaction on the end users' side.
"One of the problems for integrators is finding technicians, for decades the story hasn't changed. So there are a couple of ways Partners can find more labor – they can steal from a competitor, they can train them themselves, or they can find productivity gains in their own processes, or they can partner with a manufacturer that delivers a better value proposition and can create the efficiency upstream in the product itself," says Eric Harper, VP, product & engineering at Snap One.
"One thing we showcased in the booth is how we've taken that, not out of the hands of the integrator but put it in a place where you don't have to be doing custom stuff just for the sake of doing custom stuff. Three hours of time saved to a technician means they can go sell shades now or do something else," he adds.
Savant
Savant has upped the ability for homeowners to ensure their automation system and subsystems are being optimally used. The Cape Cod, Mass., company introduced its Savant Home Manager, a home management tool created specifically for homeowners/end users.
Savant Home Manager is included as part of the company's smart home subscription model and is designed to expand Savant's lauded user experience beyond traditional mobile apps, in-wall devices, and remote controls, according to the company. It's the first web UI smart home dashboard created for Savant homeowners.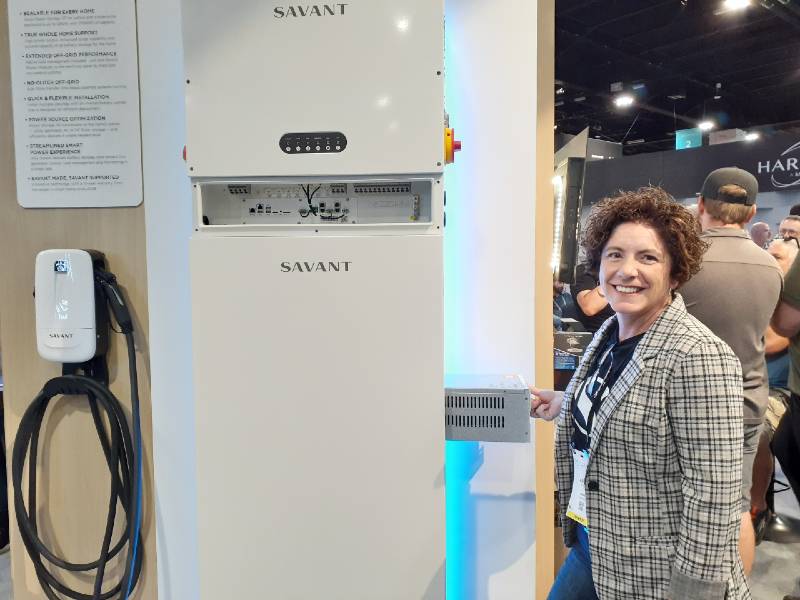 Users with admin-level permissions can access key system information, manage user permissions, filter and view camera recordings, view active cloud integrations, access product tutorials and review frequently asked questions. Savant Home Manager will also aid new Savant system owner to learn more about basic system features, and to dig deeper into system statistics, upgrade possibilities, and more, according to the company.
Another major initiative for Savant recently is its Savant Power solutions and ecosystem, which the company's Angela Larson says now runs the gamut from smart breaker modules to energy storage to electric vehicle charging and elsewhere in a home.
"We're extending our power story," she enthuses. "We're basically bringing our power all the way from the panel to the rack. So we've introduced an all-new PDU [power distribution unit] equipment, which is very cool, and we're also introducing UPS [uninterruptible power supply] backup power. Hey, we'd love for you to install a full battery backup solution – but also we can get you in the power story whether it's in the rack, maybe it's a single appliance. It's a big category to get into."
Nice North America
A major theme for Nice North America during CEDIA Expo 2023 was delivering the message to integrators about the complete convergence of ELAN, SpeakerCraft, and Panamax Energy Management to the Nice brand name. It marks a big milestone for the company, which has been a focus since Nice acquired Nortek Security & Control two years ago, and is aimed at reinforcing its integrated ecosystem for residential, commercial and perimeter protection applications.
In conjunction with that important messaging, Nice outlined its updated Home Management OS 8.8 control platform. Chief Product Officer Paul Williams shared details with dealers by highlighting Nice's controller options featuring new graphics and UI, as well as the build quality for users exemplified by its beautiful new HR40 handheld remote.
"We spent a lot of time on the ergonomics and the industrial design," he notes. "What we wanted to make sure was that we had a premium remote control, so we've done a lot with the materials, the shape, the feel."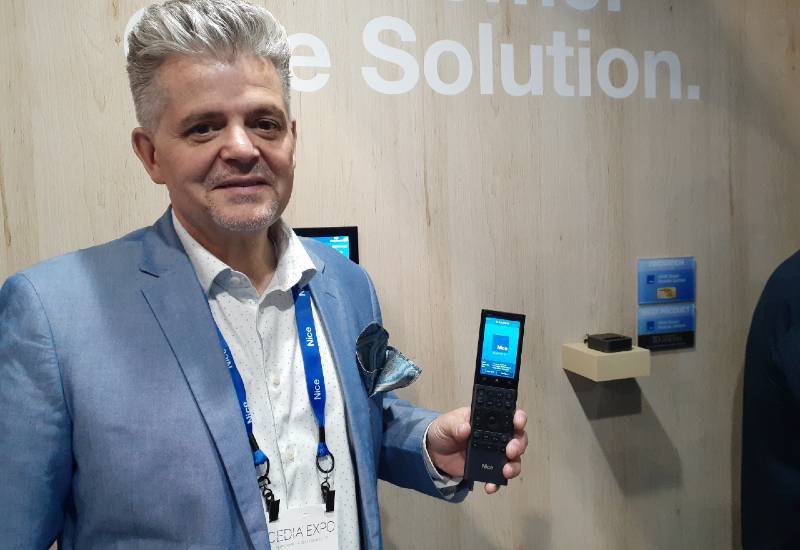 He highlighted innovative features of the HR40 compared with others in the market, such as how customers can expand its usage functionalities.
For instance, when a doorbell rings within the Nice ecosystem, the user receives full-motion footage of whoever is at the door right on the HR40 rather than just a video snapshot. Camera footage can be viewed in vertical or landscape orientation depending on how the person holds the remote. Amazon Alexa voice control is baked into the product release, with others such as Xfinity to follow, Williams adds.
Plus, when it comes to surveillance camera video, the HR40 can act as a scrubber when searching recordings, and instead of using the remote's touchscreen it can send the feed to a TV, AVR, video switcher for full video access. The owner can then use the remote to scrub video while viewing it on a larger display.
Crestron
The highlight of the company's residential CEDIA Expo 2023 show activities focused on the company's new OS 4 Crestron Home operating system and its increasingly large ecosystem. On the surface OS 4 provides users with a more intuitive user experience that includes improved graphics to help users navigate their smart home systems, and more controller options.
Digger deeper into the capabilities of OS 4, the platform supports Crestron's DMX-C protocol. Using this technology integrators can install a range of lighting products that range from Crestron's own lighting products to more consumer-oriented solutions such as Philips Hue.
The Rockleigh, N.J., company also showcased its new QMT3 and Lithium-Ion series of shading products, and voice control options for its popular TSR-310 universal remote control.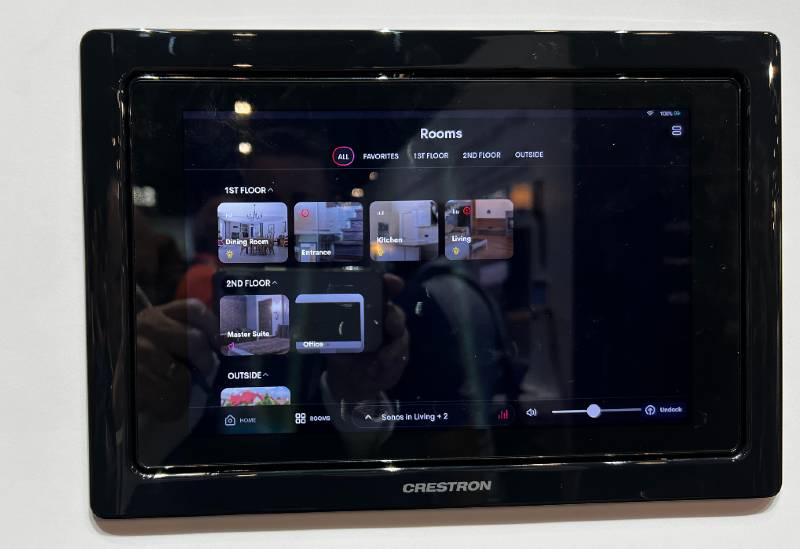 Lutron
The lighting and shading control specialist (more on that in our upcoming category roundup) demonstrated a new cloud-based platform, Lutron Connect. The software assists integrators by streamlining workflow; tapping into third-party integrations via Lutron's LEAP API; delivering and syncing real-time project updates, versions and automatic backups; offering remote system diagnostics; providing actionable data insights; and facilitating updates for systems via the cloud.
"It's a really exciting platform we're showing that connects all software and hardware to produce some really nice utilities," says Dan Vander Valk, software engineering director at Lutron.
Among those features, now with Lutron Connect plans from the Lutron Designer software can be imported into the cloud service. "We now have the ability to look at floor plan-based layouts for design," he notes. "Big reception, people are excited – integrators actually left the show floor to go download it and play around with it because it just got released."
Vander Valk says it's a valuable resource that provides many efficiencies for dealers and their clients when it comes to commissioning a system.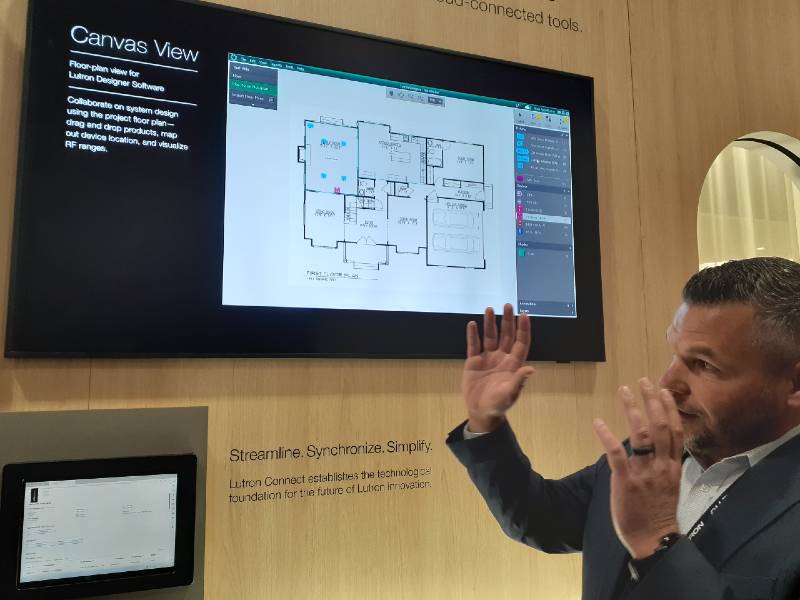 "You can import the floor plan, start to overlay your areas and devices right on top of the actual floor plan, draw your connections. In the end you get a system layout with a floor plan that you can use to communicate with your client, installers and stakeholders, so it's a great tool… it saves a lot of time as well," he says.
Shelly
The Allterco brand Shelly illustrated its IoT devices to attendees, which enable integrators to extend the reach and command of connected lights, appliances, sensors, bi-directional motors and more thanks to its 70+ global partners.
Among the main wares the company showed in its CEDIA Expo 2023 booth were its DIN rail-mountable three-phase energy meter (Pro 3EM-400); DIN rail-mountable, dry contact PRO 3EM Switch Add-on; Shelly Plus i4DC; Plus 1 Mini; Shelly Pro Series of DIN-rail smart switches for residential and commercial applications; Shelly Smart Wi-Fi Button; and Shelly GAS gas detection sensor along with other sensors for water leak detection, garage openers, etc.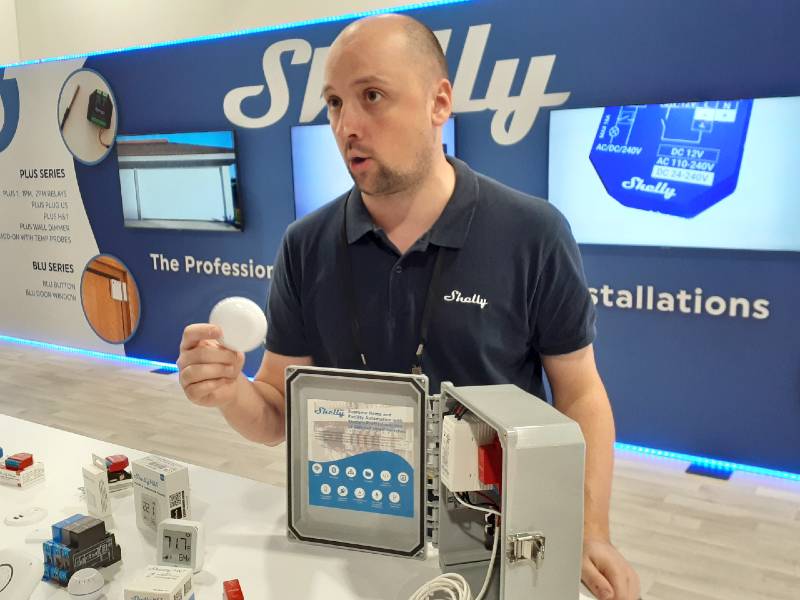 The Shelly Plus i4DC is a four-channel input controller identifier/smart switch that enables manual activation or deactivation of scenes, trigger-activated scenarios and more. The tiny form-factor Shelly Plus 1 Mini facilitates remote control of connected electric appliances via various devices and communications protocols. The new 3EM device provides customers real-time data and actionable insights into monitoring and controlling their power consumption.
Further describing the Plus 1 Mini capabilities, Shelly's Steven Higgens says the retrofittable device offers lots of upside for installers.
"It has one channel of power monitoring, and it turns any switch into a smart switch, Wi-Fi enabled, and it integrates with custom operating systems or we've got our own OS – we also work with Savant, URC for third-party drivers," he says. "In terms of ease of install, you don't have to fiddle around so much with the wall box."
Swidget
The smart home company Swidget expanded its capabilities and dealer support as it noted at CEDIA Expo. Swidget showcased its Z-Wave certified smart inserts, latest third-party integrations with Control4 and Nice automation, a video camera insert, and new dealer program.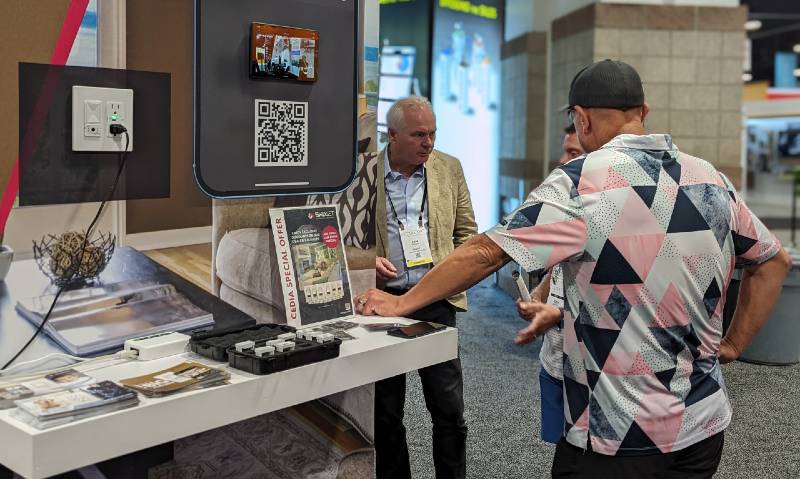 The company now offers a flexible smart solution with a wide range of intelligent sensors, available in either Wi-Fi or Z-Wave – enabling integrators and homeowners to choose the best-suited connectivity for their needs.
"Swidget is dedicated to pushing the boundaries of smart home technology and providing integrators with innovative solutions that truly transform the way people interact with their homes," says Cam Wilson, CEO of Swidget. "By introducing Z-Wave certified smart inserts, we are offering an alternative protocol option that addresses the challenges faced by integrators while ensuring an exceptional user experience for homeowners."
It adds that advantages of the more secure Z-Wave protocol over Wi-Fi also include low-frequency mesh networking capabilities, extended range of smart inserts, exceptional reliability, and reduced interference.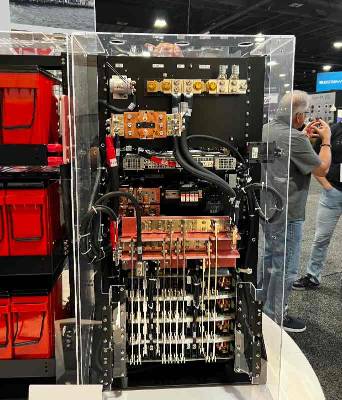 RoseWater Energy
Led by custom installation industry veteran Joe Piccirilli, RoseWater Energy provides whole-home, clean energy systems for homeowners. The company can scale its systems to meet a range of homeowner needs and the systems can be combined with solar and other technologies.
During CEDIA Expo 2023, RoseWater Energy emphasized how it supports integrators to sell and install its systems to minimize the pain points that are often associated with new cutting-edge solutions such as clean energy.
The company's Hub40 energy management and storage solution earned three awards at the Expo.
AirZone
The 25-year-old Spanish company enables advanced communications between HVAC systems and home control and automation systems without sacrificing important HVAC system functions. AirZone's Aidoo line of products bridge those differences to support control systems from Crestron, Lutron, Control4 and others.
Once HVAC systems are integrated into smart home environments using its Aidoo products, the company says that integrators can program schedules, scenes and more to provide homeowner comfort. Arguably nearly as important as comfort, the product line delivers HVAC system efficiency to help homeowners minimize the impact of utility companies constant rate hikes.
RTI
The Minnesota-based control company RTI, which caters to residential and light commercial installs, showed some of its latest networking solutions. Read about those in senior editor Zach Comeau's roundup here.
If you enjoyed this article and want to receive more valuable industry content like this, click here to sign up for our digital newsletters!