Walking around the CEDIA Expo 2023 show floor in Denver Sept. 7-9, one can't help but be mesmerized by the breathtaking audio and videos solutions and smart home products that are designed to work in harmony with one another. However, it's what goes on behind the scenes that actually makes these systems work with one another and stay connected to the internet at the same time.
Yes, we're talking about networking and distribution, which is becoming a larger part of CEDIA Expo and the smart home industry as a whole as consumers demand more internet-connected devices and systems. Now, the home networking and distribution manufacturers that exhibit at CEDIA are becoming increasingly advanced as home networks are being asked to support more devices.
Here's a look at some of the booths we saw that are upping their game in the home networking and AV distrbution space:
Access Networks
According to Andrew Ward, a sales manager at Snap One networking brand Access Networks, typical consumer-grade networking products are beginning to fall short of the networking demands of a modern smart home.
"Consumer grade stuff just isn't high-performing enough for a modern home," Ward says during a tour of the brand's CEDIA booth inside parent company Snap One's booth.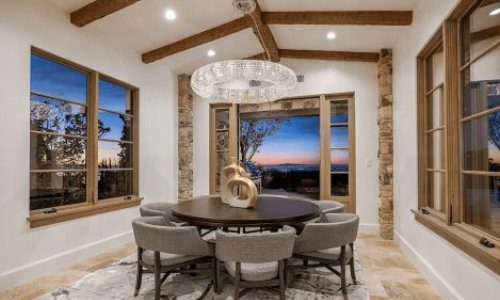 As a custom integrator, lighting is in demand. Effective communication, education and showcasing the value proposition of LED light fixtures in conjunction with integrative control systems are the keys to overcoming challenges and closing sales in this specialized market. Join us as we discuss the future of digital lighting and control with David Warfel from Light Can Help You and Patrick Laidlaw and Mark Moody from AiSPIRE.
Register Now! 
That's where Access Networks comes in, providing professional-grade gear with cloud management via ARCC cloud-based controller, which Ward says allows integrators to support customers at an "entirely different level."
In short, consumer-grade networking products lack support and management capabilities, which eventually leads to truck rolls and support calls. Professional-grade products are designed for the integrator, and includes products and trainings that are customized for the homeowner.
Consumer-grade networking providers aren't training integrators on how to create a great home network, but Access Networks and Araknis Networks – both Snap One brands – are, Ward says.
However, some more advanced smart homes need even more networking power, which is why Snap One and Access Networks used CEDIA Expo to show off the new Access Networks Unleashed Series of enterprise-grade Wi-Fi access points.
Unleashed access points support the latest Wi-Fi 6 protocol and offer advanced capabilities including BeamFlex and BeamFlex+ technologies that dynamically direct Wi-Fi signal to the most demanding devices, as well as SmartMesh technology that uses an integrated WLAN controller to navigate around and mitigate signal interference for projects with sparse ethernet connections.
Now, Snap One, Access Networks and Araknis Networks can meet an integrator's every need, including some commercial use cases for a project of any size.
"We're perfectly positioned to be the ideal networking partner for any integrator," Ward says.
Savant/Juniper Networks
Developed in partnership with Juniper Networks, the Savant Smart Network brings advanced AI-driven networking to smart homes. The solution, announced earlier this year, leverages Juniper's Mist Wi-Fi technology, specifically designed for smart home integrators.
According to Savant, the Savant Smart Network is engineered to deliver the best long-term wireless experience for homeowners along with a more efficient deployment and service model for integrators.
The Savant Smart Network, which also won a CE Pro BEST Product Award, uses AI and cloud-based analytics to create a network that is always optimizing wireless performance throughout the home. The network uses a combination of Wi-Fi 6 or Wi-Fi 6E access points from Juniper Networks. With a Savant Smart Networking subscription, the network utilizes Juniper's Mist Cloud, artificial intelligence, machine learning and data science to improve user experiences in real time.
In addition to a faster network and more precise analytics, the company says no user data is captured or stored in the cloud.
Via a direct integration with Juniper's MIST AI, integrators gain visibility into the user experience through customizable service level expectation metrics, now accessible in Savant Central Management.
NETGEAR
NETGEAR also positions itself as an ideal networking partner for integrators, as the company now offers what it calls a total networking solution that includes the new PR460X Pro Router, Pro Wi-Fi Access Points, and professional-grade Wi-Fi access points and smart switches.
The new PR460x router was designed exclusively for residential and commercial projects, and integrates with the company's access points and smart switches for a seamless custom experience. However, the inclusion of the Insight Cloud Management platform could help custom integrators wrap their heads around recurring revenues and services, says John Henkel director of SMB product marketing at NETGEAR.
"It's cloud managed, so you don't have to have a device on premises, which is great, and that's a really big source of recurring revenue."
The integration with access points and smart switches through the Insight platform helps simplify setup and enhances overall network management, which can be a gamechanger for both integrators and homeowners.
"We've made it easier to configure a switch, and that's our big secret sauce," Henkel says.
Luxul
Luxul, a networking company and Legrand-owned brand, showcased its new lineup of SW Series managed PoE+ AV switches at CEDIA Expo 2023, a series of eight total products that will replace the company's older line of switches.
According to Myles Broadhead, associate product marketing manager, the new switches include updated internal components for better availability and lead times. The switches also come in front- and rear-facing versions for flexibility and a variety of installs.
Also updated in the switches is the user interface, which is designed to make the switches easier to set up for AV-over-IP.
Also new to Luxul is a WiFi 6 access point, a four-by-four MU-MIMO access point with the ability to talk to multiple clients at once.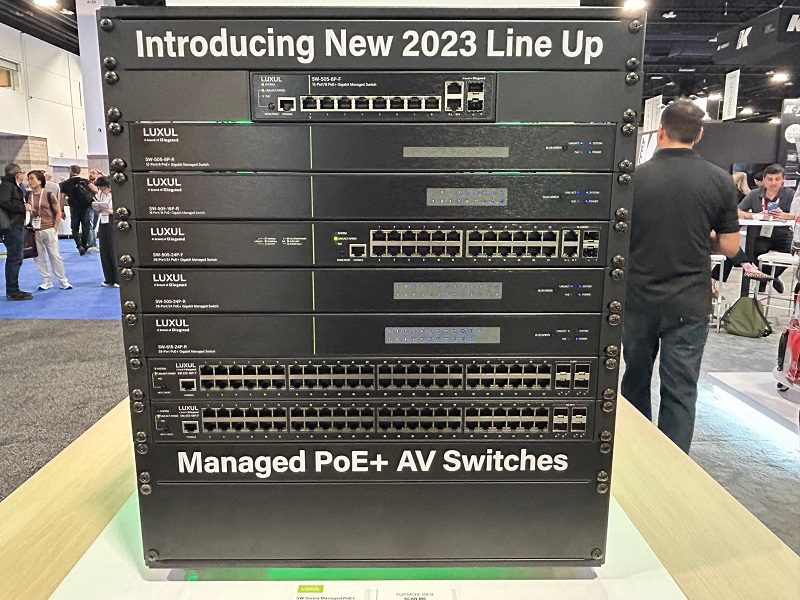 Just Add Power
Speaking of AV-over-IP, Just Add Power highlighted its newest AV-over-IP distribution products, including its MaxColor 4K60 Series 2 MC-TX2 transmitter and MC-RX2 receivers via a gaming demo, which showed off the product's ARC and USB features.
The key for this product, says chief sales officer Taft Stricklin, is the zero-detectable latency, Dolby Vision, HDR 10 4K60 4:4:4 bandwidth. To top it off, it's also PoE-powered and only five watts.
According to Stricklin, the company also has suitability in mind, helping consumers get value out of equipment that may be a few years old.
"We do highest common denominator," Stricklin says. "If you go tin a project and you have screens that are 4K60 and some screens that are only 4K30, or maybe something that's 1080p, we'll send 4K60 to every receiver. If the TV's 4K60, that's what it gets. It I's 4K30, we downscale the receiver, and we do the same thing for 1080p."
The company also highlighted its 3G Ultra 767AES transmitter, a 4K transmitter with HDMI loopout that is compatible for AES67 audio systems with any Just Add Power AV distribution system.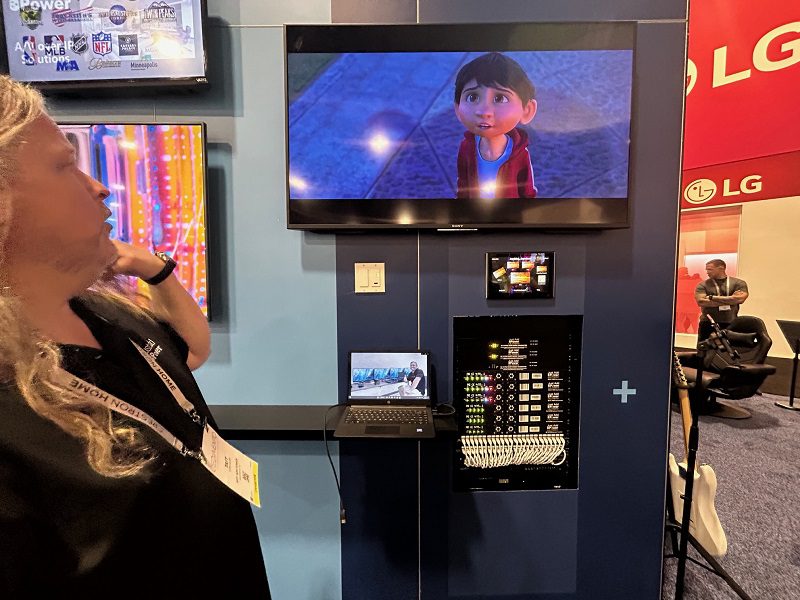 RTI & Blustream
Control and automation manufacturer RTI was showcasing its new integration with AV distribution brand Blustream, which Bill Hensley, head of global marketing, makes the company's solutions more competitive with some of the bigger brands.
"Control and automation plus AV distribution means that we are competitive with some of the bigger brands in a big way," Hensley says.
The company offers both residential and commercial solutions, beginning with Integration Designer 11, the company's software platform that enables auto-programming and full customization. The newest version of the platform features the Coral template, which gives integrators full customization while keeping the process simple.
Now with an integration with Blustream, integrators can benefit from a large, connected portfolio that beings with customizable automation and extends to Blustream's AV distribution options, Hensley says.
Blustream was showcasing a range of matrix solutions for both residential and commercial uses, including the new HMX88-18G 8×8 HDBaseT matrix switcher, which supports uncompressed 4K UHD 60Hz 4:4:4 resolution with 4K to 1080p downscaling. It features native control in RTI systems.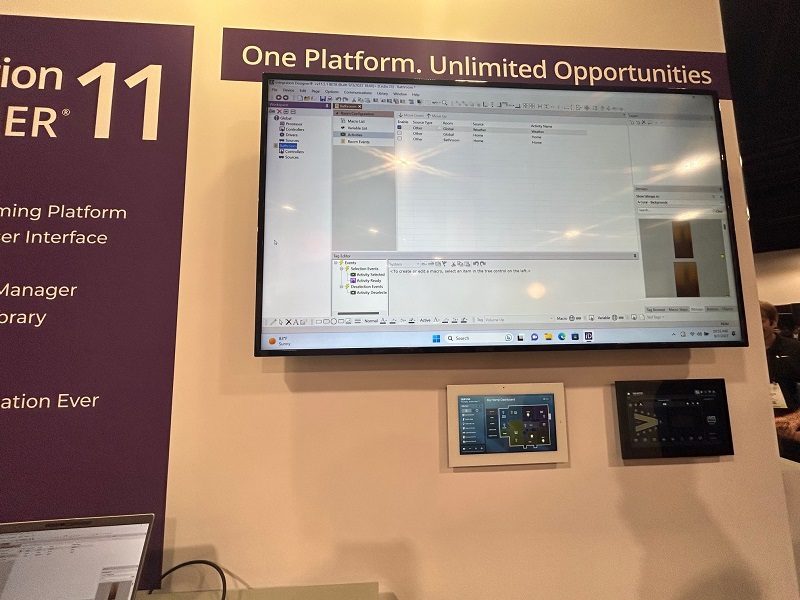 AudioControl
While AudioControl isn't necessarily a networking company, the amplifier manufacturer added Dante digital audio networking to its Director Model M6800 multi-zone network amplifier.
According to the company, this gives integrators a new level of performance for landscape entertainment systems and gives integrators the ability to deliver best quality audio to every zone without being tethered to analog cable runs that can be prone to degradation.
Adding the digital media networking technology to the Director M6800 amplifier essentially makes it easier for integrators to provide audio performance across a music system of any size. The amplifier also features a DSP engine that includes graphic and parametric equalization by zone, as well as a switching matrix that delivers high-quality entertainment programming to any zone, the company says.
If you enjoyed this article and want to receive more valuable industry content like this, click here to sign up for our digital newsletters!