Take Comfort in Klein Tools' Home-site Collection
Klein Tools introduces its new collection of at-home items including a canvas bucket lamp, comfort grip foosball table, and LED sign, all available April 1st.
CE Pro Editors ·
March 26, 2018
For more than 160 years, Klein Tools has helped tradespeople work efficiently with durable, reliable tools.
The product lines grew from one pair of pliers to include virtually every major type of hand tool that tradespeople use across a variety of jobsites. Feedback from its customers allowed Klein Tools to consistently transform jobsite challenges into innovative solutions.
Recently, professionals brought a new concern to the company's product development team, with comments like:
"Klein is a part of our daily lives, not just our jobs!"
"I'd love some more promotional items to use when I'm at home!"
"Do you sell furniture? What about lights? Tabletop games?"
Klein's most recent expansion addresses these new ideas and has been designed specifically to help tradespeople unwind more efficiently, moving them off jobsites and back into the comfort of their own homes.
Now introducing – Klein's Home-site Collection!
Canvas Bucket Lamp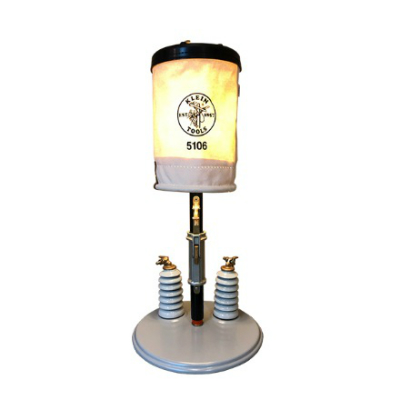 Inspired by the company's Lineman Canvas Buckets, this lamp can brighten even the darkest of spaces, turning your downstairs dungeon into a livable lounge, your grimy garage into a hip hangout or your dusty den into a stylish suite… You get the point. Not intended for use at heights, lifting or loading.
LED Nightlife Light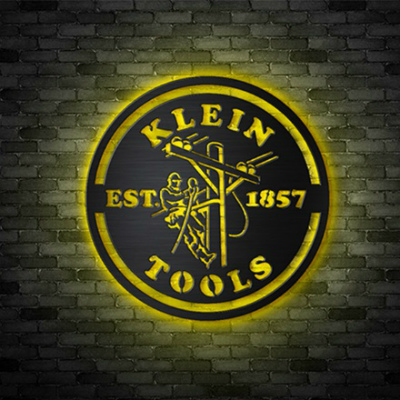 The ambient yellow glow from Klein's LED Nightlife Light imitates those sunbeams that won't quite reach you down in your #journeymancave. Energize the room with a pop of color and you'll wonder what you ever did without it.
Re-KLEIN-er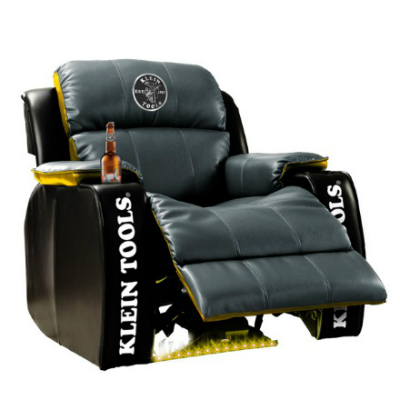 You'll never want to leave your home-site, and we wouldn't either! The Re-KLEIN-er is crafted with high-quality, American leather and offers comfort you can't find on the job. Kick your feet up, crack open a Screwdriver Stout, flip on some Tradesman TV and sink into your happy place.
Cushion-Grip Foosball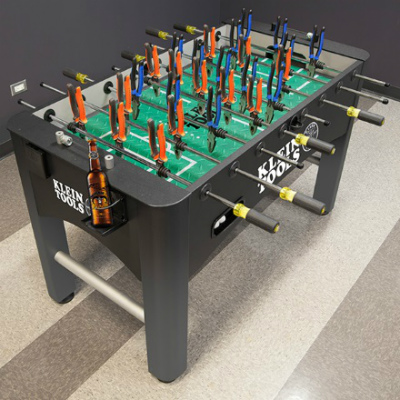 Which team do you think will win — insulated handles or journeyman grips? Either way, get ready to roll up your sleeves and take down the competition. This table's cushion-grip handles make losing track of time easier while providing lasting comfort, precision action, and minimizing fatigue during even the most intense tournaments.
Mathias 1857 Pool Table and Accessories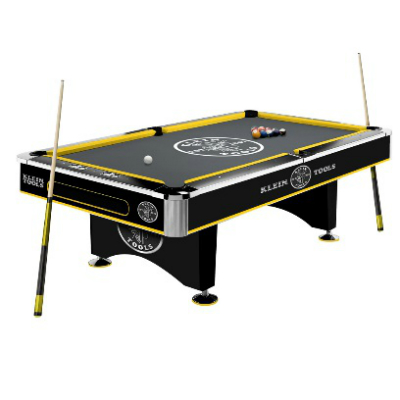 Witness the evolution from apprentice on the jobsite to professional in the home-site with the Mathias 1857 Pool Table and Accessories. Features include a sleek design suitable for adding that tradesperson's touch to any room in the house. Cushion-grip cues, engineered with an ergonomic handle design, fit multiple hold preferences, helping nearly all professionals make the perfect shot.
Foreman Royale Casino Set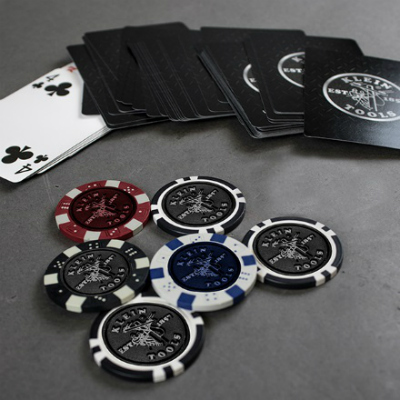 From Texas Hold 'Em and Blackjack to Crazy 8's and Go Fish, the Foreman Royale Casino Set puts a little touch of Vegas into any game. After all the cards are dealt, you'll consider this one a full house of fun.
Heavy-Duty Dartboard Cabinet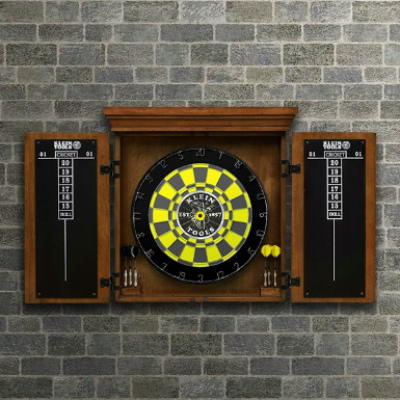 Bullseye! Invite your fellow tradespeople over for a night well-spent putting your precision work to the test. A larger playing surface provides a 57 percent greater chance of victory, we think. And darts tipped with Klein's U.S.-made proprietary steel last four times longer than traditional darts – whether they're hitting the board or the wall.
Today, Klein Tools represents much more than just pliers with a family of engineers, workers and craftsman that expands the quality tradespeople expect into new categories. Klein's innovative Home-site Collection encourages all hardworking home-site professionals to live by their own rules, in their own spaces.
To learn more about Klein Tools' latest products, view its collection here.
---
We're Looking for Your BEST Projects
Don't miss your chance to enter to win a 2019 BEST Projects Award. We'll be announcing winners at a special Gala event at CEDIA EXPO. We can't wait to see what you've been up to this year! Enter your projects now.
---