Integrators need all the help they can get when it comes to designing systems, creating comprehensive sales proposals, managing projects and keeping up with services. Fortunately there's no shortage of companies serving the custom electronics industry in these capacities.
Many companies offer end-to-end solutions for integrators to address all aspects of a residential or resimercial/commercial technology project. And companies are continuously listening to integrator partners for feedback on how to make their solutions even better.
At CEDIA Expo Virtual, several exhibitors engaged attendees on how their businesses could benefit from robust software platforms to enhance sales, design, project management and more. Here are some CEDIA Expo Virtual booths I stopped into at the event that integrators can go back and check out (registration logins still allow access to booths).
D-Tools – Vaunted Veteran Continues to Elevate System Integrator & Cloud
Maybe the most well-known provider in this regard for the custom integration industry, D-Tools is now on version 14 of its System Integrator (SI) software and after rolling out the D-Tools Cloud has worked on tying the solutions more seamlessly for users.
In its booth (d-tools.cediaexpovirtual.com), attendees can check out an hour-long YouTube webinar video that walks through all the new features of SI v.14, as well as integrator video testimonials to how implementing D-Tools has impacted their companies and a video quiz on whether Cloud or SI is the right platform for you.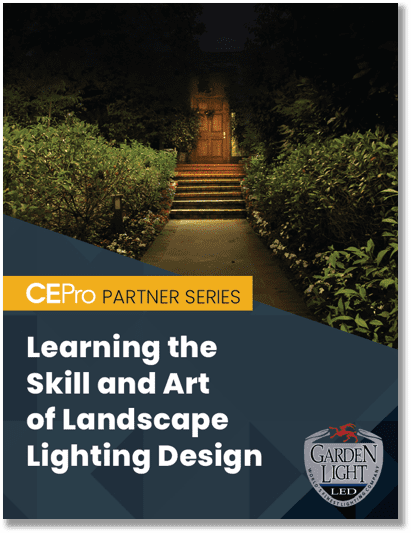 Experts recommend landscape lighting design as an entry point for integrators into the revenue opportunity of home lighting. Check out our new resource for tips and best practices. Download "
Learning the Skill and Art of Landscape Lighting Design
" today!.
"D-Tools has been the single largest change we've made to our company in the last decade," notes Joshua Kranz of Valley Communications. "It really facilitated us from moving from most proposals taking a couple of hours of engineering and six to 12 hours of clerical work to now being able to produce multiple hundred-thousand-dollar proposals in under a day."
Among the new features and enhancements to SI v.14 that D-Tools shared with CEDIA Expo Virtual attendees are:
Updated User Interface – An improved user experience throughout the application with the addition of new icons and redesigned ribbons throughout SI.
Gantt Charts – New implementation of Gantt charts allows SI users to better manage resources. Linked to SI's existing installation tasks and the addition of automation enables the scheduling of multiple tasks at one time.
Customizable Checklists – Users can create these to attach to projects, tasks and service orders. This feature allows more control over what is required to complete an item, and checklists can be saved for future use.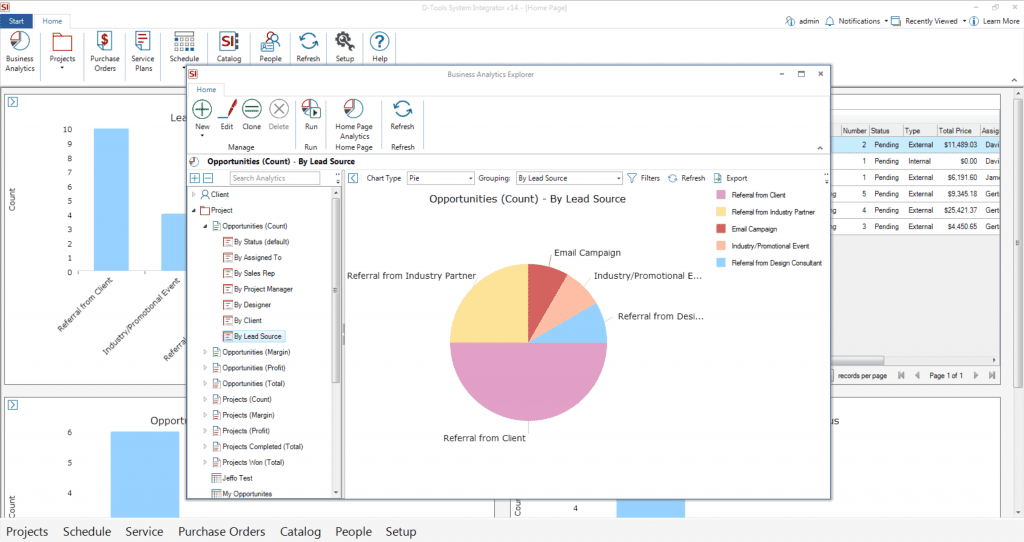 Business Intelligence Reporting – D-Tools says new and expanded capabilities enable SI users to build queries across projects, clients, purchase orders, tasks, service orders, and service plans for creating their own key performance indicators (KPIs), and to view data specific to their role.
Other improvements focus on areas such as bulk purchase order creation for multiple vendors and multiple projects at once; "points" feature for adding connection information to I/Os that account for specifically needed actions; and new CRM capabilities that add "Lead Source" to Client types that also include Lead, Prospect and Client tracking.
iPoint Solutions – Making Modules More Robust, Adding Technician App
The "straight from the horse's mouth" approach is central to iPoint Solutions' CEDIA Expo Virtual booth (ipointsolutions.cediaexpovirtual.com), which is loaded with a dozen case studies highlighting how dealers have become more efficient using its all-in-one workflow software.
iPoint organizes integration business into separate sections, or modules, to make it simple to find exactly what you are looking for, the company notes. For example, if you want to review an outstanding proposal you can find it in the 'Proposals' module. If you want details on an open job you can use the 'Sales Orders' module, it explains in the booth.
Among the new wares for CEDIA Expo Virtual, iPoint has added features to its modules and also introduced an improved app for technicians to use in the field that works fully offline, according to the company. New iPoint module features cover service contracts, recurring invoices, serialized inventory and multi-site inventory.
"We can create the service contract based on actual hours estimated, different level (gold, silver, etc.) and actually track the hours allocated to that service contract so that the billing can be handled correctly both for the recurring invoice as well as the invoice for the service calls," explains iPoint's Brian Good. "I am not sure what percentage of our community earn RMR, but I know it is pretty high."
Good says the multi-site inventory facet was something requested by some of iPoint's larger customers. They have multiple locations and needed to be able to centralize ordering between all of them while making sure the inventory got to the correct location, he explains. It also helps with seeing if any integrators with sister locations have items available to pick up without having to order and keep track of everything appropriately.
The new app is a scaled-down version of the company's traditional app, making it very user-friendly for field techs, Good says. It functions seamlessly whether they are online or offline; iPoint will continue to add features as needed, but the goal is to keep it "lite" and fast.
"Technicians can check in from anywhere and track their actual time on site, leave notes, complete tasks, and even take pictures and enter notes all while offline," he describes. "We designed it specifically to eliminate latency for technicians working out in the field with limited or no service."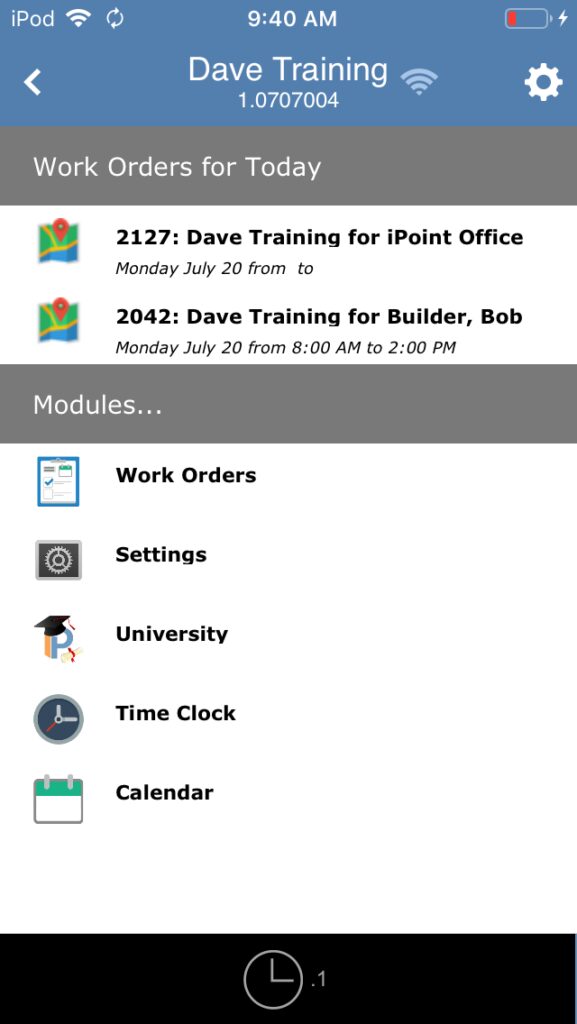 Additionally, Good says iPoint says another feature it has but is now really coming to the fore with the COVID situation as the ease with which users can create "adders" in the platform, like for time required to prep all the safety precautions and PPE before entering a residence.
"Now that everyone is gearing up from head to toe to enter a client's residence, iPoint makes it easy to have a labor adder to account for that extra time spent. You can add adders only to the cost of labor or only to the cost of parts, or both," Good says.
MaxaWare – From One Integration Company to Many Others
Often these types of companies emerge from an integrator's own efforts to address its business. Such is the case with MaxaWare, which was founded in 2004 by Kris Kaymanesh and Kesha Ullah of Washington, D.C.-area Sight and Sound Systems, Inc. (SASSI).
"What started off as a way of 'taming the chaos' quickly became an end-to-end system and process that yielded dramatic new sales and profits," according to the company, which shares its success story and feature sets with CEDIA Expo Virtual booth (maxaware.cediaexpovirtual.com) visitors.
Using the MaxaWare software management system in SASSI's operations yielded sales increases of over 20% while also realizing profit increases of over 20%, the company says. "They transitioned their cloud platform to Amazon Web Servers (AWS) nearly eight years ago, making MaxaWare fully scalable for any employee; via phone, tablet or desktop … regardless of their physical location," the software provider adds.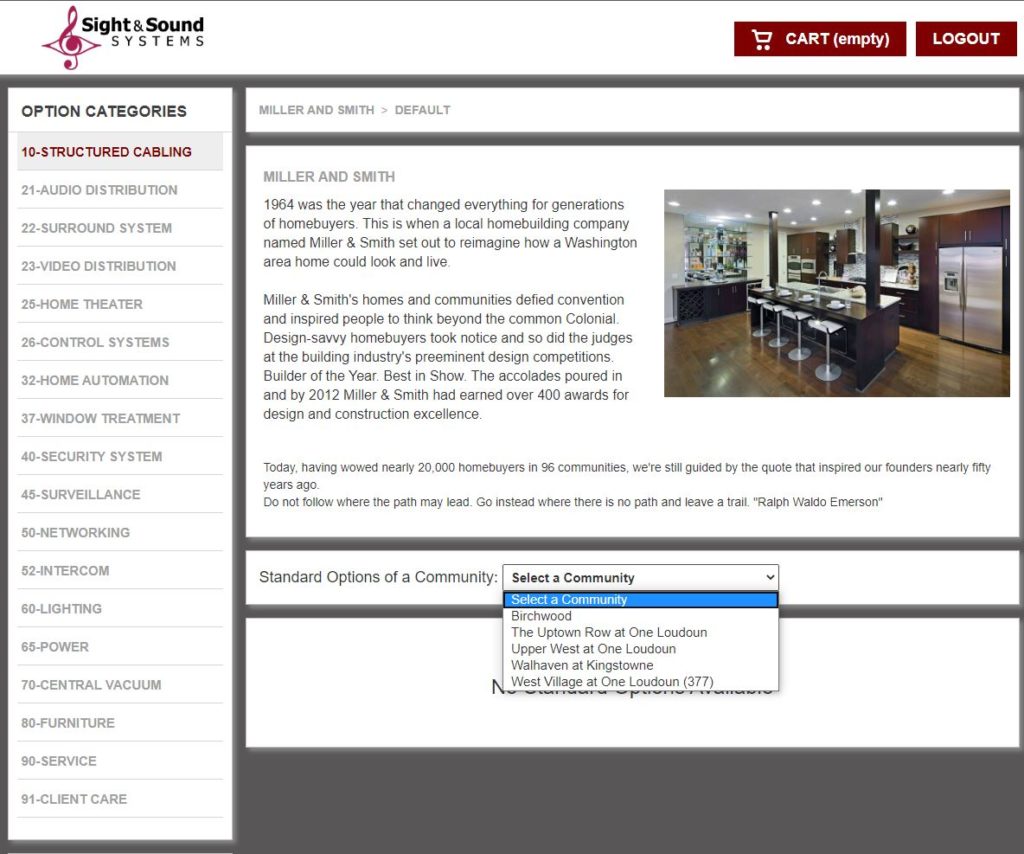 Meanwhile, other large integrators hopped aboard the MaxaWare wagon and have been using the solution for a dozen years, but more recently the company has become a vendor for members of the AiN and Azione Unlimited buying groups, spurring its growth. Toward that end, MaxaWare added on-boarding specialists Marshall Turner and Cristina Nistreanu to assist with new integration customers.
Key features of the MaxaWare platform include:
End-to-End Process – Gives any field techs, sales and office team members using a web browser instant updates via the MaxaWare portal to areas in which they have been pre-authorized (owners and managers get visibility throughout).
Unique Portal – Front-facing portal with username/password for only your clients, downloadable PDFs, video links. "MaxaWare founders saw this increase average per-project sales," the company notes.
Simple Pricing – All platform features accessible for one per user per month price, as low as $39 per month, with a new $995 on-boarding program available for those wanting to use the sales portal. Basic on-boarding runs $1,995, while top-tier "white-glove" on-boarding plan is $14,995 and includes preparing, customizing and importing data from multiple in-house platforms.
designflow – Handing Over Keys to Proposals, Design & Documentation
Working with integrators who deal in smart home and smart building sectors, London-based designflow helps them win more projects, look more professional and create design proposal "handover books" that bring together drawings, information and photos the company says could be as beautiful as a coffee-table book.
The concept that the 5-year-old company shared with attendees to its CEDIA Expo Virtual booth (designflow.cediaexpovirtual.com) is to take that burden off hard-working integrators. Its booth featured numerous examples of proposals for Crestron and Control4 jobs, for instance, as well as videos showing pre-sales folders and the handover books.
"We have established integrators who are very busy and for them we are a godsend as we free up lots of their time to spend it on their businesses or on clients," explains designflow's Keith Jones.
"Then at the other end of the spectrum we have guys who are just starting out, who take a few years to get to the point where they need our help but it can be a bit easier for them as they include our design fees as something the client must pay them from the very start of their businesses life."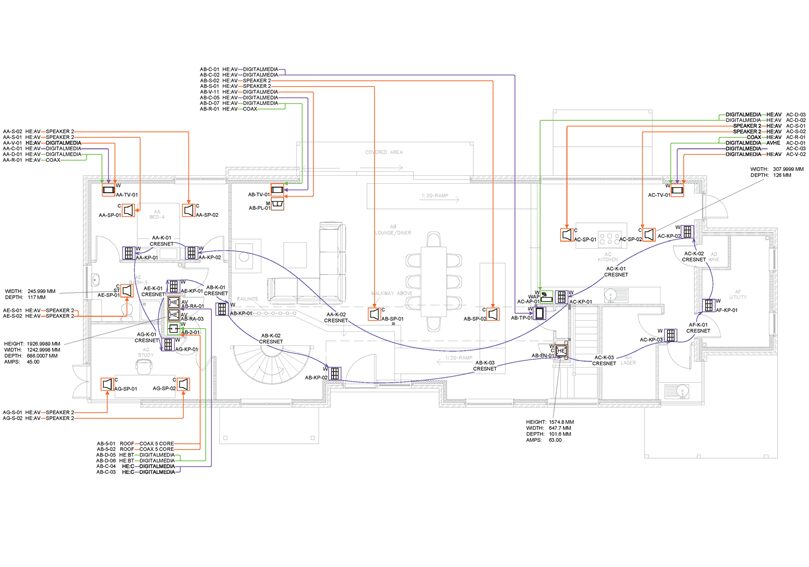 In general, the company will work its magic from an integrator's kit list or bill of materials and a set of CAD floor plans, he says.
And just because the company is based in the U.K. doesn't mean it is limited in the geography of a potential integrator client, thanks to the ease with which dealers can send along documents these days.
"We work with dealers in U.S., Middle East, Australia, Europe and U.K. – we are based in the U.K. but our team is based in U.K., Europe, Canada and Australia," Jones says. "Every project we work on is submitted to us and then turned back around to the client digitally."
Datum Project Processing – Outsourcing Details to Facilitate Your Jobs
Similarly, CEDIA Expo Virtual attendees can peruse another project outsourcing partner in the Datum Project Processing booth (datumprojectprocessing.cediaexpovirtual.com).
In a nutshell, according to Datum Project Processing's Brandon Manka, the company provides custom system design and documentation services with quick project turnarounds, contractor-friendly pricing and all using industry standards and best practices so project documentation looks professional and separates integrators from the competition.
Elements of Datum Project Processing's work include:
Custom Branded Plans – Cover page and title block with integrator's logo and company information deliver a professional look.
Floor Plan Layouts – Illustrate locations and quantities of devices.
Project Coordination – Project schedule, responsibilities matrix and more, documented and approved by the client, builder and other decision-makers to prevent scope-creep.
Overall Site Plans – Cover the whole property including landscaping and outbuildings to coordinate inter-building conduit requirements and non-building mounted equipment.
Construction Details – These display blocking and mounting elevations, BTU calculations, shade section details, equipment schedules, spec submittal packages and more so no detail is left uncommunicated.
Equipment Rack Elevations – Allow for proper wire management and airflow to keep systems running reliably while maximizing serviceability.
Equipment Rack Details – To create a well-designed and coordinated head end.
I/O Diagrams – Plan a system's interconnectivity in advance so installation and programming can take place simultaneously.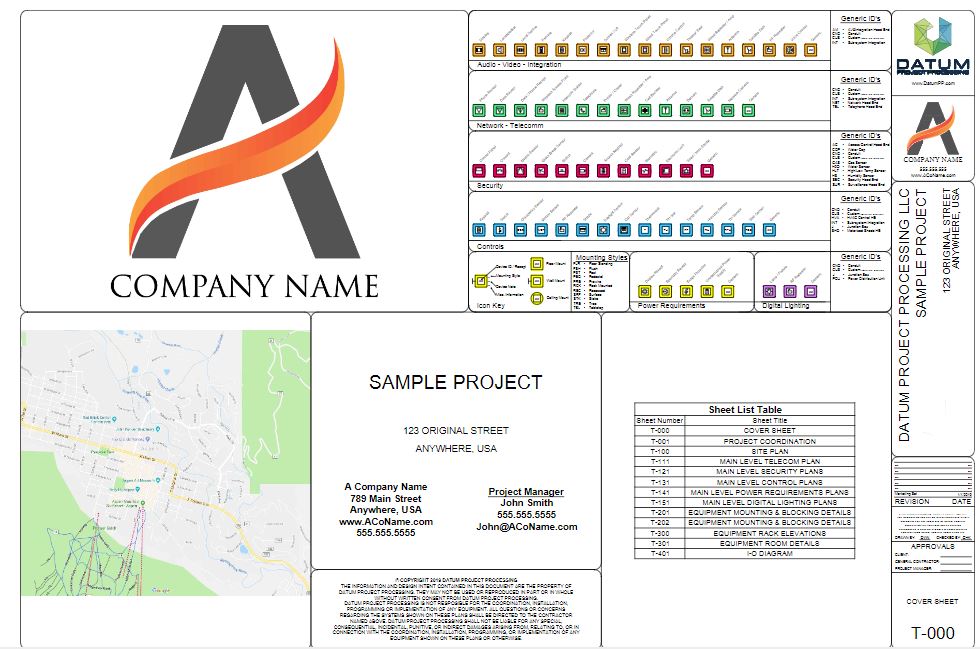 The company also announced at CEDIA Expo Virtual its new Datum Designer app, launching soon in beta, that allows dealers to quickly and easily create floor plans, perform digital takeoffs, and propose system budgets, all without any prior CAD experience, Manka explains.
"We are typically on medium- to large-scale residential projects, but also have done plenty of MDU and commercial projects as well," he notes.
"With our custom services, we only require the dealer provide us with our order form, architectural backgrounds (in DWG), and a bill of materials. We take it from there and complete everything from simple floor plan layouts to in-depth construction details. Our typical turnaround is about five business days for a typical project."