Miracles really can come true … even in the custom electronics industry. In just the past three years, Chris Palmer, operations manager at AV Design Consultants in Springdale, Ark., has boosted the company's overall profits by 15%, reduced its annual lost inventory by $25,000, and increased its labor utilization rate by 25%. But it wasn't a miracle that did the trick… it was iPoint software.
AV Design Consultants has been in business for 13 years. With 14 employees on staff, the company's revenues are 90% from the residential market, with its typical projects ranging between $25,000 and $100,000. Like many custom integrators these days, AV Design Consultants' biggest challenge is finding skilled labor. That dilemma means the company needs to be as efficient as possible to maximize profits.
"We all face the same challenges, which are tasks like dealing efficiently with work orders in the field, producing proposals, managing labor between technicians and other positions, and effectively administering project management and programming," says Palmer.
"We needed a central repository for our business' day-to-day data… things like client data, billing history, project-specific notes, inventory status, and work order management. The main reason we switched to iPoint was to obtain better in-the-field transparency of day-to-day operations," he adds, noting that every person in the company interfaces with the software every day.
Palmer admits that the company's improvements are not just because AV Design Consultants switched to iPoint, but he says many of the profit-boosting aftereffects were facilitated by the software.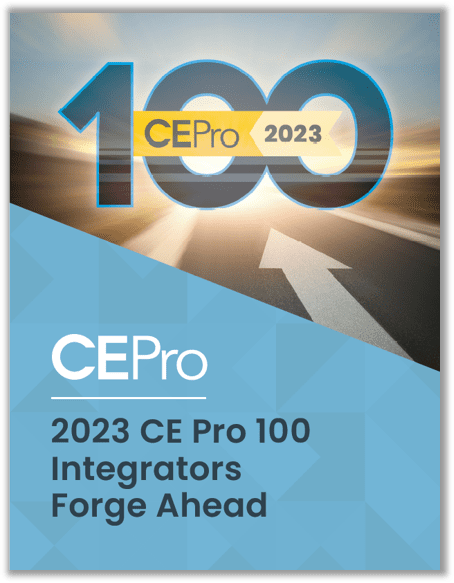 Which companies in the custom integration market made CE Pro's 24th annual CE Pro 100 list?
"The biggest thing for us internally was the reduced lost inventory. It was easily $25,000 a year that iPoint saved us in lost inventory. We are now able to track all of those little everyday parts and pieces that are in the warehouse and then go out on a job. Those parts were not getting billed as efficiently or effectively as we would like," says Palmer.
"That sounds small, but those little parts and pieces add up really quickly depending on size of company you are. We put a lot of value in being able to efficiently track that inventory."
Palmer says other key iPoint features that have added to the company's efficiency include the ability to send clients an email with the technician's photo in it so the customer knows exactly whom to expect to see on the jobsite.
"That's really good," he quips.
From a proposal standpoint, AV Design Consultants has improved its labor quoting capabilities with the software. For years, Palmer says he underquoted his labor costs.
"iPoint has allowed us to get 25% more, on average, in labor utilization and billing on our project proposals that are going out the door. The way the software works, it kicks back metrics for you, and you're able to look at high-level data for improved job management, whether that is tracking product change orders, labor hours, or total job profitability," he says.
In terms of implementation, Palmer gives kudos to iPoint, especially in regards to helping AV Design Consultants change some of its business practices that were not the most efficient.
"The software just made us better. You definitely need to have a good workflow process in place for your proposals and sales, installation and service, and billing. If you don't have that in place, then adopting new software is going to be tough. You also have to have someone who is committing a portion of his time to accurately set up your product database, vendor list and customer database. Garbage in is only going to give you garbage out."
He concludes, "iPoint is fantastic throughout the onboarding process. I give those guys a lot credit. They almost hound you weekly to make sure you're progressing and not hitting any roadblocks that are going to lead to failure, and make the software implementation process as painless as possible."
If you enjoyed this article and want to receive more valuable industry content like this, click here to sign up for our digital newsletters!