The deployment of ubiquitous high-speed internet service is the key to success in the multi-dwelling unit (MDU) market. Just ask CE Pro 100 integrator Jason Pair of Pair Electronics in Greenville, N.C., who recently did his first MDU project using DISH Fiber, and has two more multi-family projects on the horizon.
"Who would have ever thought that getting more broadband Internet was so much more important than television programming? But it is," says Pair rhetorically.
Pair Electronics recently completed a 96-unit apartment building called Bradbury Place using DISH Fiber. The area where these upper-scale apartments are located has been historically underserved in terms of broadband, according to Pair.
DISH Fiber is an application that entails running actual fiber between multiple buildings at an MDU location, with 1 Gigabit Internet service accessible across the entire property packaged with 24 streaming channels. Pair soon realized that high-speed Internet access is the most important technology consideration for both the multi-family tenants and the property managers.
"The internet is the key because the area is so under-served. Everybody is grasping at straws trying to get better broadband. It wasn't the live streaming TV with DISH channels that sealed the deal, it was the Internet," he says.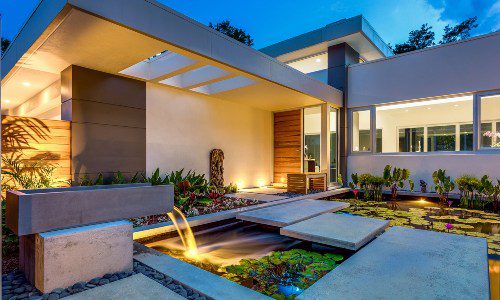 Landscape and architectural lighting create a magical and elegant ambiance for homeowners. The outdoor lighting industry has always been a phenomenal one and continues to grow in popularity. Now is the ideal time to learn more about this rapidly growing and highly profitable industry. Join our panel of esteemed lighting experts that will dive into why it's time for integrators to rethink their role in the outdoor lighting industry.
Register Now! 
"DISH Fiber uses a hardwired Ruckus system with access points for the Wi-Fi. So, residents can go anywhere on the property and the high-speed Wi-Fi will follow them from the pool to the clubhouse. Everywhere is immersed in 1 Gigabit Wi-Fi. That is just awesome. You actually can get more than 1 Gig if you need it.
"Then, DISH Fiber packages it with 24 streaming channels. It's a streaming world now; you don't need to have all the cable TV channels."
In terms of the TV entertainment, the developer gets to pick the channels, says Pair.
"He can say, 'I want ESPN, USA Network, HGTV, etc.' He can pick more channels, but it will cost more money. The tenants in each apartment get access to those 24 channels through OnStream™ on their browser-enabled devices or on the OnStream Fire TV app. If they want the DISH Hopper service to 200 to 300 channels, then for $20 more a month they have DISH send them a DVR and they can get all the programming they want. That's one of the big things about is that an end user can get all the entertainment options for hardly any money. That is really cool," says Pair.
"When Frank Defilippis [general manager of DISH Custom Installation] rolled out DISH Fiber, I could see it made sense. It's like a hotel. The entire solution worked out great. The DISH Fiber team showed up on time and did a good job. It was a very positive experience," he adds.
In addition to DISH Fiber, Pair Electronics' full solution for the MDU property revolves around Alarm.com. The company deployed 2GIG Edge touchscreen inside every unit with an Alarm.com video doorbell and key fobs for entry in the upper-scale apartments. The video doorbell images display on the touchpanel.
The common areas of the facility have 10-inch Control4 touchpanels to control multiroom audio for the pool, gym and clubhouse areas. The DISH TV programming is also integrated into the common area TVs.
See more residential system projects here
The entire solution has helped differentiate the property. Pair says the property managers can tout the facility has more accessible for disabled tenants, where some of the units have Josh.ai voice control incorporated.
Lastly, the business model perspective has been a big win for Pair Electronics, which charges a marked-up baseline monthly fee to the developer for both the DISH Fiber and Alarm.com features.
Following the success of this first project, Pair Electronics is eying two more potential MDU projects.
Don't forget to view the slideshow above to see more of this project.
If you enjoyed this article and want to receive more valuable industry content like this, click here to sign up for our digital newsletters!