Multi-talented, ever curious and always learning, it is not surprising that Peter Dyroff has had such a long and remarkable career in our industry. He is also one of the very few individuals in the CI repping world who excels equally at front-end sales and creating leading edge, customer-centric back-end office solutions that work. He always says he benefited from several lucky breaks, but in fact, luck has little to do with the amount of hard work and applied creativity that paved his path to success.
For example, having taught himself to play keyboards as a teen, by the time Dyroff was a senior in high school he was working weekends as a gigging musician in area bars, he was selling hifi in a high-end stereo store in Albuquerque (he had a set of Magnepans in his bedroom) and he worked part time as a scientific glass blower having followed an interest and graduated in the subject from a local technical school.
Love at First Employment
Attending college at University of New Mexico, Peter Dyroff earned a degree in chemistry, moved to Denver, and found a job in industrial chemistry building parts for NASA and heart diagnostic machines. Audio had always remained a hobby and one day, Profound Sound, the very high-end audio store down the street, was looking for help. Dyroff tried it part time for 90 days and, to the chagrin of his parents, he loved it and decided to leave chemistry.
During this time, Dyroff had fallen in love with skiing so when Armi Leonetti, Mission Electronic's North American Distributor, came to town one day to conduct an in-store training at Profound, Dyroff took him skiing in Vail, and halfway up the chairlift ride Leonetti offered him a job doing sales training for Mission in North America. So, in the mid-'80s, he accepted the position, moved to Toronto and spent several years doing trainings for stores across the U.S.
"We were all so passionate about everything back then. I met so many people doing those trainings, so many of whom became lifelong friends," he says. "Plus, Mission taught me so much — about how to set up a basic system to make it sound better and also how to motivate underperforming dealers by pairing them on all-expense-paid factory visits with Mission's superstar dealers, a brilliant strategy."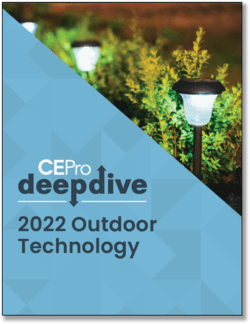 The 2023 CE Pro Outdoor Technology Deep Dive reveals unique set of impediments, including explaining pricing and interacting with outdoor-centric trades.
Get your copy now to take a "deep dive" into the trends and challenges of outdoor technology.
Download the report now!
Long Lasting Bonds Pave the Way for Future Success
After a brief stint working for Mission in England, Peter Dyroff returned to the U.S. and accepted a terrific offer to be a partner in a young New England rep firm, Jarmac Marketing. The two partners started out with two-channel audio brands but mostly made their mark in high end car stereo until the mid to late 1990s when they picked up Niles and decided to forgo car audio and go all in with CI. This led them to the realization that, in addition to their rep firm, they should also become a distributor.
After a first CEDIA Expo when they found out they were too small for any big brands to pay them attention, they, and several other small distributors, thought, "what if we banded together with other like-minded distributors across the country to come to market as one value-added national distribution chain?"
And thus began AVAD whose first brand was PRONTO from Philips, a game-changing product for the CI industry followed by Fujitsu, RTI and other great brands. "Presenting as a national distribution network with 200 salespeople and 22 warehouses, the big guys started knocking at our door," Dyroff says.
In 2000 Dyroff went back to work, solo this time, with the goal to ramp up Jarmac Marketing again. During this time, Jarmac became the first Savant rep in the country and worked with all the Core Brands products until in 2012 as Savant let go of its reps and the Core Brands roll up was not going so well.
As luck would have it, Frank Stearns, who Dyroff knew well from Niles, landed at Sony and Jarmac was the first rep firm he called.
Still More Frontiers to Explore
Things were going well and then 3.5 years ago, Peter Dyroff got a call from a partner at New England-based Yusen Associates, one of the oldest, largest and most successful Lutron reps in the country, to discuss how the two firms might work together.
Says Dyroff, "They were total lighting and shade specialists but were lacking in other important areas of CI, and Jarmac had the CI know-how and many of the best CI brands." Many hours of conversation later, they ended up closing Jarmac and Yusen to form a new company, Strateres.
As if this were not enough, a couple of years ago Dyroff had the idea to start up a new venture, now called PureTech Alliance, a national rep network with first-class reps in every major market, similar to the AVAD concept but based on wellness and health tech products. Offerings include the Pure365 air purifier and Broan air filtration products. The Alliance was named the national reps to the CI and home security channels for Google, selling thermostats, video doorbells and more when products debut down the line.
This article originally appeared in the December 2022 issue of CE Pro.
This article is part of the CE Pro Masters series, honoring the best of the best within the custom integration channel. Click here to see other industry pros that have been featured.