Sonos, Sound United Settle Lawsuits on Denon HEOS
All patent-infringement claims have been settled by Sonos and Sound United (DEI Holdings), parent company of Denon and HEOS.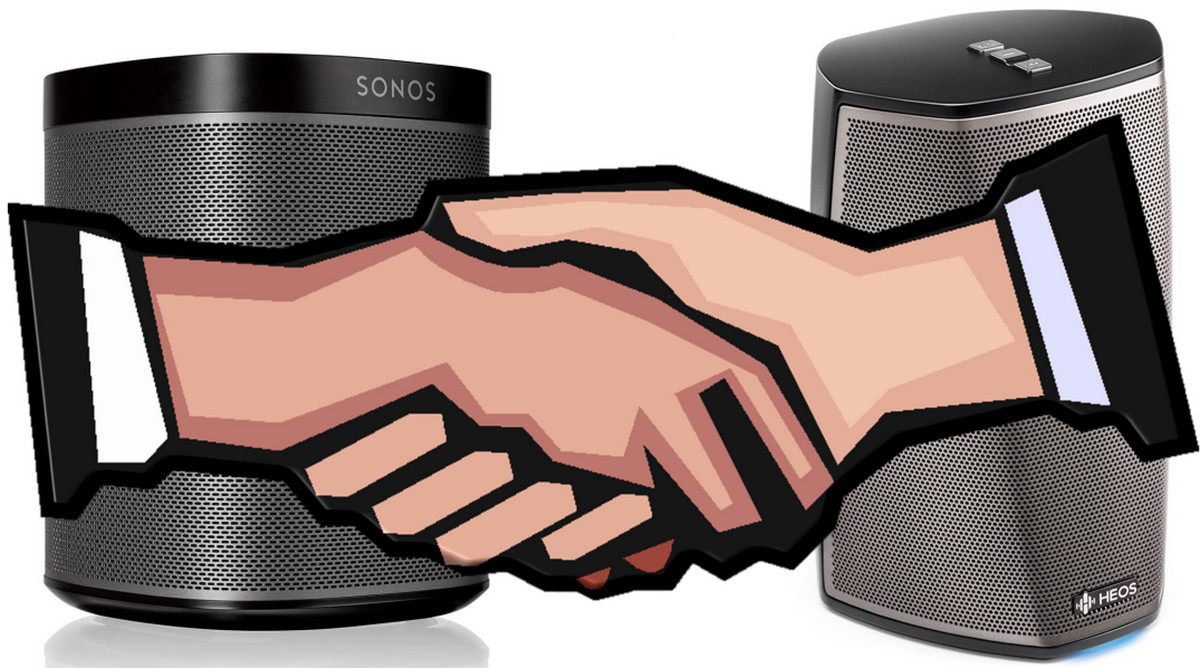 Andrew Nichols
·
May 18, 2018
After a lengthy litigation process, Sonos and Sound United have agreed to an undisclosed settlement, ending all current legal entanglements.
"Today's agreement demonstrates our belief in moving the industry forward and removing barriers for both parties to deliver products that delight customers," says Kevin Duffy, CEO, Sound United.
"Our direction with HEOS is unchanged," he continues. It appears as though the company is content to move on from the litigation and to continue to make its wireless audio systems under the HEOS name.
Related: Sonos Defeats Denon HEOS Again—Understanding the Patent Lawsuits
Sound United, owners of major sound companies like Denon and Polk, was initially sued by Sonos over Denon's HEOS Wireless Sound System, which allegedly infringed on four Sonos patents back in 2014.
Ultimately, in December of 2017, a jury ruled against Denon on three of those claims, ordering the company to pay Sonos $2 million for past breaches dating back to the HEOS product launch in 2014 through December 2016.
The issues between the companies did not end there. Earlier this year, Sonos filed a claim against Denon to extend damages through December 2017, claiming the company continued to infringe on Sonos' patents. Sonos even went so far as to ask for 'enhanced' damages due to the infringement being seen as "willful" by the previous jury.
The proceedings got increasingly murky as time went on, with Sonos claiming that D&M Holdings, Denon's previous owner, should be penalized for "inappropriate actions [that] caused Sonos to waste time and significant resources." Sonos prevailed on all claims.
Denon, which also had one outstanding claim against Sonos, will no longer pursue legal action as a result of the agreement reached today.
CE Pro covered both the original event and the 2018 legal battle in-depth, so take a look at those articles for additional information.
---
2019 State of the Industry Special Report - CE Pro Download
The custom electronics industry saw a healthy 8 percent growth rate in 2018, down slightly from the blazing 11 percent growth in 2017 but still admiringly strong. Our 2019 State of the Industry indicates that readers expect to see even more growth in 2019. Get your copy today.
---
About the Author
---
Andrew is a journalist and educator living in the Providence area. He was previously the Editor-in-Chief of a gaming and tech website, and the Managing Editor of his university newspaper, The Torch. He received his Bachelors in Writing and Masters in Teaching from the University of Massachusetts Dartmouth. Have a suggestion or a topic you want to read more about? Email Andrew at andrew.nichols@emeraldexpo.com
Follow Andrew on social media:

Andrew also participates in these groups:
LinkedIn · Google+
News
Best and Worst States for Amazon Package Theft
Vivint Adds Connected Cars to Security and Smart-Home Ecosystem
Product Briefs: Fibaro, SmartThingsRutherford Audio, Goldnote; ProSource adds Dish
Dan D'Agostino Master Audio Systems Announces $40K Momentum HD Preamplifier
Jobs of the Week: A/V Techs, Sales and More
View more News
Take Our Latest Quiz
How Well Do You Understand Ethernet Cables and Connectors?
Bose