New Samsung SmartThings Wifi Melds Home Automation Hub with Plume Mesh Wi-Fi
'Next iteration' of Samsung Connect Home is full-fledged SmartThings hub with ZigBee and Z-Wave, plus mesh Wi-Fi from Plume, featuring 'AI-based network optimization.' New $15 ZigBee home-automation 'Button' launched.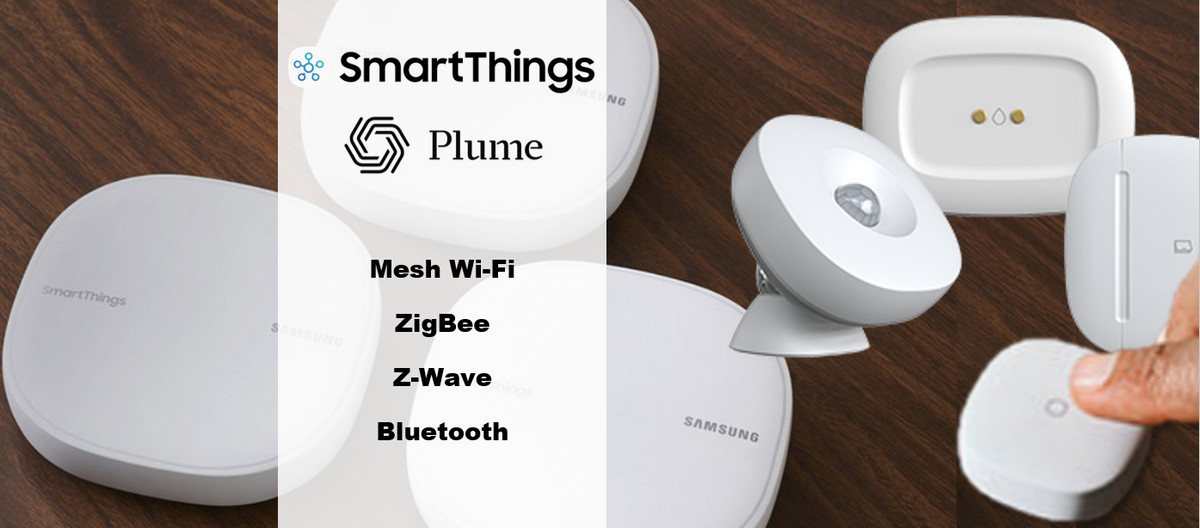 Julie Jacobson
·
August 13, 2018
The new SmartThings Wifi from Samsung is a wireless mesh networking system with a full-fledged SmartThings home-automation hub built in. So while it controls smart-home devices via ZigBee, Z-Wave, IP and Bluetooth, it also extends Wi-Fi signals around the house with Plume AI technology.
Plume, which sells its own Wi-Fi mesh networking products called Pods and SuperPods, says it uses cloud-based artificial intelligence (AI) to provide "stable and consistent Wi-Fi coverage and speed in every room within your home using blazing fast tri-band SuperPods coupled with auto-channel hop technology."
The company claims its Adaptive Wi-Fi technology "learns your environment and optimizes performance for a powerful, reliable home Wi-Fi experience."
The system reportedly "allocates more capacity to the devices that need it most."
If it sounds familiar, it's because SmartThings Wifi is pretty much the exact same product as Samsung Connect Home, introduced last year. That system is now selling for about $150 for a three-pack. The new version retails for $280. A three-pack can cover a 4,500-square-foot home.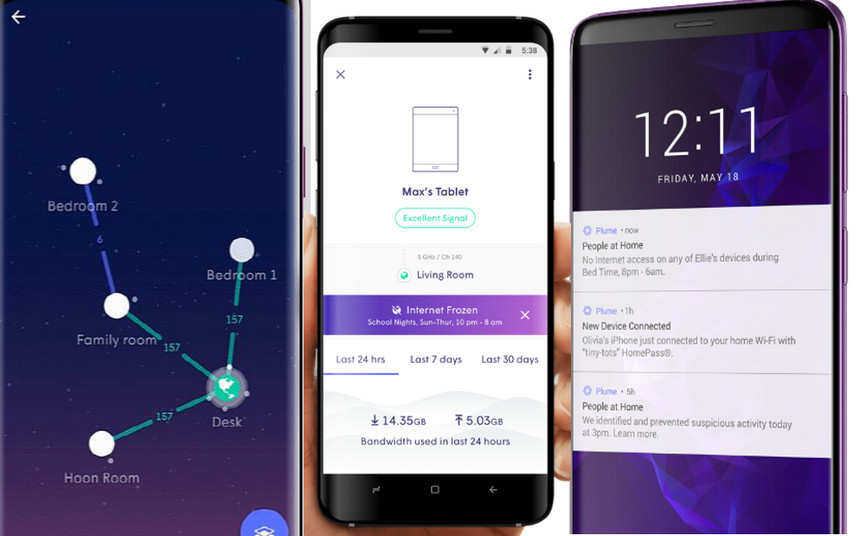 Asked about the difference between the two products, a Samsung spokesperson tells CE Pro, "SmartThings Wifi is the next iteration of Samsung Connect Home, with added AI-based mesh Wi-Fi technology from Plume."
As with the original Connect Home system, the new Plume-powered model offers parental controls and configurable guest Wi-Fi access. The new system provides connected-device monitoring and performance tracking.
AI-Based Mesh Wi-Fi
Here's how Samsung describes the Wi-Fi learning and optimization features of its Plume-powered SmartThings Wifi system.
Out of the box
After following a simple setup process, mesh Wi-Fi will optimize home will be covered with good Wi-Fi connectivity within 30 minutes. Some SmartThings Wifi hubs may be disconnected briefly for optimization
Within 24 hours
SmartThings Wifi will perform optimizations that improve network speeds as it learns more about network environment
The next few weeks
SmartThings Wifi will continue optimizing, allocating capacity to the rooms and devices that need it the most
Unlike Plume, which charges $200 for lifetime "membership," Samsung charges no fees for cloud-based Wi-Fi services.
Upgraded SmartThings Hub & Home Automation Devices
In addition to launching SmartThings Wifi, Samsung is "upgrading the performance and connectivity" of its SmartThings hub ($70 as a stand-alone product), water leak sensor, motion sensor, multipurpose sensor and smart outlet.
The hub has been "upgraded with the latest Zigbee, Z-wave, and Bluetooth 4.1 connectivity protocols" and now can be connected via Wi-Fi, not restricted to hardwired Ethernet.
The SmartThings Motion Sensor has been redesigned with a magnetic ball mount, so consumers can adjust the tilt angle for a wider view range.
Samsung is also introducing the new ZigBee-enabled SmartThings Button ($15) with programmable triggers that manually control routines around the home, avoiding the need to open up an app.
The SmartThings Button, like the rest of the SmartThings sensor line, monitors temperature in an area of the home, and can trigger a smart thermostat to adjust automatically.
Read the Complete SmartThings Wifi Press Release, next page

About the Author
---
Julie Jacobson is founding editor of CE Pro, the leading media brand for the home-technology channel. She has covered the smart-home industry since 1994, long before there was much of an Internet, let alone an Internet of things. Currently she studies, speaks, writes and rabble-rouses in the areas of home automation, security, networked A/V, wellness-related technology, biophilic design, and the business of home technology. Julie majored in Economics at the University of Michigan, spent a year abroad at Cambridge University, and earned an MBA from the University of Texas at Austin. She is a recipient of the annual CTA TechHome Leadership Award, and a CEDIA Fellows honoree. A washed-up Ultimate Frisbee player, Julie currently resides in San Antonio, Texas and sometimes St. Paul, Minn. Follow on Twitter: @juliejacobson Email Julie at julie.jacobson@emeraldexpo.com
Follow Julie on social media:
Twitter · LinkedIn · Google+
Julie also participates in these groups:
LinkedIn · Google+