Inside a NASCAR Driver's Big Smart Home: Bowling, Basketball, and Beyond
Off the track, NASCAR racer Denny Hamlin relaxes in his 30,000-square-foot North Carolina pad, packed with play spaces like a simulated golf course, basketball court and home theater, all controlled with an Elan home automation system.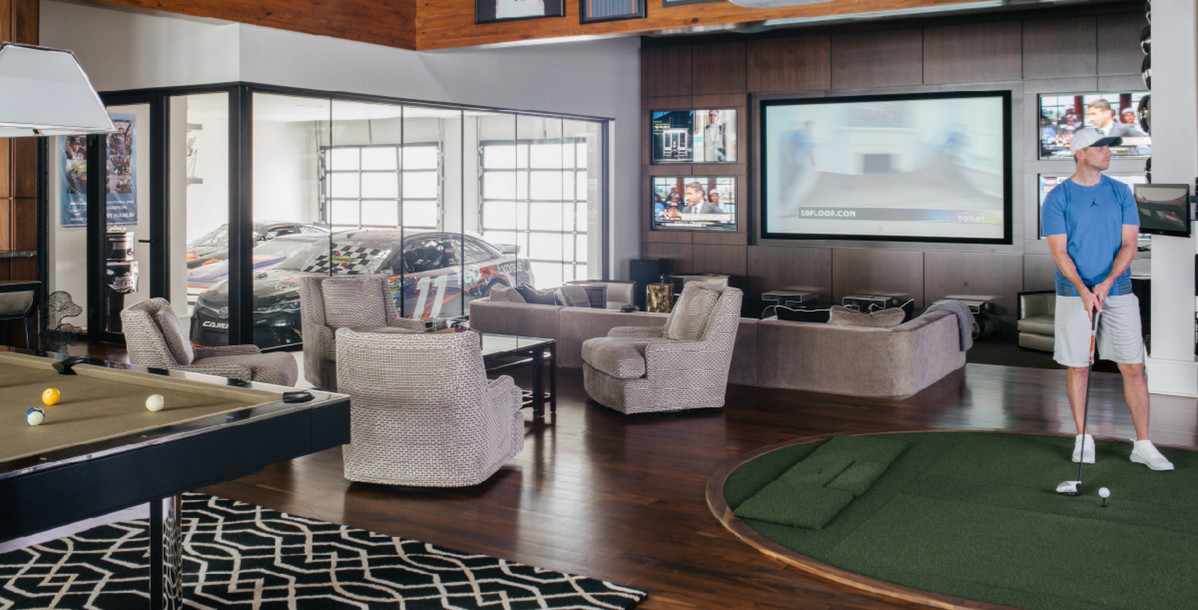 Andrew Nichols
·
March 19, 2018
When he's not pulling over 3 Gs of force while accelerating into turns, professional NASCAR driver Denny Hamlin is relaxing in his newly built 30,000 square foot smart home in Lake Norman, North Carolina.
Built with fun and relaxation in mind, the home features an indoor basketball court, two-lane bowling alley, race and golf simulators, home theater, and even a helicopter pad.
The builders of the home, Thompson Custom Building Group, referred Hamlin to Interactive Interiors' owner Brian Berg of Charlotte, N.C. He recommended a home automation system from Elan Home Systems, saying they are "the most reliable and easiest-to-use system(s) on the market."
As a result, the home is decked out in Elan home automation technology, including:
2 Elan gSC10 controllers
4 Elan g1 controllers
2 Elan S1616A Multi-Zone Audio Controllers
1 Elan gMV1616 UltraMatrix Switcher
12 Elan 7" touch panels
16 Elan remotes
Hamlin was disappointed with the user interface on his last home automation system, so Interactive Interiors took great care in simplifying the experience this time around. Even on the road, he can use the Elan mobile app to control the home's lighting, video, GE Security system, and 32 zones of audio from anywhere at any time.
"Elan ties all of my home's components together and makes them accessible from anywhere in the world. I couldn't be happier with how the system turned out," says Hamlin.
The home has no shortage of screens to control, including 24 Samsung 60-inch TVs used both indoors and outdoors, as well as an 88-inch curved display TV in the central media room.
The home theater has a 110-inch screen, and a Sony SXRD Projector equipped with 4K Ultra HD resolution. Complementing the screen and projector, the home theater room features multiple Sonance Visual Performance Series Speakers.
Interactive Interiors worked closely with a custom cabinet builder to create open 55-inch panels surrounding the theater screen, allowing Interactive Interiors to fill them with TVs so that Hamlin can watch five channels at the same time. The company also designed a custom wood frame around the screen with embedded Lutron lighting that can be controlled via the Elan system.
Even with all of these complex technology systems, the home builder said the installation process was a breeze,
"Sometimes, programmers work for months on end when implementing a smart home infrastructure of this size and magnitude," says Ted Thompson, president of Thompson Custom Home Builder. "But the installation process and the system configuration was totally seamless."
Check out Hamlin's basketball court, game room, and more cool spaces in the slideshow!
---
7 Clever Ways to Hide Home Technology - CE Pro Download
Most technology products are not that visually appealing. Black boxes and tangled wires do not add to the character of a high-end smart home project. Luckily, our integrator readers have a number of clever solutions so these components don't have to be visible in your next project.
---
About the Author
---
Andrew is a journalist and educator living in the Providence area. He was previously the Editor-in-Chief of a gaming and tech website, and the Managing Editor of his university newspaper, The Torch. He received his Bachelors in Writing and Masters in Teaching from the University of Massachusetts Dartmouth. Have a suggestion or a topic you want to read more about? Email Andrew at andrew_nichols@ehpub.com
Follow Andrew on social media:

Andrew also participates in these groups:
LinkedIn · Google+
News
Are Integrators Ready to be 'Energy Automation Contractors'?
Mozilla's Naughty-or-Nice List Rates Connected Devices on Privacy and Data Security
AV Job Finder Facebook Group Makes Posting & Finding Jobs Easier Than Ever
On HDMI Testing Procedures: Integrator Feedback is Vital
Connected Home Security Tool Helps Ensure a Secure System
View more News
Take Our Latest Quizzes
How Well Do You Understand Ethernet Cables and Connectors?
Quiz: Is Your Company Performance Above or Below Average?
How Much Do You Know About Cell Phone Signal Boosters?
How Efficient Is Your Service Department? Take the Quiz
5G and the Need for Cellphone Signal Boosters—Do You Know Enough?