Look Inside Europe's First Private IMAX Home Theater
London-based integrator Cornflake installs first IMAX private cinema in Europe and boasting an 18-foot-wide projection screen.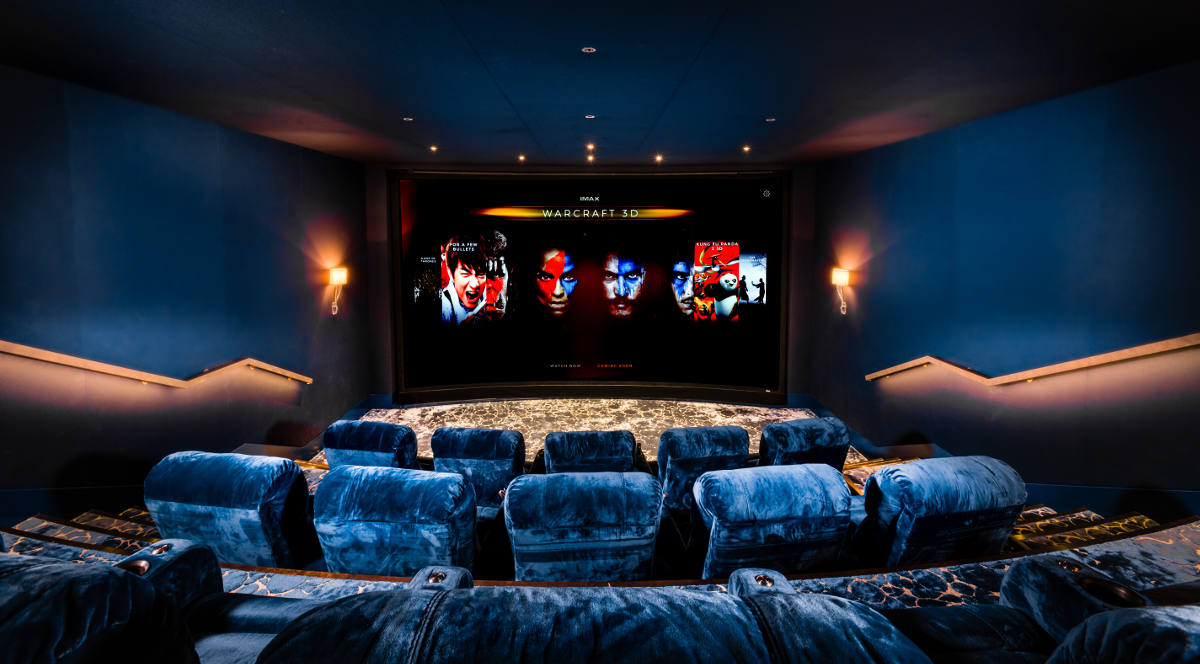 February 14, 2018
CE Pro sister publication CE Pro Europe recently talked to the principals from IMAX and London-based custom integrator Cornflake involved in the making of this luxurious 15-seat, three-tiered theater featuring an 18-foot-wide floor-to-ceiling curved screen.
The reclining seats are equipped with professional 3D glasses, and a dual 4K (2D/3D) projector is teamed with IMAX's proprietary audio system to deliver impressive images and sound.
The room is also completely sound-proofed to mitigate noise being heard elsewhere within the property.
"We offer three cinema design templates for home use — Platinum, Palais and Prestige. This exemplary project is based on the Theatre Palais option and brings the same philosophy used in the world's leading IMAX theatres to small and medium-sized private home theaters, where between five to 20 seats are required," explains David Hanson, general manager EMEA for IMAX Home Entertainment.
To create the space needed and built deep below ground, the basement floor actually had to be lowered by a meter.
'Research' Required Field Trip to China
This customer had already hired the full-service integrator Cornflake and the property developer to design and install a package of integrated technology solutions for a property that was being completely refurbished in London.
"We have a reference grade home theater in our London showroom. ... However, as this is the first residential IMAX install in Europe, the client had to visit Shanghai to review a similar setup installed in a hotel there."
— Robin Shephard, Cornflake
The house includes services such as security, HVAC, lighting and projected artworks throughout, notes Cornflake CEO Robin Shephard.
And the client wanted "the best viewing experience" in a dedicated theater to go with his "listening room," adds Shephard, whose integration firm made various proposals for a state-of-the-art theater but in this case took quite a literal detour before a decision was made.
Related: IMAX Exploring Lower Cost Approach for Private Theatre
"We have been designing and installing home cinemas for over 15 years now so we're fortunate to have many installations where we can take prospective clients to view different systems, plus of course we have a reference grade home theater in our London showroom where the client was able to road test [equipment] for several hours. However, as this is the first residential IMAX install in Europe, the client had to visit Shanghai to review a similar setup installed in a hotel there," says Shephard. "The research side of this job is great!"
Self-Calibration Ensures Optimum Performance
John Fitzpatrick, technical manager at Cornflake, says the integrator worked closely with the interior designer to develop the aesthetics. Stretched fabric walling — dyed to match the home's blue scheme — and an acoustically transparent screen conceal the speakers and subwoofers to ensure viewers are enveloped in sound.
Video source components include IMAX's own movie server, a Kaleidescape server as well as Apple TV, while subscription-based services, game consoles and more can be easily added.
Performance is assured to always be optimized, too, thanks to IMAX's proprietary daily self-calibration work.
"This is IMAX's own unique technology. In brief, cameras mounted to the lens assembly within the projector constantly interpret the picture on screen and adjust the image accordingly to deliver consistent quality," Fitzpatrick explains. "It's visionary technology especially combined with IMAX's 24/7 remote system performance monitoring."
Check out more photos of the theater and equipment rooms in the slideshow here.
---
Save $100 When You Enter the CEPro BEST Product Awards Before May 24
Every year our editors recognize the most advanced products in the professional installation market. Wouldn't you like to tell your customers that your products are among this exclusive group? Enter the CEPro BEST Product Awards and give your sales team something to shout about. Early bird pricing ends May 24.
---