Hands On: Exploring Dish Sling TV Streaming Video Service
Review: How Dish's Sling TV streaming video service beats Hulu, Netflix, Amazon and big cable.
Grant Clauser
·
May 29, 2015
At the Consumer Electronics Show in January, DISH announced its new online streaming video service, Sling TV, and the attending press went nuts. DISH has a very successful and competitively priced satellite TV service, so why would the company bother with a lower-priced streaming video TV service? And what makes it different from all the other all-you-can-eat online video options already on the market?
Sling TV is positioned as a good alternative for people who don't want to subscribe to a big cable (or satellite) package where you pay nearly $100 a month (and sometimes DVR rental fees) for hundreds of channels you never watch. The Sling TV streaming video option is simple—for $20 a month you get 20 streamed live channels, plus a limited VOD selection. The live aspect is what sets it apart from Netflix, Amazon and Hulu. Sling TV's channels are live, just like you get with cable. You switch it on, browse though what's currently playing, and sit back to watch.
While 20 channels doesn't sound like a lot (if you're used to 100), you can add additional channel groups for $5 and also add HBO's new online option HBO NOW for $15. You don't need to buy any special Sling TV equipment if you already have something that it works on— such as Roku, Amazon Fire TV, iPhones/iPads, and Android phones and tablets plus Xbox One and some new LG and Samsung smart TVs. Just download the app to your device, sign on with your account info, and you're ready to go.
The basic 20 starter channels include A&E, ABC Family, AMC, Cartoon Network, CNN, Disney, El Ray, ESPN, ESPN2, Food Network, Galavision, History Channel, History Channel 2 (H2), HGTV, Lifetime, Maker, TBS, TNT and Travel Channel. Unfortunately (well, unfortunately for me) most of that lineup consists of endless boring, repetitive reality TV shows, which is why I wanted to dump cable TV anyway. Sling is adding to the list, so it may change. The $5/month add on groups include one for sports, kids, world news, movies and lifestyle (cooking, DIY, etc.) HBO Now is an additional $15/month.
Is It Cable-Lite?
I tried Sling TV on a Roku 3 and an Android tablet. Once you fire up the app, the service loads very quickly. If you're expecting a familiar grid style guide like what you find on cable and satellite TV, the Sling TV interface may look a little confusing. A bar at the bottom of the screen shows what's on a specific channel now and what's coming up over the next few hours. You have to keep side scrolling to see what's playing on other channels. When on a channel, you can also access any video-on-demand options that channel offers, which isn't always a lot.
Related: Ah, So THAT's How Dish's Hopper Skips Commercials
I was hoping to use VOD to watch Better Call Saul from the beginning, but it only showed me the two most recent episodes (and this was near the end of the season). ESPN and ESPN2 offer no VOD options. Most of the channels permit the user to pause the video, but not on any of the ESPN channels. The limited replay and VOD options are no match for convenient DVR functionality, but with Sling TV, you're not paying $15 a month to rent a DVR, so of course there will be trade-offs. Also, you can use your Sling TV subscription on more than one device, just not at the same time.
Once you've used the system a few times, it gets easier to navigate, though sometimes I still get frustrated. For instance, when watching the VOD episodes of Game of Thrones on HBO, once an episode is finished, you'd think the Return button (on my Roku 3 remote) would bring you back to the last screen—the screen with all the episodes listed. You'd be wrong. Instead it completely drops you out of HBO and changes the channel to the one directly before HBO in the lineup. I may never get used to that. In some ways the interface seems better built for a smart phone or tablet, but like I said, you get used to it. For the record, I can't stand the guide and menu structure of my Verizon FiOS TV service either.
The system performance was mostly very good. In about two weeks of use, I only experienced a buffering problem once, though in that instance the streaming video stopped dead and I eventually gave up waiting for my program to start again. All the other times the system worked perfectly. In fact, videos for the most part seemed more stable with Sling TV then they do when I play Amazon's streaming video service. The picture quality, when viewed on my 55-inch Sony LED TV, was equivalent to what you'd see on Netflix and Amazon, which means it looks good, but it's no Blu-ray. On a Samsung Android tablet, I found the picture quality and overall performance to be very good.
Is This a Cable-Cutter's Dream?
A lot of people want to be rid of their large cable bill and rely instead on video streaming and an antenna. Before Sling TV, the primary streaming video options were Netflix, Amazon and Hulu, plus several other network-specific services. Hulu probably has the most TV programs, and it's only $8/month, but it's not live. If you want to watch The Walking Dead or Vikings at the same time they're broadcast to the rest of the world, you need a live stream, and that means cable, satellite or Sling TV. With services like Netflix or Amazon, sometimes you have to wait a year for the next season to be available, and by then all your friends have spoiled the ending for you.
At the time of this writing, Comcast is offering a "Digital Starter" package of 140 channels for $50 a month (with a 2 year contract) and no DVR. How many of those 140 channels do you want? At least a dozen of them will be broadcast channels you could get for free with an antenna. A few will be shopping channels like QVC and HSN. About 40 will be music channels. After that, how many good ones are left? Once you start adding more channel bundles and DVR services, pretty soon you've got a $100+ cable TV bill. With cable, you're getting a lot more, but you're paying for a lot of things you don't want.
Sling on the other hand starts at $20. Maybe you add two extra groups for another $10, then with an antenna and a service like Netflix or Amazon (about $10 each), you've got a full plate of TV for $40, but since there's no contract, you can add or subtract as much as you want, whenever. You could, for instance, add the big sports package for only one sport season, rather than stick with it all year. You could add HBO for only the duration of the next season of Game of Thrones.
If you want everything Sling TV offers, including HBO, and still plan on keeping a service like Netflix, then your bill can creep up, but it would be hard to get it into the stratospheric range of the large cable packages. You might decide that Sling TV's $5 movie package and HBO give you all the movies you need, and therefore you don't need Netflix.
In my house, Sling TV is a great add-on for the rooms in which I don't want to pay for another DVR, and since the service is portable, I can still watch on my tablet when I'm traveling.
What would make it better? Of course, in an ideal world, the user could select only the channels they want, and only pay for those. Content makers, however, make that very difficult. An improvement in the number of VOD programs and seasons would be good start. I'd also like to see the SyFi and BBC channels. My daughters want it to have the E! channel. The bottom line is that, yes, I like it and can recommend it, but understand that there may be some letdowns.
---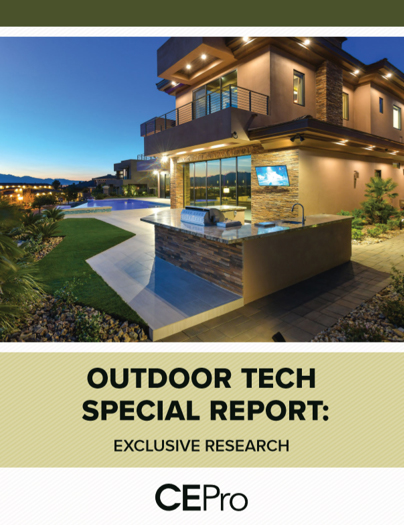 Find Out Why 63% of Integrators Expect Outdoor Business to Grow - CE Pro Download
The outdoor technology market is growing – both the demand from customers and the array of products available. According to our recent CE Pro survey, integrators are taking advantage of this opportunity to grow their businesses. Get your copy of the survey today.
---
About the Author
---
Grant Clauser is a technology editor, covering home electronics for more than 10 years for such publications as Electronic House and Dealerscope. He's done ISF-level damage to hundreds of reviewed products and has had audio training from Home Acoustics Alliance and Sencore. Have a suggestion or a topic you want to read more about? Email at gsclauser@verizon.net
Follow on social media:

also participates in these groups:
LinkedIn · Google+