Eyeing Smart-Home and IoT, Foxconn Acquires Linksys, Belkin, Wemo and Phyn Brands
Aiming to tap into the smart home market, Taiwanese giant Foxconn Interconnect Technology buys Belkin Int'l, including Belkin wiring/power, Linksys networking, Wemo IoT and Phyn water-management brands, for $866 million.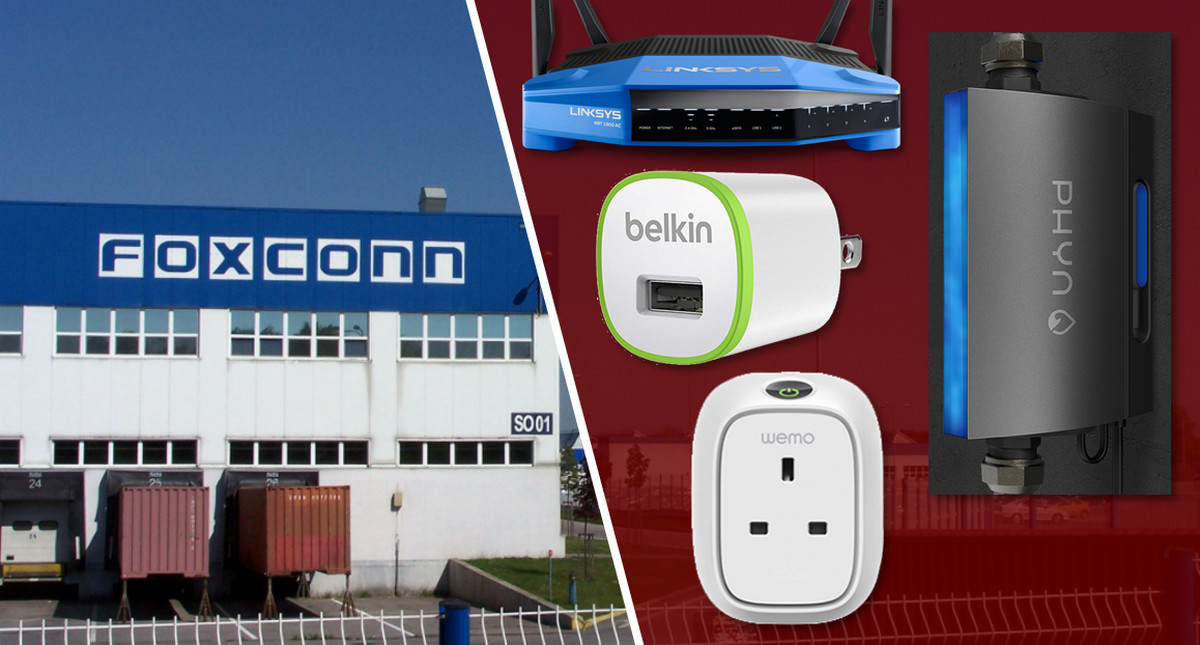 Jason Knott
·
March 29, 2018
Foxconn Interconnect Technology Limited (FIT) (HKG: 6088), a subsidiary of Hon Hai Precision Industry Co., Ltd., and Belkin International, Inc. (Belkin, Linksys, Wemo, Phyn brands) jointly announced the signing of a definitive agreement under which FIT agreed to acquire Belkin for approximately $866 million in cash.
Leveraging Belkin's strength in research and development capabilities and the consumer products channel, FIT is expected to further tap into premium accessories and the smart home market. The transaction would also fuel the growth of Belkin's portfolio of brands and products and supports further investment in research and development and engineering to expand FIT and Belkin's presence in the U.S. and key markets globally.
"[W]e expect to enrich our portfolio of premium consumer products and accelerate our penetration into the smart home."
— Sidney Lu, FIT
"FIT is excited to acquire Belkin and its capabilities in the premium consumer products space," says Sidney Lu, CEO, FIT. "Integrating Belkin's best-in-class capabilities and solutions into FIT, we expect to enrich our portfolio of premium consumer products and accelerate our penetration into the smart home."
"This move will accelerate our vision of delivering technology that makes the lives of people around the world better, more convenient and more fulfilling. I am thrilled to take our brand portfolio of Belkin, Linksys, Wemo and Phyn to new heights," says Chet Pipkin, CEO and founder, Belkin International. "We see significant synergies with FIT, including leveraging its world-class manufacturing capability to enhance Belkin's operating efficiency and competitiveness. The transaction also grants us access to more resources to invest in our people and to aggressively pursue opportunities in the marketplace."
Belkin Brands to Operate as FIT Subsidiary
Belkin International and its family of brands will continue to operate as a subsidiary of FIT under the leadership of CEO and founder Pipkin and his executive team. Pipkin is expected to join FIT's management team.
FIT, which trades as FIT Hon Teng Limited, focuses on the development, manufacturing and marketing of electronic and optoelectronic connectors, antennas, acoustic components, cables and modules for applications in computers, communication equipment, consumer electronics, automobiles, industrial and green energy field products.
Belkin International's product lines include Wi-Fi networking solutions for the home and business; mobile accessories for laptops, smartphones, tablets; home energy management, home automation and intelligent water solutions; plus, a broad range of connectivity and power products. Headquartered in Playa Vista, Calif., Belkin is a privately held company founded in 1983, and has more than 1,400 employees.
On Phyn and Water Management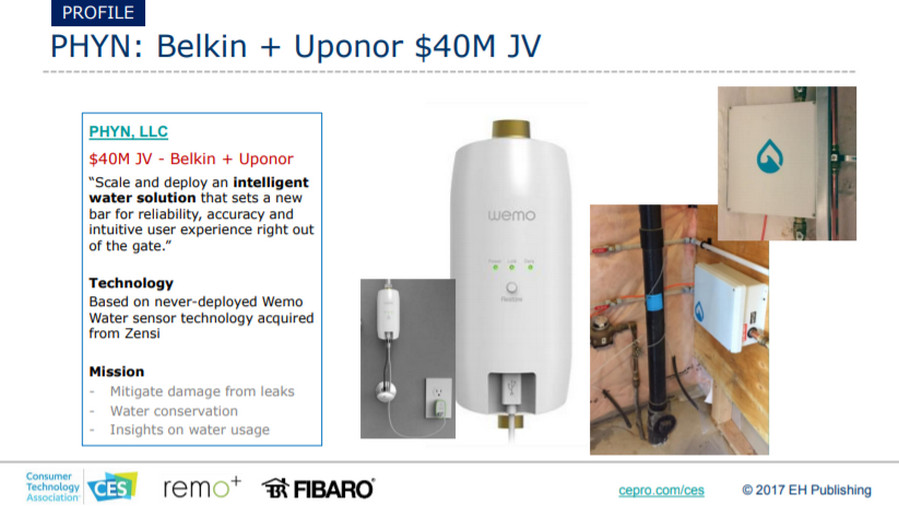 Last year, Belkin embarked on a $40 million joint venture with a company called Uponor, which specializes in water-monitoring and -management solutions.
As we noted in our CES 2018 Ultimate Guide (pdf), water management is a hot IoT category these days.
Worsening droughts throughout the country are spurring the development of water-conservation solutions. Meanwhile, insurance companies are working hard to mitigate huge damages caused by water damage from leaky pipes. Developers of water-related products and services are rising to the occasion.
Water-related products will be discussed in our ISC 2018 Preview Webinar, featuring Trends in Security & IoT, on April 5.


Register now for the ISC 2018 Preview, featuring trends and technologies in home security & IoT
---
2019 State of the Industry Special Report - CE Pro Download
The custom electronics industry saw a healthy 8 percent growth rate in 2018, down slightly from the blazing 11 percent growth in 2017 but still admiringly strong. Our 2019 State of the Industry indicates that readers expect to see even more growth in 2019. Get your copy today.
---
About the Author
---
Jason Knott is Chief Content Officer for Emerald Expositions Connected Brands. Jason has covered low-voltage electronics as an editor since 1990, serving as editor and publisher of Security Sales & Integration. He joined CE Pro in 2000 and serves as Editor-in-Chief of that brand. He served as chairman of the Security Industry Association's Education Committee from 2000-2004 and sat on the board of that association from 1998-2002. He is also a former board member of the Alarm Industry Research and Educational Foundation. He has been a member of the CEDIA Business Working Group since 2010. Jason graduated from the University of Southern California. Have a suggestion or a topic you want to read more about? Email Jason at jknott@ehpub.com
Follow Jason on social media:

Jason also participates in these groups:
LinkedIn · Google+
Networking & Cables
Product Briefs: Fibaro, SmartThingsRutherford Audio, Goldnote; ProSource adds Dish
Are Your Ethernet Connections Exposed to Harsh Elements?
Key Digital KD-DA2 HDBaseT Amplifiers Deliver 18Gbps for 4K Video
4 Adhesives Every Technician Should Have in Their Truck
Here's How to Use Yamaha MusicCast to Build the Backbone of A/V System Interoperability
View more on Networking & Cables
Take Our Latest Quiz
How Well Do You Understand Ethernet Cables and Connectors?
Bose