Demo: Crestron's New SolarSync Daylight Sensor Automates Lighting to Simulate the Outdoors
Crestron demos 360-degree SolarSync photosensor that delivers solar information from the outdoors to tunable white lighting controls indoors for healthy daylighting.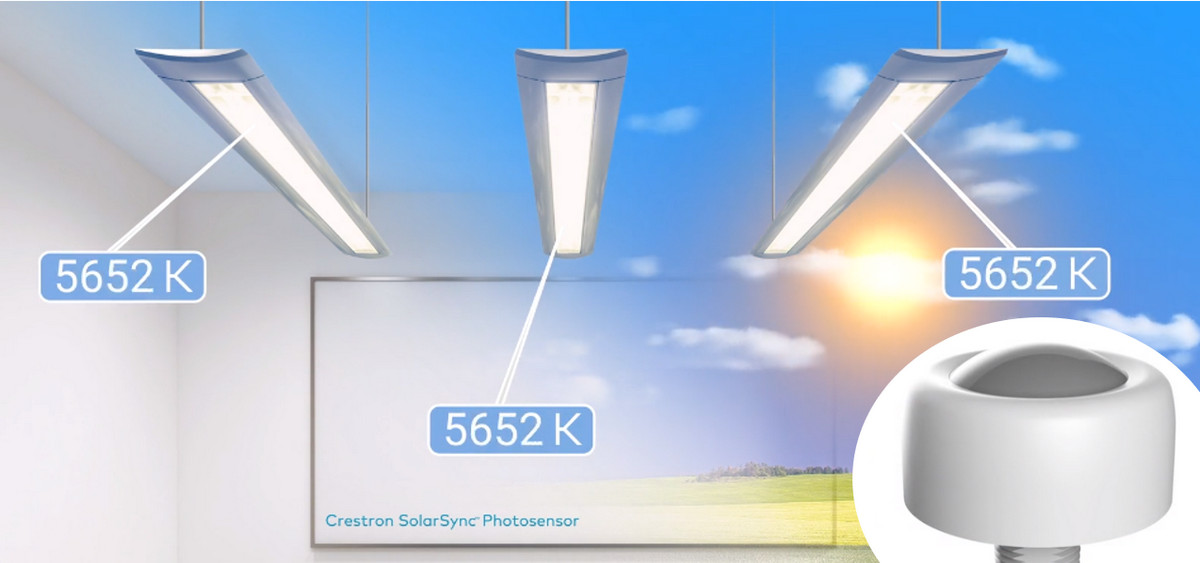 Julie Jacobson
·
August 7, 2018
Home automation giant Crestron Electronics has been making lighting controls for eons, but the company tends to skip Lightfair, the big lighting tradeshow. This year, however, Crestron did exhibit at the event, demonstrating a brand new product to automate indoor lighting based on outdoor conditions -- a practice known as daylighting.
Installed outside, the new SolarSync 360-degree daylight sensor (GLS-LCCT) measures color temperature and luminous intensity. The measurements are shared with a Crestron processor, which can direct the tunable white lighting inside a space to match the color and intensity of the ambient light.
Living and working in environments that simulate natural lighting -- so-called human-centered lighting (HCL) -- is shown in study after study to improve productivity, moods, sleep and overall wellness.
It isn't enough, however, to bring tunable white lighting into an environment if they're not utilized properly. Manual controls have been "proven ineffective," says Bill Schafer, executive sales director, Crestron Commercial Lighting Control.
Crestron already offers standard time-based tunable white lighting control, but the new SolarSync sensor "reports back to your Crestron system to create a true reflection of the natural light outside," Schafer says.
At Lightfair 2018, Crestron demonstrated SolarSync working with DALI tunable white fixtures. National design manager Nathan Dietrich used colored gels (as used in theatrical lighting) to change the "outdoor" lighting effects captured by the SolarSync sensor.
The DALI fixtures responded instantaneously with coloring and intensity to match the simulated outdoors.
"The solar information from outside the building can now be brought in."
— Nathan Dietrich, Crestron
National Design Manager
"The solar information from outside the building can now be brought in," Dietrich says, achieving similar effects as solar tubes or light shelves.
SolarSync offers manual and inclement-weather settings to optimize lighting effects "at all times, with no effort," says Crestron VP marketing Josh Stene in a Linkedin post.
Related: Tunable White Lighting Enters Smart-Home Market at CEDIA 2017
In response to that post, one pro commented: "Seems like a Ketra clone, how is this different?"
Indeed, Ketra is an increasingly popular provider of HCL solutions, with off-the-shelf systems that tune lights automatically "throughout the day, following the formula created by nature ...."
As such, Ketra does not utilize daylight sensors like Crestron's SolarSync. In any case, Crestron dealers will want sensors and related electronics that work with Crestron controllers.
The tunable white lighting category, already invading the workplace, is beginning to take off in the home.
Crestron is not exhibiting at CEDIA Expo 2018, but we'll see plenty of competitors in the tunable-white-lighting category at the show, including Ketra (with Lutron), as well as Vantage/Legrand, LumaStream, Colorbeam, start-up N[, Savant (with partner USAI Lighting) and others.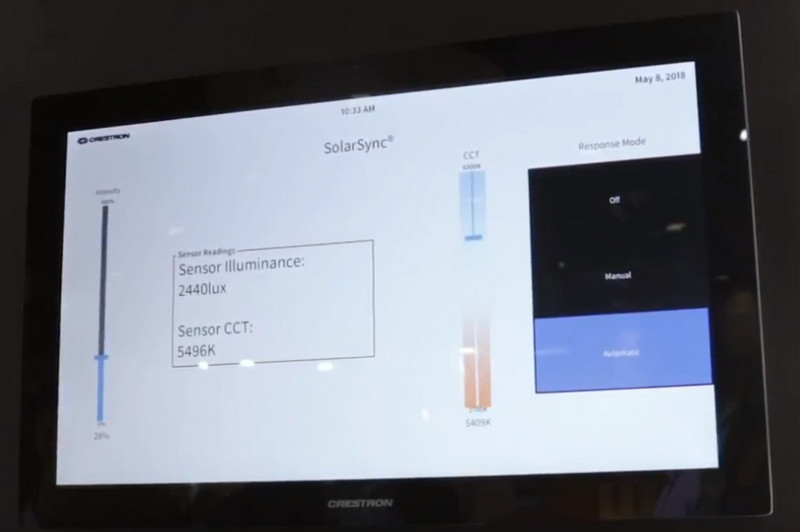 Crestron SolarSync tunable white lighting control
About the Author
---
Julie Jacobson, recipient of the 2014 CEA TechHome Leadership Award, is co-founder of EH Publishing, producer of CE Pro, Electronic House, Commercial Integrator, Security Sales and other leading technology publications. She currently spends most of her time writing for CE Pro in the areas of home automation, security, networked A/V and the business of home systems integration. Julie majored in Economics at the University of Michigan, spent a year abroad at Cambridge University, earned an MBA from the University of Texas at Austin, and has never taken a journalism class in her life. She's a washed-up Ultimate Frisbee player currently residing in Carlsbad, Calif. Email Julie at jjacobson@ehpub.com
Follow Julie on social media:
Twitter · LinkedIn · Google+
Julie also participates in these groups:
LinkedIn · Google+
Control & Automation
Product Briefs: Magnavox Roku TVs; Luxul Firmware Updates; SI Short-Throw Solo Pro
CEO Interview: The Scoop on AVAD, WAVE Electronics Merger
Marine Corps Major and Paralympic Gold Medalist Receives Customized ELAN Controlled Smart Home
Crestron Pyng OS2 Takes Center Stage at Resi Summit
Where's the Gear? 16 Electronics Components that Hide in the Home
View more on Control & Automation
Take Our Latest Quizzes
How Well Do You Understand Ethernet Cables and Connectors?
Quiz: Is Your Company Performance Above or Below Average?
How Much Do You Know About Cell Phone Signal Boosters?
How Efficient Is Your Service Department? Take the Quiz
5G and the Need for Cellphone Signal Boosters—Do You Know Enough?