CE Pro Brand Analysis 2018: Most Popular Brands Among Smart-Home Pros
CE Pro 100 dealers, the largest smart-home pros in North America, reveal their top brands in home-tech categories such as audio, video, networking, home automation, HDMI cables and lighting controls.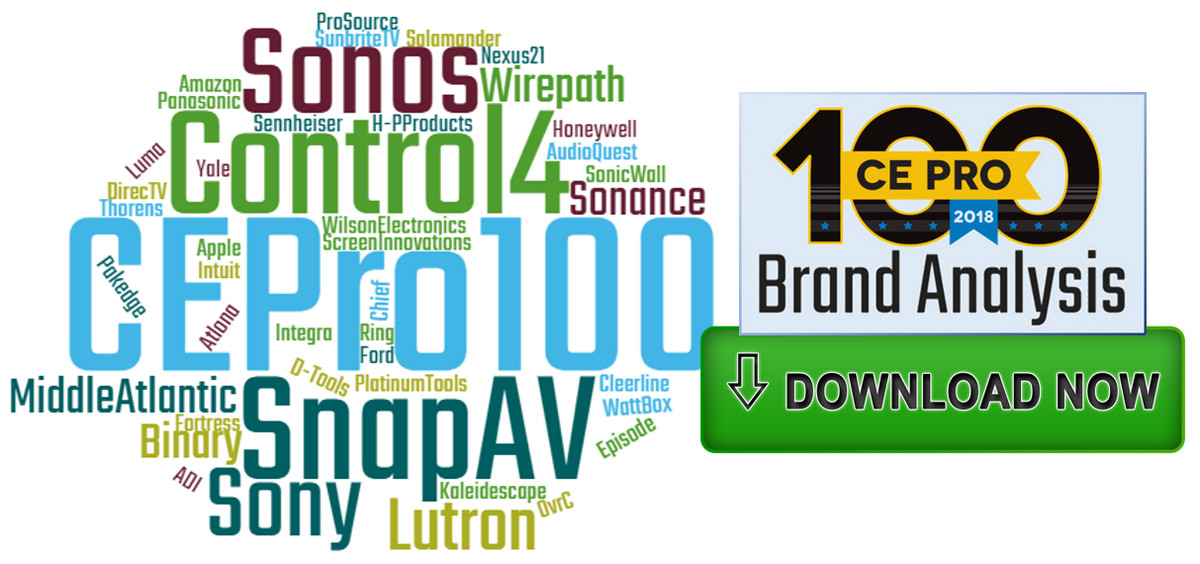 June 4, 2018
Consumers might have their own favorite brands of audio, video and home automation, but which brands are the most preferred among smart-home pros?
CE Pro compiles these top brands every year as part of its CE Pro 100 Brand Analysis, a list of the most-specified brands among the largest home-technology integrators. These dealers include specialty high-end shops that complete just a handful of projects every year, as well as high-volume security installers and retailers that crank out thousands of jobs that include thermostats, surveillance cameras, remote controls, wireless networking and other electronics.
In this year's report, you'll find the leading brands for the 58 product categories that make up the Brand Analysis. This year CE Pro added four new categories to the lineup:
Light

fixtures

Cybersecurity

Buying groups

Vehicles
Keep in mind that the Brand Analysis results are based on information submitted by only 100 companies. True, these CE Pro 100 companies represent the largest providers, but they still comprise just a fraction of the thousands of residential custom integrators that sell and install home-technology products.
Check out this years top custom electronic brands across 58 product categories.

Home Theater
$999 Denon Receiver Boasts Dolby Atmos, Alexa, and Apple AirPlay 2
Fit for Post Production Applications, Bryston SP4 Cinema Processor Delivers Immersive Audio
Review: MartinLogan's ESL-X Show Why Electrostatic Loudspeakers are so Beloved
Savant and Dolby Atmos Turn Flooded Basement into Stunning Home Theater
Product Briefs: RTI RTiQ; Metra HDMI Discussion; Simply Reliable; Capitol, Russound at CEDIA
View more on Home Theater
Take Our Latest Quizzes
How Well Do You Understand Ethernet Cables and Connectors?
Quiz: Is Your Company Performance Above or Below Average?
How Much Do You Know About Cell Phone Signal Boosters?
How Efficient Is Your Service Department? Take the Quiz
5G and the Need for Cellphone Signal Boosters—Do You Know Enough?