Instruments Giant Ametek Nabs Alarm.com Competitor Telguard with Acquisition of Parent Co. Telular
AMETEK acquires cellular-communications and IoT provider Telular for $525M, including Telguard SHaaS (smart home as a service) platform for integrating home automation with professionally monitored security.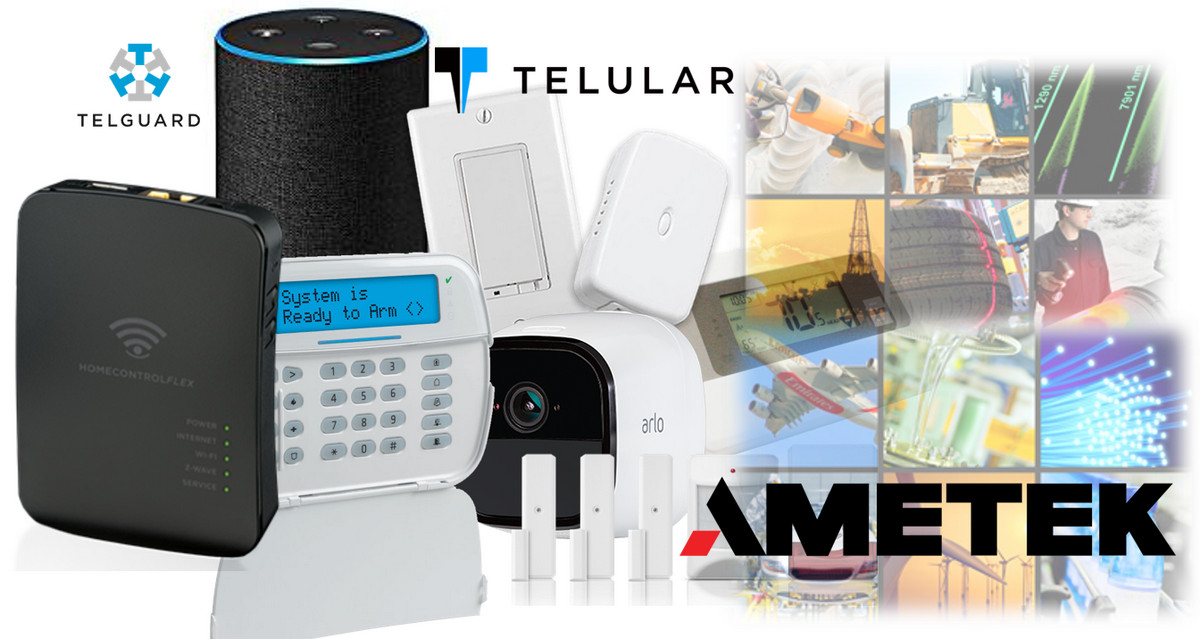 Julie Jacobson
·
November 6, 2018
AMETEK (NYSE: AME), a global manufacturer of electronic instruments/electromechanical devices and owner of power management provider SurgeX, is acquiring wireless-communications, security, logistics-management and IoT provider Telular Corp. for approximately $525 million.
Telular, which owns the SHaaS (smart home as a service) provider Telguard, is a long-time leader in cellular communications, providing devices and services for cloud-enabling alarm panels, oilfields, fleets, industrial tanks and anything else that requires remote monitoring without the benefit of a local network.
Telguard in particular offers cellular communicators, home-automation hubs and back-end services for security dealers to provide interactive smart-home services alongside professional alarm monitoring. The company competes with Alarm.com, Napco (iBridge), Honeywell (Total Connect), Alula, SecureNet and a handful of other popular cellular and SHaaS providers.
"In addition to the strength of the Telular business, we see tremendous value and leveraging their IoT capabilities across other AMETEK businesses."
— David Zapico, CEO Ametek
Chicago-based Telular, with annual sales of approximately $165 million, earns revenue from hardware, proprietary software, and wireless connectivity services that enhance the efficiency and safety of critical assets.
During an earnings call with investors on Nov. 1, AMETEK CEO David Zapico said 65-percent of Telular's sales are generated from its recurring subscription-based business. Telular's sales are expected to continue to grow at a roughly 10 percent annual rate, as adoption of its IoT-based communications solutions are still in the early stages.
Zapico described Telular as "very profitable, mid-20s EBITDA with room for margin expansion." AMETEK will look to leverage cost synergy opportunities, with opportunities to expand the business internationally.
Related: Hands On—Telguard's Arlo Go Mobile Camera Goes Anywhere, Provides Dealer RMR
"In addition to the strength of the Telular business, we see tremendous value and leveraging their IoT capabilities across other AMETEK businesses. Our highly differentiated measurement instrumentation and domain expertise in our niche markets combined with Telular's IoT platform forms the core of an expanded digital strategy for AMETEK and opens up attractive growth opportunities for our businesses," Zapico said.
Zapico went on to explain he expects to leverage the Telular platform across other AMETEK businesses, "where we currently collect, measure and analyze important process variables across mission-critical applications."
Telular could incorporate SurgeX's network-enabled surge protection and power management products into Telguard's SHaaS platform.
In other words, Ametek sees an opportunity to apply the Telular and Telguard engines to the company's vast arsenal of electronic instruments, potentially earning recurring revenue by providing intelligence and alerts based on raw data collected from the field.
Interestingly, Telular could incorporate SurgeX's network-enabled surge protection and power management products into Telguard's SHaaS platform, adding a new category for remote monitoring that is highly complementary to the alarm and smart-home devices Telguard already supports.
Concurrent to the Telular acquisition, AMETEK announced it also purchased Forza Silicon Corp., a manufacturer of high-performance imaging sensors used in medical, defense, commercial and industrial applications. Forza Silicon, based in Pasadena, Calif., was purchased for approximately $40 million.
As with Telular, Forza Silicon will be integrated into AMETEK's Electronic Instruments Group (EIG). AMETEK reports annualized sales of approximately $4.8 billion.
---
Save $100 When You Enter the CEPro BEST Product Awards Before May 24
Every year our editors recognize the most advanced products in the professional installation market. Wouldn't you like to tell your customers that your products are among this exclusive group? Enter the CEPro BEST Product Awards and give your sales team something to shout about. Early bird pricing ends May 24.
---
About the Author
---
Julie Jacobson is founding editor of CE Pro, the leading media brand for the home-technology channel. She has covered the smart-home industry since 1994, long before there was much of an Internet, let alone an Internet of things. Currently she studies, speaks, writes and rabble-rouses in the areas of home automation, security, networked A/V, wellness-related technology, biophilic design, and the business of home technology. Julie majored in Economics at the University of Michigan, spent a year abroad at Cambridge University, and earned an MBA from the University of Texas at Austin. She is a recipient of the annual CTA TechHome Leadership Award, and a CEDIA Fellows honoree. A washed-up Ultimate Frisbee player, Julie currently resides in San Antonio, Texas and sometimes St. Paul, Minn. Follow on Twitter: @juliejacobson Email Julie at julie.jacobson@emeraldexpo.com
Follow Julie on social media:
Twitter · LinkedIn · Google+
Julie also participates in these groups:
LinkedIn · Google+
Control & Automation
Nortek Security & Control President Mike O'Neal Departs; NSC Begins Search
Savant Shows HomeKit-Compatible Smart Circuit Breakers, Circadian Lighting
Product Briefs: Doorbird, Snom; Guardian Protection Services Changes Name; AudioResearch
Sonnen ecoLinx to Anchor New Illinois Sustainable Community
Control4 Unveils New Smart Home OS 3 Platform
View more on Control & Automation
Take Our Latest Quiz
How Well Do You Understand Ethernet Cables and Connectors?
Bose